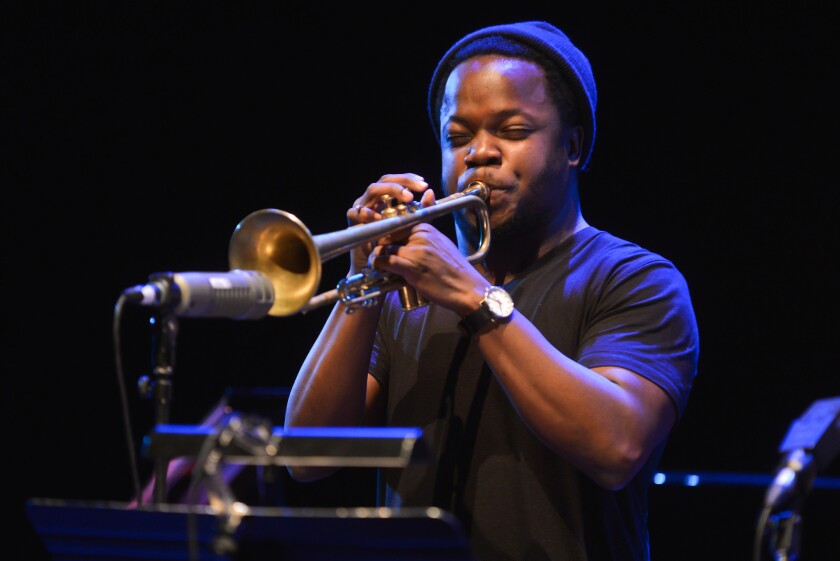 A selection of jazz and jazz-adjacent shows this weekend.
Ambrose Akinmusire, Ben Wendel, Jeff Ballard at the Blue Whale

You'd be hard pressed to find a more adventurous jazz trio on Saturday night. Hot off the heels of his latest album, the lushly ambitious "The Imagined Savior Is Far Easier to Paint," trumpeter Ambrose Akinmusire joins reedist-composer Ben Wendel, who has released evocative albums on his own as well as with pianist Dan Tepfer and the genre-skipping band Kneebody.
Anchoring the rhythm will be drummer Jeff Ballard, who can be typically heard holding things down with Brad Mehldau's trio but also released an enchanting debut as a leader this year, "Time's Tales." Where the three of them will land here is anyone's guess, but it's bound to be well worth the trip. Blue Whale, 123 Astronaut E S Onizuka St., No. 301, Los Angeles, Saturday, 9 p.m. $20, Blue Whale.
John Daversa Contemporary Big Band at the Baked Potato
A fixture around the L.A. jazz scene, trumpter John Daversa brings his cooking big band back to this Studio Cty incubator. An instructor at Cal State Northridge, Daversa has an adventurous, colorful approach and this ensemble is a nimble vehicle for his vision. Baked Potato, 787 Cahuenga Blvd., Studio City, Sunday, 9:30 p.m. and 11:30 p.m. $26, The Baked Potato
Want to read more in 140-character bursts? Follow me over @chrisbarton.
---