Q&A: Katy Perry on overexposure, education and keeping fans guessing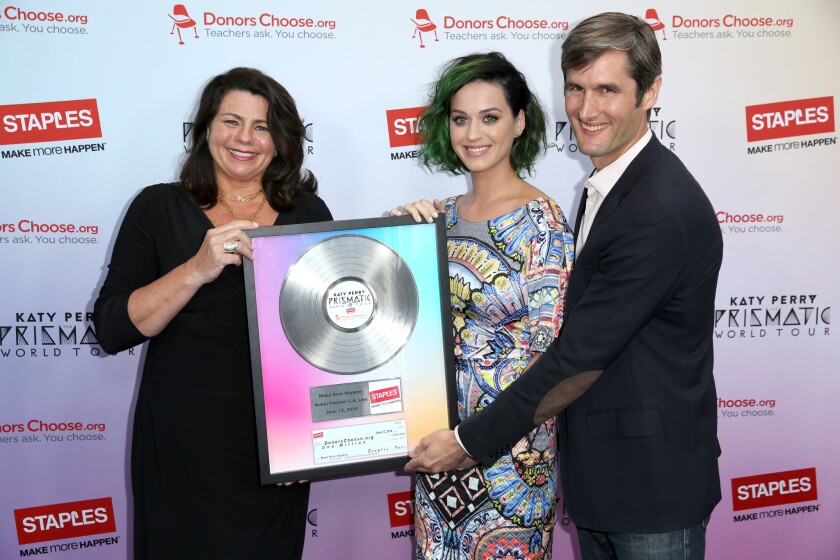 When you're Katy Perry, time off is more a concept than a reality. The 29-year-old pop star just finished touring in the U.K. and is set to stretch her Prismatic World Tour through 46 North American cities starting on June 22.
Her "break" last week? It consisted of stopping by the Nokia Theatre to announce her partnership with Staples in donating $1 million for school supplies as part of the "Make Roar Happen" campaign.
While there, she spoke with the Los Angeles Times about the perils of overexposure, her latest album "Prism" and what comes next.
You've spoken to The Times before about being worried about "overexposure." But now you're embarking on this world tour alongside a No. 1 album. How do you avoid being too omni-present?
I just try to be aware, very conscious of the temperature of if I'm too much in there. I don't always tweet. Sometimes I'll tweet for a couple weeks a lot and then you'll find me offline for a week or whatever. I guess I just know how to not overdo it. But just enough. Every once in a while I feel the vultures circling, ready to take me down, and then I'm, like, 'I'm backing out, I'm backing out. I'm going away. I'm going to let you take a breather.'
"Prism" seems to be much more of a mature album than your previous efforts. How do you feel you've grown, and is it reflected in your songs?
I think it's a very self-reflective album. I think it was a point of real, personal change in me and that is reflected in the songs. A lot of personal growth, a lot of therapy. A lot of looking inwards and working on things that I needed to work on rather than continually pointing the finger or ignoring an issue.
I guess my secret weapon is the vulnerability that I continue to share, even if it's being dissected to a crazy point. People don't feel so alone in their situations because the lyrics of the songs relate to them.
You are constantly touring, promoting, doing interviews like this one. How do you do all this and stay sane?

I'm wiser about things not to do since I had the experience of the last tour that almost killed me. There were so many things going on in my own life. I was overdoing it with being on stage and doing 100-people meet-and-greets every night, and zigzagging around the world.
But you're still crazy busy.
I know how to do it better now because of all of the things that I didn't do right then. I still have to stay really focused; I have no room to trip up while on tour. When I'm on a little break like I am now, I'm a little more relaxed. I haven't been on a treadmill in 10 days. I'm supposed to be all about this gluten-free, dairy-free life, but I'm all, like, 'Get me ice cream. I want peanut butter and jelly sandwiches – I don't care!'
The day I leave for tour is where you see almost a whole different person come into play. No champagne. Just teas and waters. It's not like the old days where people truly were rock 'n' roll.
Being that you're three albums into your career, do you feel like there are any other themes you'd like to explore now that you have some more room to work with?
You have to continue to keep people guessing a little bit. Every time when they think they've got me pegged, I'm going to move the peg a little bit. I think that it's important for me to evolve as an artist, and that's why it's important to me to keep educating myself and absorbing education in so many different formats, whether it's a museum or a book or all of those things, to be able to absorb the world and culture and history. It helps influence my music in this weird way.
I think that, eventually, I'd like to do an acoustic record. I'm not sure if it will be this next one. I'm not really thinking about the next one just yet. I have to be on tour until spring 2015. We're in lockdown. I know my schedule pretty well, which is frightening.
You also recently had a country-pop collaboration with Kacey Musgraves. Have there been any other thoughts about possible collaborations?
I loved doing that because I come from a really singer-songwriter background – just me and a guitar. [There's] this place called Hotel Café. It's a place where you can really find up-and-coming artists. That's where I started. Me, a guitar and a microphone.
I really enjoyed going back to the root of who I am with Kacey. I'm not really thinking of any collaborations right now. I am about to launch my own record label, which is really exciting, with my first artist. That will happen very soon, within the next 10 days or so. I'm excited about that – that's something I'm focused on. But I'd like to get this artist going and flying. I'm always keeping my eyes and ears peeled for what's next, but I really feel like this artist has a lot to say, and that is really important for me.
Why this partnership with Staples?
A lot of people at my shows are in the middle of their education, whether it's in kindergarten or college. School is a part of their everyday life; it's really important. I think that I can be a little bit of a positive influence if I try to help out the heroes - the teachers - to help out the kids.
Why launch it here in L.A.?
[Los Angeles] used to be a lot of compartmentalized places that you had to find, but now it just feels like L.A. has grown so much into this really vibrant city that has all kinds of activities and cultures. It's really a smorgasbord of people that have come together, and I think that you can come together and you can be entertained and educated.
Perry will bring her Prismatic World Tour to the Staples Center on Sept. 19 and 20.
---
Your essential guide to the arts in L.A.
Get Carolina A. Miranda's weekly newsletter for what's happening, plus openings, critics' picks and more.
You may occasionally receive promotional content from the Los Angeles Times.