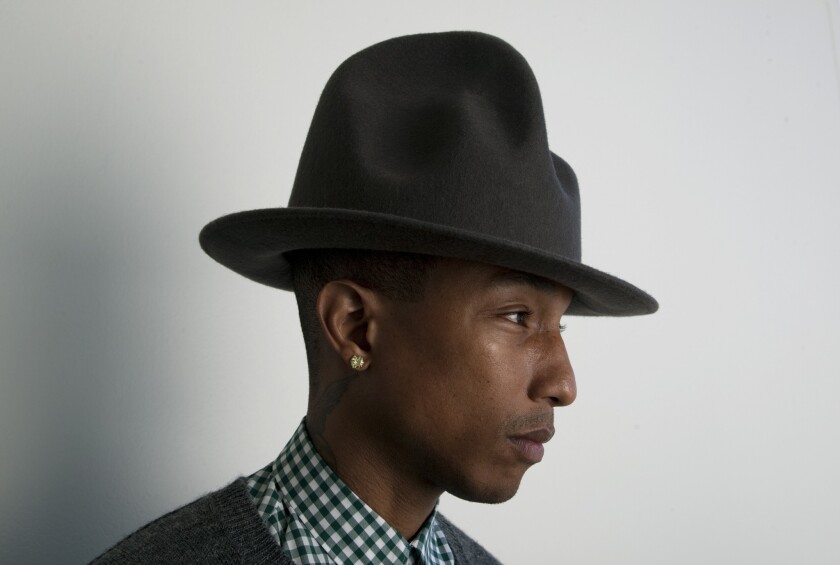 For those who want to smell like Pharrell Williams, your chance is coming this fall.
The superstar producer-performer continues his recent pop culture breakout with the next logical move -- a fragrance.
Williams has teamed with Japanese fashion company Comme des Garçons to release an exclusive fragrance in September. Girl (named after his latest album), will be for both men and women.
PHOTOS: Unexpected musical collaborations
"This is the first time we have created a fragrance for a musician, and I can think of no greater talent and no greater gentleman to have done this with," Adrian Joffe, chief executive of Comme des Garçons Parfum SA, said in a statement. "Pharrell knew exactly what he wanted the perfume to smell like right from the beginning. It has been an honor to work with such a creative artist with a great vision, which for Comme des Garçons is the most important thing."
The fashion company didn't issue any further details on the fragrance, but we're curious to know what a scent from the singer who helped us "Get Lucky" all summer would smell like.
Considering that we haven't been close enough to Williams lately to smell him or peek inside his hat, we can only speculate.
To get an idea of what smells may have inspired "Girl" in bottled form, let's look at some of his recent collaborators. Luckily, they all have fragrances in stores -- but then again, what pop star doesn't have a perfume?
INTERACTIVE: Discover songs of L.A.
Jay Z: Williams spent a great deal of time helping the rap mogul craft his last effort, "Magna Carta Holy Grail," and Jay likes only the finer things in life. His Gold Jay Z scent for men was "a new standard of measure," if you believe the description of the cologne (like most things Jay promotes, we can't afford a bottle). The fragrance is blended with "the brightness of grapefruit and ginger warmed with cardamom, a heart of masculine vetiver and a base of rich amber and smoky myrrh, smoothed with teak wood and bourbon vanilla."
Beyoncé: If you rub shoulders with her husband, you'd be a fool to resist a hug from Queen Bey. Williams was a part of the singer's recent surprise album and had plenty of time to smell one of the pop diva's branded fragrances -- she has seven of them. Heat, for instance, contains "a radiant floral bouquet of red vanilla orchid, magnolia and neroli, balanced with a kiss of luscious blush peach," and those are apparently just the top notes. She doesn't seem like the type who wears the same scent twice -- she is, after all, Beyoncé -- so maybe Pharrell also got to smell Rise, which gleans its scent from her favorite flower, the orchid.
PHOTOS: Celebrities by The Times
Kylie Minogue: Williams lent his touch to Minogue's first album in four years, "Kiss Me Once," and her first since being managed by Jay Z's Roc Nation brand. With songs primed for sweat-soaked nights on the dance floor, there's no doubt that Williams got a whiff of Minogue and perhaps her handful of branded scents as well. One of her perfumes, Darling, pulls from aromas of freesia, passion fruit, lily, sandalwood, vanilla, amber wood and lychee.
Maybe a scent for Williams' Grammy-winning partners Daft Punk isn't far behind. Hints of warm circuitry, ozone and wood paneling, anyone?
ALSO:
SXSW 2014: It's not the same old Texas music festival
Mary J. Blige, Maxwell, Rick Ross tapped for 2014 BET Experience
Kickstarter campaign for Neil Young's PonoMusic system starts strongly
---