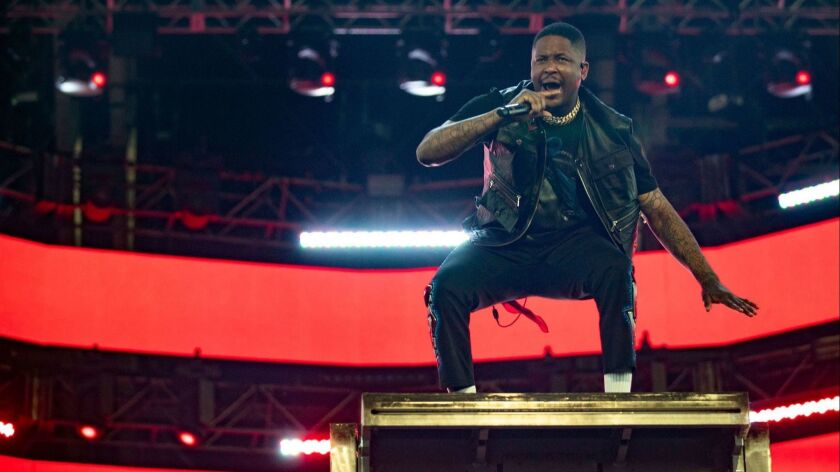 The week ahead is loaded with strange and unexpected offerings from the L.A. music scene that promise a memorable start to your summer.
Boogiewoman Festival
L.A.s female-curated music, art and vendor showcase returns for a third edition this weekend at Catch One for an all-inclusive showcase of some of the city's most exciting rising talents. The organization is dedicated to giving up-and-coming musicians and artists a platform to promote their work while also giving back to the community. Proceeds from this year's event will benefit Elizabeth House, a nonprofit dedicated to supporting homeless pregnant and parenting women. Catch local talents like Dirtie B, Foliage, Novena Carmel, Carlos Niño and others, alongside art, drinks, food, tattoos, a photo booth and much more. Tickets cost $15. Catch One, 4067 Pico Blvd., 8 p.m. Saturday.
YG
Coming off a pair of Coachella sets in tribute to Nipsey Hussle, YG will continue to honor his best friend and collaborator with a special album release show at the Novo. The rapper's highly-anticipated third album, "4 Real 4 Real," also dedicated to Hussle, has experienced some understandable delays in its rollout, but will finally drop on Friday. The show promises to be a moving celebration filled with plenty of surprises from L.A.'s hometown rap king. Still not sold? Tickets are just $4. The Novo, 800 W. Olympic Blvd., 8 p.m. Thursday.
Killing Joke
The U.K.'s Killing Joke drops by the Roxy for a special intimate stop on the band's Laugh at Your Peril 40th anniversary world tour. Straddling post-punk and metal, Killing Joke pushed musical boundaries forward by melding elements of dance, raw punk guitar and relentless percussion, going on to become an essential influence on artists like Nirvana, Nine Inch Nails and many more. Expect a victory lap you won't soon forget. Tickets cost $50. The Roxy, 9009 Sunset Blvd., 9 p.m. Thursday.
The Lemonheads
Boston alt-rock vets the Lemonheads are back in full force, with Evan Dando and company hitting the road for a tour behind the band's delightfully strange new covers album, "Varshons II." They've still got their '90s knack for melody and guitar grit in spades. Fans can look forward to their hit rendition of "Mrs. Robinson" as well as fresh takes on artists from John Prine to Nick Cave and the Bad Seeds to Lucinda Williams. Tickets cost $30. The Teragram Ballroom, 1234 W. 7th St., 9 p.m. Friday.
Fluxus: Ragnar Kjartansson's Bliss
Listening to the final moments of Mozart's "The Marriage of Figaro" performed live on a 12-hour loop may not be the most conventional way to spend your Saturday afternoon, but director Ragnar Kjartansson's wild and ambitious take on the rapturous classic promises to be an unforgettable experience. The act of extreme repetition will see the piece move from elegant to winking to ecstatic before returning to a state of bliss. Saturday's West Coast premiere will be a fully staged production, featuring accompaniment from experimental classical ensemble Wild Up. Tickets are sold out, but a limited number of standby tickets are available to attend one hour of the performance between 1 and 7 p.m. REDCAT, 631 W. 2nd St., noon Saturday.
---