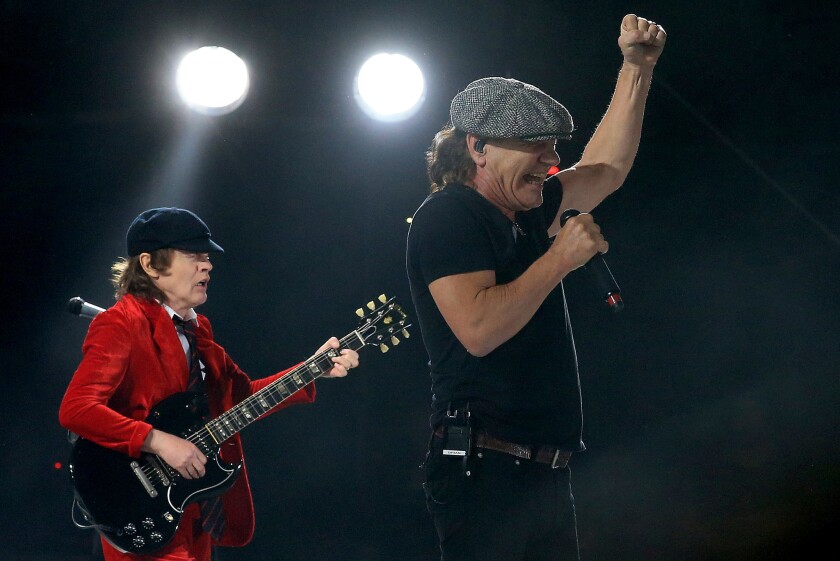 Brian Johnson, the longtime lead vocalist of AC/DC, has detailed the hearing loss that led him to withdraw from the remainder of the band's "Rock or Bust" world tour, but denied rumors that he is retiring, adding that he will continue to record in studios.
After consulting in March with physicians, "I was advised that if I continued to perform at large venues, I risked total deafness," Johnson, 68, said in a statement released Tuesday. While he found the news horrifying, "I had for a time become aware that my partial hearing loss was beginning to interfere with my performance on stage."
He called the diagnosis "the darkest day of my professional life."
Johnson continued: "Our fans deserve my performance to be at the highest level, and if for any reason I can't deliver that level of performance I will not disappoint our fans or embarrass the other members of AC/DC."
The Australian band confirmed earlier this month that Axl Rose will join them for the remainder of the "Rock or Bust" world tour.
In March, AC/DC said it had been forced to reschedule 10 upcoming dates on the U.S. leg of the tour after Johnson was advised by doctors to stop touring immediately or risk total hearing loss.
The announcement led to a number of rumors, including one that Johnson was retiring after being kicked out of the group by band cofounder Angus Young.
But Tuesday, Johnson said in his statement that "my doctors have told me that I can continue to record in studios and I intend to do that."
He said he is focused on "medical treatment to improve my hearing... While the outcome is uncertain, my attitude is optimistic. Only time will tell."
Johnson, who is British and has been with AC/DC since 1980, said that he was "personally crushed" by the medical development.
"The emotional experience I feel now is worse than anything I have ever in my life felt before," he said. "The one thing for certain is that I will always be with AC/DC at every show in spirit, if not in person."
AC/DC is set to resume the tour in Europe next month. The rescheduled U.S. dates will be announced later, the band said on its official website.
MORE:
Guns N' Roses: Coachella can't quite conjure Sunset Strip glory years
That time Keith Richards pulled a knife to have Donald Trump fired: A very special Rolling Stones memory
Malcolm Young left AC/DC because of dementia, family confirms
---