TV This Week, Dec. 2-8: 'The Marvelous Mrs. Maisel' and more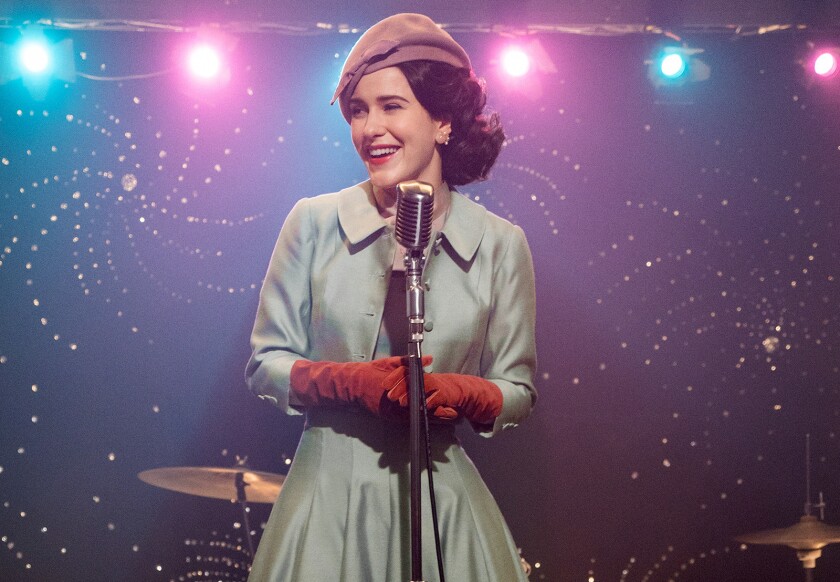 SUNDAY
Billionaire Richard Branson and explorer Fabien Cousteau have an undersea adventure in the new special "Discovery Live: Into the Blue Hole." 1 p.m. Discovery Channel
All is merry and bright at the "National Christmas Tree Lighting" ceremony in Washington, D.C. 7 p.m. Ovation, Reelz
Country music's Garth Brooks performs in the new concert special "Garth: Live at Notre Dame" 8 p.m. CBS
An architect tries to give her hometown's historic playhouse a multiplex makeover in the new TV movie "A Majestic Christmas." With Jerrika Hinton and Christian Vincent. 8 p.m. Hallmark Channel
Lifelong friends try to maintain "The Christmas Pact" they made when they were kids in this new TV movie. With Kyla Pratt and Jarod Joseph. 8 p.m. Lifetime
A new episode of "Enemies: The President, Justice & the FBI" compares and contrasts the investigations into U.S. presidents Clinton and Trump. 8 p.m. Showtime
The espionage drama "Berlin Station" is back for a third season. With Michelle Forbes, Richard Armitage, Richard Jenkins and Rhys Ifans. 9 p.m. Epix
Tyra Banks reprises her role as a real, living doll in the new made-for-cable sequel "Life-Size 2: A Christmas Eve." With Francia Raisa. 9 p.m. Freeform
The new docu-special "Inside Syria's Deadly Dynasty" charts the rise of that war-torn Middle East nation's ruling Assad family. 9 p.m. National Geographic Channel
They're gonna catch cold dressed like that in "The Victoria's Secret Fashion Show Holiday Special." Performers include Bebe Rexha, the Chainsmokers, Halsey, Kelsea Ballerini, Rita Ora and Shawn Mendes. 10 p.m. ABC
An intergalactic journey takes a series of dark turns in "Nightflyers," a new 10-part sci-fi/horror drama adapted from a novella by "Game of Thrones" creator George R.R. Martin. 10 p.m. Syfy; also Mon.-Thu.
A lonely baker hooks up with a hunky actor in the new TV movie "A Star for Christmas." With Briana Evigan and Corey Sevier. 10 p.m. Lifetime
MONDAY
The new special "Amy Grant's Tennessee Christmas" finds the singer sharing the stage with her husband, country star Vince Gill, plus "American Idol's" Kellie Pickler and gospel music's Michael W. Smith. 6 p.m. Hallmark Channel
Holly, Rodney and family celebrate the holiday in a "Meet the Peetes Christmas Special." 7 p.m. Hallmark Channel
Famous faces including George Clooney, Sofia Coppola, Tommy Lee Jones, Jeff Goldblum, Anjelica Huston and Jon Hamm tell tales about a landmark Manhattan hotel in the new documentary "Always at the Carlyle." 9 p.m. Starz
Impromptu celebrations bring good cheer to those in need in a "Pop Up Santa Holiday Special." 9:30 p.m. Freeform
Friends cruise and carouse on a catamaran in the Bahamas in the new reality series "Unanchored." 10 p.m. Bravo; also Tue.
The new documentary "Say Her Name: The Life and Death of Sandra Bland" investigates the case of the 28-year-old African American woman who died in police custody three days after being arrested during a traffic stop in Texas in 2015. 10 p.m. HBO
Mandy Moore, "Who Do You Think You Are?" The "This Is Us" actress is up next on the celebrity genealogy series. 10 p.m. TLC
Host Neil deGrasse Tyson chats with Bill Nye the Science Guy on a new "StarTalk." 11 p.m. National Geographic Channel
A Canadian comic tackles hot topics in the new special "Big Questions, Huge Answers With Jon Dore." 11:30 p.m. Comedy Central
TUESDAY
Blink and you'll miss it when the superhero drama "The Flash" hits the 100-episode mark. Grant Gustin stars. 8 p.m. KTLA
The debut installment of "Legends of the Lost With Megan Fox" sends the "Transformers" actress to Scandinavia to investigate tales of female Viking warriors. 8 p.m. Travel Channel
"Saturday Night Live" comes to prime time with a stocking stuffed full of classic holiday sketches from the long-running late-night comedy series. 9 p.m. NBC
WEDNESDAY
Golden girl: Emmy winner Rachel Brosnahan is still "The Marvelous Mrs. Maisel" as this Emmy-winning comedy about a 1950s housewife and aspiring stand-up comic returns for a second season. With Alex Borstein and Tony Shalhoub. Any time, Amazon Prime Video
A mama polar bear and her two cubs brave the elements in the episode "Snow Bears" on a new "Nature." 7:30 p.m. KOCE
The new unscripted series "Border Live" takes a real-time look at life on both sides of the U.S.-Mexico border. 9 p.m. Discovery Channel
THURSDAY
Sports analyst Kirk Herbstreit names his picks for college football's top players and plays in the new special "The Herbie Awards." 7 p.m. ESPN, 8:30 p.m. ESPN2
The Peanuts gang gets into the spirit of the season in the classic animated special "A Charlie Brown Christmas." 8 p.m. ABC
The treats will be spicier in the new spinoff "The Great American Baking Show: Holiday Edition." Emma "Baby Spice" Bunton from the Spice Girls and Anthony "Spice" Adams cohost. 9 p.m. ABC
Nice toque: The culinary competition "Top Chef" returns for another cycle. With host Padma Lakshmi and judges Tom Colicchio, Graham Elliot, Nilou Motamed and Gail Simmons. 9 p.m. Bravo
Buddy Guy, k.d. lang, John Prine and Rosanne Cash are among the myriad musical acts slated for the new concert special "2018 AmericanaFest." 9 p.m. CMT
FRIDAY
See how Paris Hilton and other celebs use social media to make big bank in the new documentary "American Meme." With Hailey Baldwin, DJ Khaled, Emily Ratajkowski and Dane Cook. Any time, Netflix
Wise guys, eh? A mob family runs the city of Montreal in the imported Canadian drama "Bad Blood." With Anthony LaPaglia, Paul Sorvino and "Sons of Anarchy's" Kim Coates. Any time, Netflix
A plus-sized Texas teen (Danielle Macdonald, of "Patti Cakes") enters a local beauty pageant run by her pageant-queen mom (Jennifer Aniston) in the feel-good 2018 comedy "Dumplin'." Any time, Netflix
The once-a-month horror anthology "Into the Dark" returns to tell a tale of Christmas terror. Any time, Hulu
The tale of the man-cub from Rudyard Kipling's "The Jungle Book" gets a dark retelling in "Mowgli: Legend of the Jungle." With Rohan Chand, Freida Pinto, Matthew Rhys and the voices of Andy Serkis, Christian Bale, Cate Blanchett and Benedict Cumberbatch. Any time, Netflix
Young do-gooders collect their due in "Young Wonders: A CNN Heroes Special." Anderson Cooper hosts. 8 and 11 p.m. CNN
A 12-year-old Honduran boy runs afoul of the U.S. immigration system in the timely 2018 indie drama "Icebox." With "Coco's" Anthony Gonzalez. 8 p.m. HBO
Events don't go as planned for an event planner (Tiya Sircar, "The Good Place") in the new TV movie "Christmas Lost and Found." With Diane Ladd. 8 p.m. Lifetime
The new special "RuPaul's Drag Race Holi-slay Spectacular" finds past contestants returning to lip-sync seasonal favorites. 8 p.m. VH1
The new documentary "Porndemic" recalls the HIV outbreak that shook the adult-film industry in the San Fernando Valley in the late 1990s. 10:30 p.m. Showtime
SATURDAY
"Versailles," adieu. After three seasons, this opulent historical drama starring George Blagden as France's Louis XIV airs its series finale. 7 p.m. Ovation
The inspirational 2018 movie "I Can Only Imagine" dramatizes the story behind Christian band MercyMe's hit single of the same name. With J. Michael Finley and Madeline Carroll. 8 p.m. Epix
Lori Loughlin reconnects with a former high-school beau in the new TV movie "Homegrown Christmas." With Victor Webster. 8 p.m. Hallmark Channel
Virtual-reality gamers play for all the marbles — remember marbles? — in director Steven Spielberg's effects-laden 2018 sci-fi fable "Ready Player One." With Tye Sheridan, Olivia Cooke and Mark Rylance. 8 p.m. HBO
A department-store elf (Megan Hilty, "Smash") falls for the fellow playing St. Nick in the new TV movie "Santa's Boots." With Noah Mills. 8 p.m. Lifetime
Customized TV listings are available here: www.latimes.com/tvtimes
Click here to download TV listings for the week of Dec. 2-8, in PDF format
---
Inside the business of entertainment
The Wide Shot brings you news, analysis and insights on everything from streaming wars to production — and what it all means for the future.
You may occasionally receive promotional content from the Los Angeles Times.