How HBO's 'The Deuce' brings the female perspective to 1970s porn and prostitution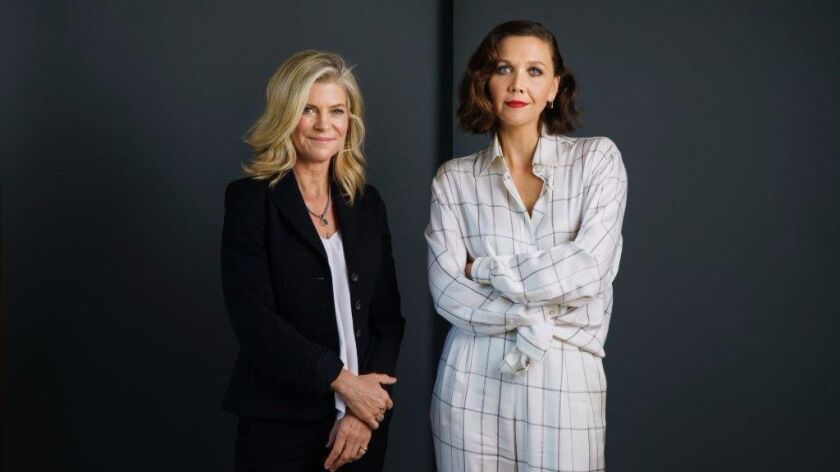 Reporting from New York —
Before Maggie Gyllenhaal agreed to play Candy, a Times Square prostitute in the 1970s-set HBO series "The Deuce," she had one condition: She needed to be a producer on the series too.
While Gyllenhaal was excited to work with co-creators David Simon and George Pelecanos, she'd only seen scripts for three of the eight episodes and felt she had to have some formalized creative input — particularly given the provocative subject matter and inherent potential for exploitation.
Her agents, managers and friends told her it would never happen. But HBO said yes.
"It was for insurance, and I never had to use my insurance," says the actress, 39, relaxing at a Brooklyn cafe after a long photo shoot. The process ended up being intensely collaborative, with Simon writing, at Gyllenhaal's suggestion, a memorable scene of Candy masturbating.
FULL COVERAGE: Fall 2017 TV preview »
"I knew that my body would be required, and I wanted to make sure that they also wanted my mind. And they did."
When Simon and Pelecanos set out to make a series exploring the commodification of women's bodies, they knew it had to have a strong female perspective. Gyllenhaal is one of a team of women who played vital roles in shaping the direction of the series, which premieres Sunday on HBO, including director and executive producer Michelle MacLaren, writers Lisa Lutz and Megan Abbott, and executive producer Nina K. Noble. Half of the eight-episode first season was directed by women.
"This could not be the boys' version of sex work or pornography," says Simon, the reporter turned television auteur known for crafting previously for HBO such novelistic tales of urban life as "The Wire" and "Treme." "That would have been not only disastrous strategically, but wrong ethically."
This could not be the boys' version of sex work or pornography. That would have been not only disastrous strategically, but wrong ethically.
David Simon
Opening in 1971, as the once-illicit adult film industry began to thrive in the open, "The Deuce" follows a loosely connected ensemble of pimps, prostitutes, cops and mobsters with ties to the flesh trade along 42nd Street. (The show's title was a nickname for the thoroughfare). James Franco does double duty as twin brothers Vincent and Frankie Martino, both drawn into the local industry.
Simon saw two potential dangers in depicting sex work. "One is the imagery starts being pornographic or titillating in ways that you're trying to resist. You don't want the camera to linger for the sake of exciting people," he says. "And, you don't want the camera to avert its gaze of what the product actually is. Then it becomes 'Pretty Woman.'
"To have the visual template created by women felt paramount," Simon explains.
"Game of Thrones" veteran MacLaren agreed to come on board once she was assured "that this was a critique of misogyny and exploitation," she says. She helmed two episodes of "The Deuce," including the pilot. A prolific director with a knack for intense and often graphic material — "Breaking Bad" creator Vince Gilligan nicknamed her "Samantha Peckinpah" — MacLaren drew inspiration from seminal films of the era such as"Mean Streets," "The Panic in Needle Park," "Shaft" and "Saturday Night Fever."
MacLaren comes off as a consummate filmmaker, speaking with giddy excitement about pulling off a three-shot sequence inspired by "Breakfast at Tiffany's" early one morning in midtown Manhattan.
A collection of photos taken at Terminal Bar, a notorious dive that used to stand across from the Port Authority, was also a key visual reference, though finding suitable locations in post-Bloomberg New York was a challenge.
"The Deuce" is the third series in the past two years to take a crack at 1970s New York City, when the city was blighted by abandoned buildings, piles of garbage and rampant crime, but was also a hotbed of creativity. Previous efforts, HBO's "Vinyl" and Netflix's "The Get Down," were expensive disappointments, both canceled after one season.
"The Deuce" is so far the most convincing, at least in terms of squalor — and its blunt depiction of the once-bustling sex trade in Times Square plays a large part in its seedy verisimilitude.
Visually, MacLaren drew a clear line between transactional sex, filmed with a "raw simplicity," and the more voluntary kind, "shot in a sexier way." "To me it's always about serving the story," she says.
It was MacLaren's idea to cast Gyllenhaal as a streetwalker whose independence — she refuses to work for a pimp — and ambition marks her as an outsider on 42nd Street. The two had struck up a friendship while in talks on another series that neither ultimately pursued. They shared an interest in the question of, as Gyllenhaal puts it, "How do you explore sex on film really from a feminine perspective?"
Pelecanos and Simon leaned even more than usual on longtime producer Nina Noble, who became a sounding board for the actresses. "I think it made the work a lot easier for the women who were doing the show to express their concerns to Nina," Simon says.
The showrunners also recruited crime novelists Lisa Lutz and Megan Abbott for their writers room. They focused on fleshing out the series' large female ensemble, especially the women selling their bodies on 42nd Street, who include Darlene (Dominique Fishback), with a baby face and love of literature; Lori (Emily Meade), a not-so-naive newbie from Minnesota; and Ashley (Jamie Neumann) a weary veteran with an abusive pimp.
"Our main objective was for there to be a range and for them to be as distinct as possible," says Abbott. One early note: Give the character known only as "Thunder Thighs" in the pilot script an actual name.
Another concern for Abbott and Lutz was making sure the prostitutes were every bit as interesting as their flamboyantly styled pimps, played by Method Man of the Wu Tang Clan and Tariq Trotter of the Roots, among others. "Even in real life pimps are a little cartoonish, and it's hard to avoid the fun element of them on some level. But you have to figure out how to match that with the women," Abbott says.
Research was also key for Gyllenhaal, who spoke to a number of former sex workers, including performance artist Annie Sprinkle, read "Porno Star," a memoir by the late adult film star Tina Russell, and delved into the Rialto Report, a podcast about the so-called golden age of porn.
"It seems like sex work, especially street prostitution, is so difficult that it requires a lot of disassociation," she says, noting that someone like Candy would have slept with eight to 10 men a night. "And there are some people who can't handle that, and who do lose their mind."
Gyllenhaal, who had to film numerous transactional scenes with actors playing unnamed johns, says bluntly that she "didn't like having pretend sex scenes with people I don't know."
"I don't mind sex scenes with people who you have a relationship with, where there's a really clear conversation that's happening between two characters inside of scene. That was not what was happening in all those scenes."
She recalls an overwhelming sense of relief after filming her last sex scene: "Thank God! There's no more."
Even filming the masturbation scene she had originally proposed was intimidating. "After having seen her [have sex with] how many people? What does it look like when she actually is satisfied?" Gyllenhaal had wondered. "To perform an orgasm that was just wholly private — that's pretty vulnerable," she says, but it helped that a woman, Uta Briesewitz, directed the episode.
"There are so few representations of women and also of our female experience that feel like reality when we watch them," says Gyllenhaal. "I want to do it honestly."
See the most-read stories in Entertainment this hour »
This story is part of The Times' 2017 Fall television preview. Check out the complete coverage here.
Follow me @MeredithBlake
ALSO:
All the new television shows to check out this fall
'Me, Myself, and I' finds Bobby Moynihan in a new place
Ken Burns and Lynn Novick untangle the complexities of the Vietnam War
---
From the Emmys to the Oscars.
Get our revamped Envelope newsletter, sent twice a week, for exclusive awards season coverage, behind-the-scenes insights and columnist Glenn Whipp's commentary.
You may occasionally receive promotional content from the Los Angeles Times.