Oscar winner Kenneth Lonergan goes back in time with Starz's 'Howards End'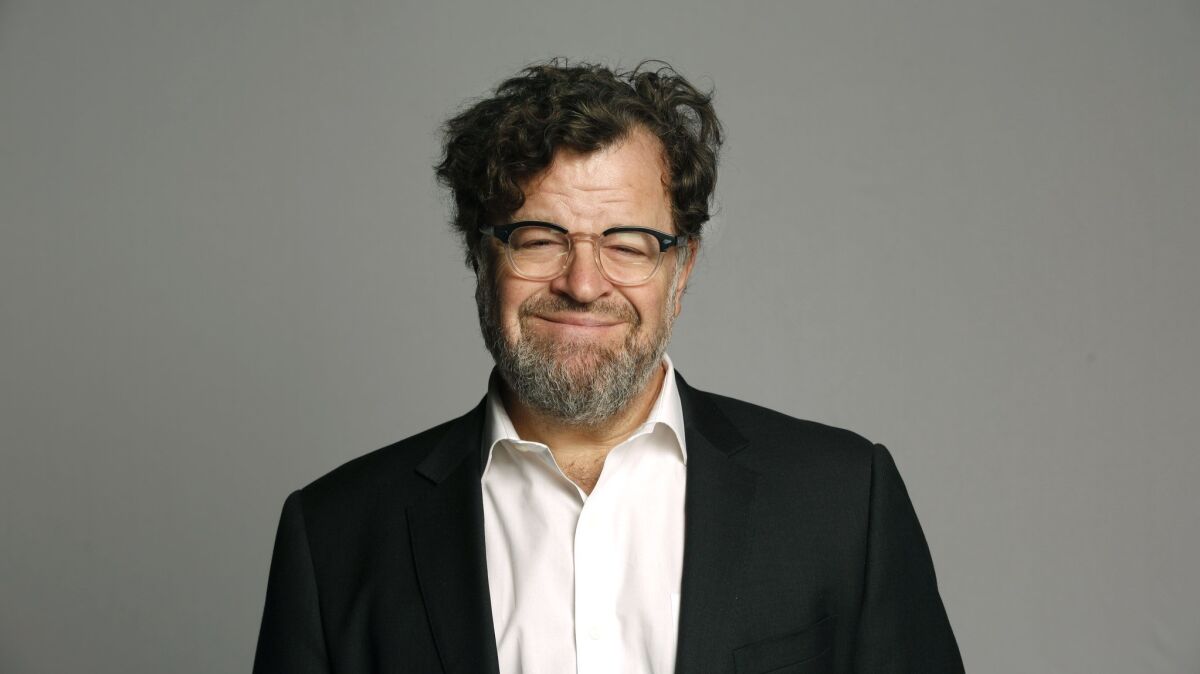 Kenneth Lonergan is not the first name that comes to mind when you think "stately period piece."
In a 25-year career as a screenwriter, director and dramatist, Lonergan has gravitated to contemporary tales of tragedy and alienation, often revolving around well-meaning, self-sabotaging screw-ups. He clinched this reputation last year with a screenwriting Oscar for "Manchester by the Sea," his wrenching portrait of an emotionally arrested Massachusetts janitor moving on — if not exactly recovering — from nearly unimaginable personal loss.
He also hasn't worked in television since penning two episodes of the Nickelodeon animated series "Doug" in the early 1990s, and he had never previously adapted a novel.
All of which made him an unlikely choice to adapt "Howards End," E.M. Forster's 1910 novel about the intersecting fortunes of three families in Edwardian London, into a miniseries premiering April 8 on Starz.
Even Lonergan was unsure initially that he was the person for the job. For starters, when he was first approached about the project, he'd never actually managed to finish the book.
"It just didn't grab me the first time," the writer says on a miserably rainy and windswept March afternoon that feels like a scene taken from Forster's novel, the plot of which turns on a misunderstanding involving an umbrella. "I don't push through most books, which is not a good habit."
He tried again and finished the book, but worried about what he saw as Forster's overly schematic exploration of class and its thinly developed romantic relationships, a point he raised with executive producer Colin Callender.
"My response was, 'That's exactly why we want you to write it,'" says Callender, who approached Lonergan about the BBC/Starz co-production well before "Manchester by the Sea" became a critical and commercial success.
I think what [Lonergan] does is explore character in great depth, and in a way that's surprising and unexpected. He avoids the easy traps, the easy cliche.
— Executive producer Colin Callender
Though Lonergan wasn't known for his literary adaptations, Callender was excited by his portrayals of women and young people as well as his "peerless" range. "I think what he does is explore character in great depth, and in a way that's surprising and unexpected," he said. "He avoids the easy traps, the easy cliches."
The result is a revelation: Lonergan has enhanced Forster's novel rather than dramatically altering it.
The story follows Margaret and Helen Schlegel (Hayley Atwell and Philippa Coulthard, respectively), a pair of unmarried, upper middle-class sisters, and their interactions with the wealthy Wilcox family, headed by Ruth (Julia Ormond) and Henry (Matthew Macfadyen), and Leonard Bast (Joseph Quinn), an impoverished insurance clerk with lofty cultural aspirations and a henpecking wife, Jacky (Rosalind Eleazar).
Directed by Hettie Macdonald, the four-part series offers a glimpse at a society in flux that's both historically faithful and relatable to contemporary viewers, especially the independent, idealistic Schlegel sisters. Lonergan was particularly taken by Margaret, who offers a unique combination of "a really lively emotional life and a really sharp intellect. You don't see a lot of characters that think their way through things the way she does."
This version stands on its own merits despite the long shadow cast by the Oscar-winning 1992 Merchant Ivory film starring Anthony Hopkins and Emma Thompson. Lonergan says he wasn't intimidated by the popularity of that adaptation, which he recalls only fleetingly. "I remember [two characters who] had sex in a boat," he says at a restaurant near his home in downtown Manhattan, "which struck me as unrealistic."
Though his experience with period storytelling is mostly limited to Martin Scorsese's "Gangs of New York," on which he's one of three credited screenwriters, Lonergan relished digging into research about London in the years before World War I — details like "how often the postal service worked and how many cars were in London at the beginning of the story versus the end of the story," he said.
The chance to work on a period piece was a primary selling point for Lonergan, who calls Stanley Kubrick's "Barry Lyndon" one of his favorite films and cites the BBC's 1995 version of "Pride and Prejudice" starring Colin Firth, Jennifer Ehle and Firth's wet shirt, as "the gold standard of long-form literary adaptations."
"All that dialogue is straight out of the book. They speak in the most formal, Jane Austen-y sentences and it works just beautifully," he says, praising the miniseries for capturing Austen's "incredible sense of humor."
See the most-read stories in Entertainment this hour »
His version of "Howards End," which aired to glowing reviews on the BBC in November, also feels surprisingly funny, with Helen and Margaret's hypochondriac brother, Tibby (Alex Lawther), and dotty Aunt Juley (Tracey Ullman) providing steady comic relief. "There's no point in doing anything if you can't put in some jokes," says Lonergan, whose curmudgeonly demeanor is tempered by a wit so dry, you can't always be sure it's there.
Director Macdonald, who has known Lonergan since they were both young interns at London's Royal Court Theatre, was struck by the humor, verve and intelligence of his adaptation — qualities present in the novel but somewhat overlooked by the staid romanticism of the Merchant Ivory film. "His writing is just so full of life, and that seemed to me brilliant and unusual for a period drama," she says.
Known for his realistic, often overlapping dialogue, Lonergan also has a well-tuned ear for Edwardian language. His characters say, "Are you stopping with us?" instead of "Are you staying with us?," among other turns of phrase. Linguistic authenticity was key for Lonergan, who is bothered by period pieces that "don't really trust the period enough."
Says the 55-year-old between forkfuls of lobster salad, "You don't go to a foreign country now and expect them to walk and talk the way we do. Whoever it was that said the past is a foreign country, I forget, but it's very true. To me, it's like an opportunity to make it colorful and interesting, alive and connect you with a different culture and a different time that's very alive. They were stiff and formal but they still had the same gamut of emotions we have. They're just channeled through different apertures."
Without mentioning names, he scoffed at the "snobbery" of looking down on previous periods with moral superiority: "We're formed by our times just as anyone back then was formed by their time. Nobody's going to be admiring us in a hundred years for our advanced social views. People are going to think how enlightened we were? They're going to think we were a bunch of primitive savages."
Based largely on the trio of films he's directed — "You Can Count on Me," "Margaret" and "Manchester by the Sea" — Lonergan is thought of as an artist interested in how people cope with tragedy and loss, a theme that's also present in "Howards End." But he doesn't quite see himself as the master of misery.
"You could say Quentin Tarantino's interested in tragedy much more than I am, if you do a body count," he says. "One of the Coen Brothers, when someone pointed out that their movies are so violent, he said, 'Yeah, it's called drama.' And I kind of think of it in the same way. I don't think I'm particularly interested in tragedy. To me, it's just dramatic and makes for something worth working on and seeing."
The premiere of "Howards End" coincides with a well-received Broadway revival of Lonergan's 2001 play, "Lobby Hero," which opened this month at the Hayes Theater, starring Michael Cera, Brian Tyree Henry, Chris Evans and Bel Powley.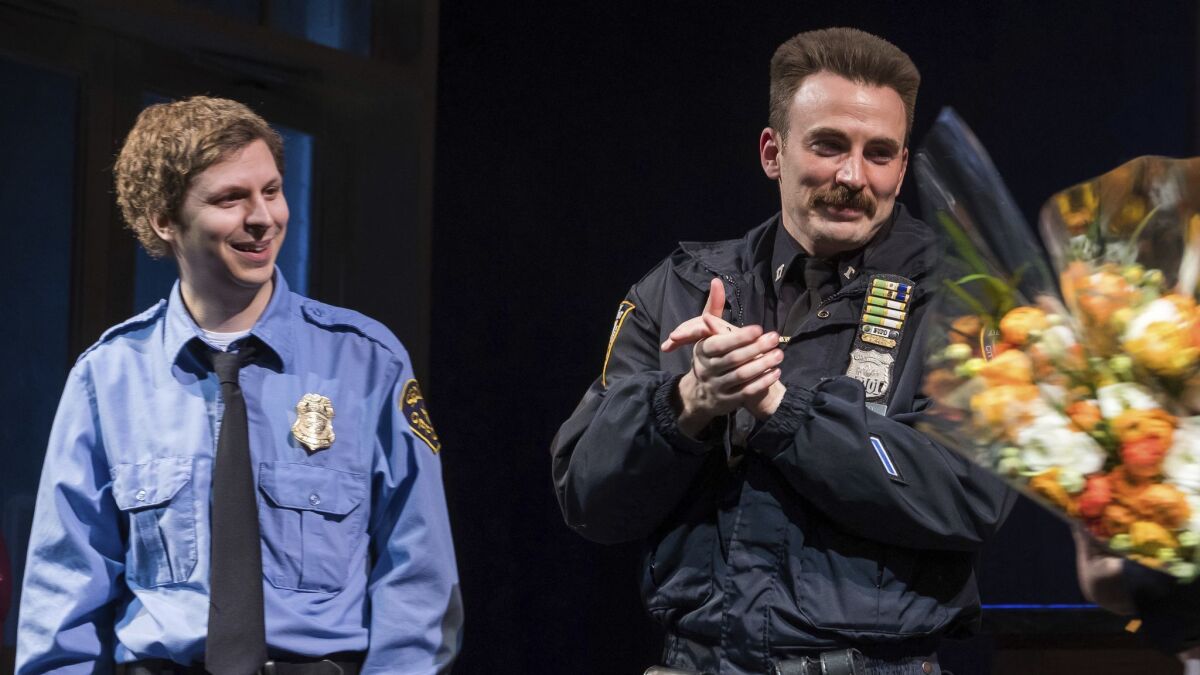 For Lonergan, who keeps notes on "Lobby Hero" in a thematically appropriate NYPD notebook purchased at a Midtown tourist shop, working on the revival has meant a welcome return to the shabbier world of theater, where "the rehearsal room is not always so clean and the soundproofing isn't always so great." The newly refurbished Hayes Theater has "the cleanest, newest backstage I've ever seen. It's all white," he says. "And it doesn't feel good."
Lonergan's current period of professional momentum marks a turnaround from "Margaret," which was filmed in 2005 and finally released, after bitter legal and creative disputes with distributor Fox Searchlight, in 2011. The movie stars Anna Paquin as a Manhattan teenager grappling with guilt over her role in a deadly bus accident.
Though he didn't direct "Howards End," Lonergan remained a part of the creative process to an extent he found surprising, based on previous experiences as a Hollywood scriptwriter (his credits include "Analyze This" and "The Adventures of Rocky and Bullwinkle"). "They asked me permission to move a scene from the kitchen to the hallway, and I almost fell out of my chair."
Lonergan, who's currently reading "Empire of the Summer Moon," a history of the Comanche people, is also excited about the potential of exploring other time periods through his work.
"I love the Enlightenment, the Middle Ages. I love the '20s, '30s and '40s," he says. "Pretty much just drop back 30 years and go from there."
'Howards End'
Where: Starz
When: 8 p.m. Sunday
Rating: TV-14 (may be unsuitable for children under the age of 14)
Follow me @MeredithBlake
---
The complete guide to home viewing
Get Screen Gab for everything about the TV shows and streaming movies everyone's talking about.
You may occasionally receive promotional content from the Los Angeles Times.