Column: From 'Hello, Dolly!' to Glenn Close, more women than ever prove 70 is the new fabulous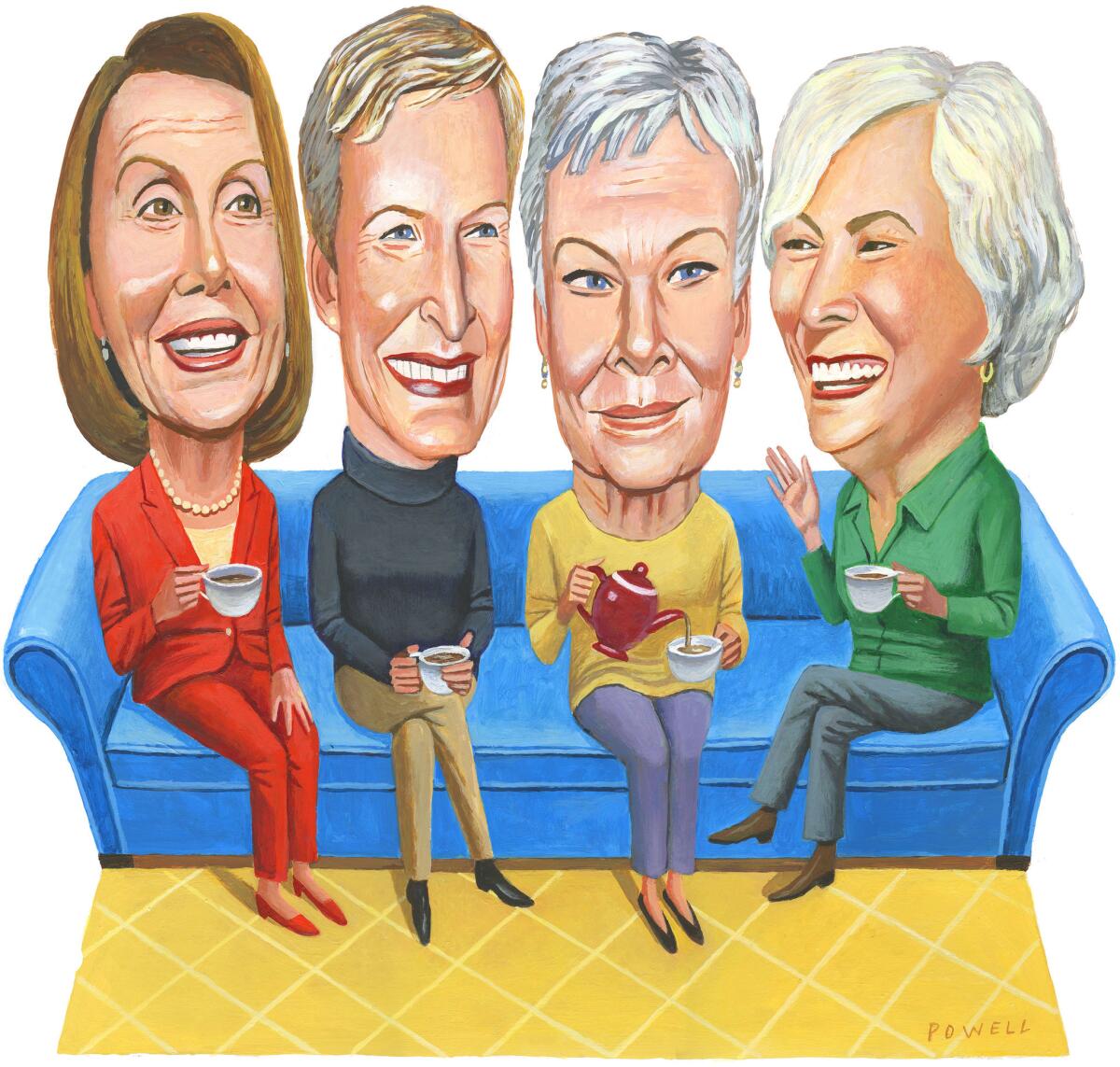 Culture columnist/critic
"Wow, wow, wow, fellas; look at the old girl now, fellas."
Dolly Gallagher Levi's appearance at the Harmonium Gardens is always a moment of triumph. But watching Betty Buckley descend that famous staircase during the climactic signature number of "Hello Dolly!" at the Pantages, that triumph felt bigger than that of a widow finally deciding to "get in step while there's still time left."
It was a symbol, and one in scarlet sequins and a feathered headdress — which is always the best kind — of a cultural moment that seemed impossible even a decade ago.
RELATED: The story behind Mary McNamara's new Times column »
Buckley is 71, as was Bette Midler when she opened the revival on Broadway for which she won a Tony. A stage production of "All About Eve" may be hitting London next month, but we've come a long way from the days when an actress is considered "aging" at 40 or, as in "Sunset Boulevard," literally insane for contemplating a comeback at 50.
"There's nothing tragic about 50," Joe Gillis says in "Sunset Boulevard," explaining to Norma Desmond that there will be no more movies for her. "Unless you're trying to be 25."
(Shortly thereafter she shoots him, and honestly, can you blame her?)
So when this Dolly — as opposed to 27-year old Barbra Streisand, who was cast in the film version — sang "I'm going to raise the roof, I'm going to carry on," it meant something a little bit different.
Something like: This is the dawning of the age of septuagenarius.
Glenn Close, who won a Tony for her Norma Desmond in Andrew Lloyd Webber's "Sunset Boulevard" and reprised the role less than two years ago, is also 71 and after winning a Golden Globe and the SAG Award is leading this year's lead actress Oscar race for her performance in "The Wife."
The notion that women naturally aged out of starring roles at 40 didn't just limit careers and story lines, it reinforced the steel cage for women in general.
— Mary McNamara
At the Globes, Close was not the sole representative of her age bracket; Dolly Parton, 73, was nominated for "Girl in the Movies" from "Dumplin," as was Candice Bergen, 72, who brought "Murphy Brown" out of retirement last year. And after waltzing on the lip of the abyss for two years, Nancy Pelosi is, at 78, once again speaker of the House, staring down a president willing to shut down the government when Congress refused to fund his wall.
None of which is the work of feisty grandmas; no one calls Harrison Ford or Joe Biden a "fiesty grandpa," or marvels that Robert Redford is still getting around. These women are not meme fodder, to be condescendingly adored in snippets by the (all-male) hosts of late-night for their willingness to swear or be sexual or wear bathing suits in public. They are not freaks of nature; look at the top ranks of most industries and you will find men for whom death is the only age that matters.
For years, the media has loved to surprise readers with nauseating lists like "Most Beautiful Stars over 50" or "Stars Who are Aging Gracefully" because women who remained stars past 50 could fit on a single list. But 50 is no longer news, nor is 60. Lily Tomlin, Helen Mirren, Leslie Uggams, Susan Sarandon, Tyne Daly and Cher are all in their 70s; Jane Fonda, Rita Moreno, Judi Dench, Maggie Smith, Gloria Steinem are in their 80s (as is Chief Justice Ruth Bader Ginsburg, who has redefined judicial "star power").
All of them still doing amazing work, work with depth that can only be created by experience, breadth that comes only from consistent honing of craft. Work that also utterly changes our notions about women's age, appearance and ability.
Maggie Smith may claim she remains afraid of dropping a line or annoying her cast mates (though it's hard to imagine a cast mate with the intestinal fortitude to display annoyance with Maggie Smith), but she did almost single-handedly resurrect PBS — do you really think "Downton Abbey" would have been a hit without her — while Fonda and Tomlin's "Grace and Frankie" turns the time-honored notion of female friendship being trumped by marriage on its head, never mind what it's done for the vibrator business.
Male performers have always been allowed to look any old way they want, even as they aged, no matter how savage the impact of dietary habits, recreational drug use or gravity. Their female counterparts, meanwhile, were required to be beautiful and female beauty has long had a narrow definition that began with "young" (and, alas, white).
There were a few exceptions — films about aging queens, mother-daughter relationships and, of course, crazy women. When Bette Davis made her comeback in "Whatever Happened to Baby Jane?" she played a broken-down ghoul of an actress who, if the math of the story line holds up, was, like Davis, in her mid-50s.
So yeah, Baby Jane was about as old as Jodie Foster or Julianne Moore.
Now the luxury of longevity is finally being extended to women, even in close-up. Two years ago, in FX's "Feud: Bette and Joan," which dramatized the making of "Baby Jane," Davis was played by Sarandon, who is now 72.
Even the fashion industry is entering a "greynnaisance," which, according to Business of Fashion, began when Joan Didion became the face of Celine at 80.
All of which matters for the same reason #Oscarssowhite and other calls for inclusion matter: The people we see on film, television and stage mark who we value in society, whose stories we think are important enough to tell. (Most of the actors I have mentioned are white because, sadly, most of the well-known actors of their generations are white, which is slowly changing, and age was just one of the barriers female actors of color faced.)
The notion that women naturally aged out of starring roles at 40 didn't just limit careers and story lines, it reinforced the steel cage for women in general. Hollywood has spent years telling us that women are interesting only when they're young enough to fall in love, have sexy, cool friends and/or children. When the kids are old enough to talk or sing, motherhood usually becomes a supporting role. As for the years after, well, post-menopausal women, with a few notable "Golden Girls" exceptions, were just old and uninteresting.
Except of course none of that is true, which is why "Hello Dolly! was a Broadway smash with Midler, and now on national tour with Buckley; why Close became an Oscar nominee just a few months after wowing critics as Joan of Arc's mother in "Mother of the Maid" at the Public Theater; why Parton is writing and performing hit songs; why Uggams' "Blind Al" was able to steal her "Deadpool 2" scenes from under the feet of Deadpool himself; and why Moreno is not only burning it up on "One Day at a Time," she will soon have starred in two versions of "West Side Story," separated by more than half a century.
So forget 50 is the new 40 or 60 is the new 50 or whatever. Focus on 70, because 70 is the new fabulous.
And if you don't believe me, consider this: Both Elizabeth Warren and Meryl Streep are 69.
Get our L.A. Goes Out newsletter, with the week's best events, to help you explore and experience our city.
You may occasionally receive promotional content from the Los Angeles Times.