Review: In tense times, Godspeed You! Black Emperor sounds hopeful on 'Luciferian Towers'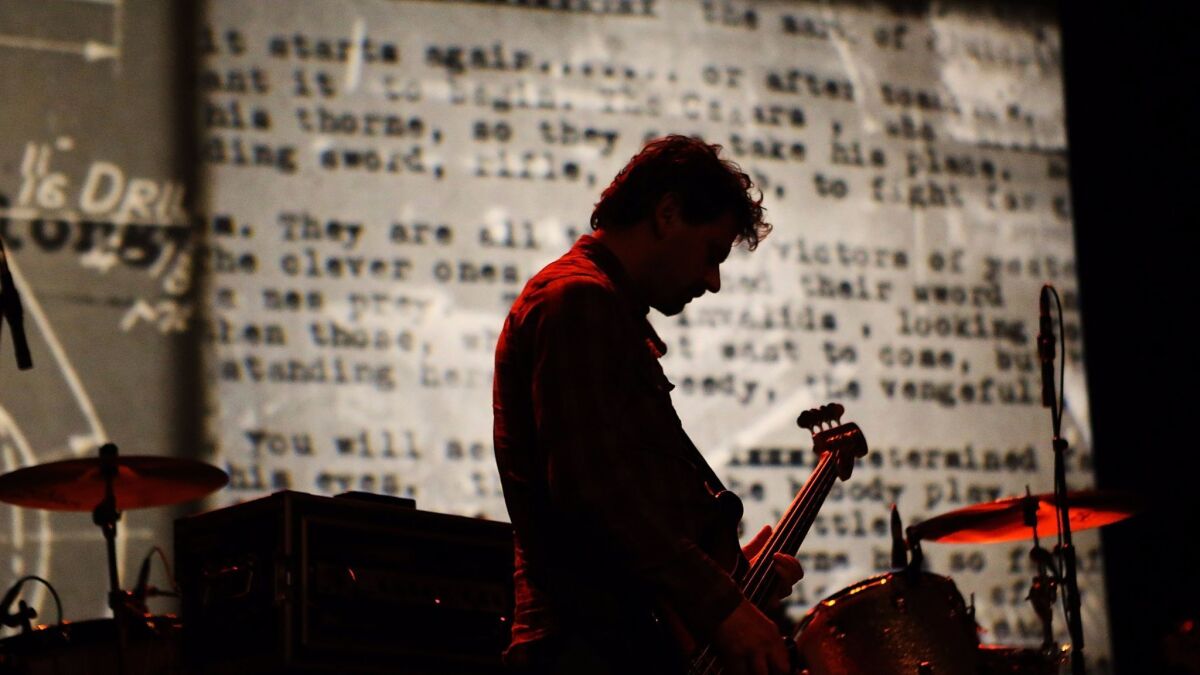 In some ways, Godspeed You! Black Emperor and 2017 were made for each other.
On the one hand, the Canadian agit-rock instrumental collective has decried rampant capitalism, the military industrial complex and what it considers a crumbling world since its 1998 debut, "F#A# (Infinity)," opened with one of the doomiest visions of the apocalypse this side of Cormac McCarthy.
So, how would a long-defiant band that has warned of a world on the brink in its recordings respond now that every day seems to auger in a new menace?
The stakes inevitably feel raised for the group's latest statement, "Luciferian Towers," out Sept. 22 on the Constellation label. The band does not give interviews, but the statements surrounding this record seem more direct than usual, issuing "grand demands" with the album's press packet that advocate for human rights, healthcare and housing and, in closing, that "the expert [expletives] who broke this world never get to speak again."
Given the band's track record for uncompromising politics — 2002's "Yanqui U.X.O." argued that there was a connection between major labels and defense contractors, and GY!BE's 2012 album included recordings from student protests in the collective's native Montreal — there's an inevitable expectation that Godspeed is among the few explicitly political bands capable of channeling into music the frustration, anger and fear that many feel in 2017.
Except, given the dramatic corner of "post-rock" the band established — reliably foreboding dynamics amid vocal samples about the end times — how could this political climate be captured in a way that doesn't simply sound like a new misery to confront?
The world is ending, Godspeed has long promised us. Yes, we know.
The band faced a similar sort of expectation with "Yanqui," which was released amid the war and uncertainty after the Sept. 11 terrorist attacks. Though most of the album was written years before then, its stark, slow-burning songs somehow felt like a letdown in the face of so much turmoil — because, of course, it did.
The band subsequently went on hiatus for 10 years, but now, three albums into a second act, there's a sense that GY!BE may have shifted its approach a touch. Instead of ramping up the collective members' sense of outrage to the point where the purest response may have been recording the sound of their instruments hitting a wall — a satisfying feeling, maybe, but hard to sustain for an album — Godspeed has taken measured steps closer to beauty.
Functioning as something of an overture, "Undoing a Luciferian Towers" gathers strength behind a hazy swell of strings, synth drones and guitars that make space for flute, trumpet and a wailing saxophone. For all its stormy components, the track finally coalesces into a brief but anthemic melody that sounds like a celebration.
Following a similar orchestral surge, the three-part suite "Bosses Hang" sounds less like a siege than a stirring tribute to its results. After opening in a framework of shivering violins and a spare guitar figure, the piece swirls behind galloping percussion that continues reaching new heights before coalescing into an anthemic conclusion. Where GY!BE's music has so often offered sonic portraits of clouds gathering, here you can imagine them breaking.
The record's second half follows a similar model, with a less-structured orchestral piece, "Fam/Famine," introducing "Anthem for No State." Here, the sound is similarly understated, and a bit more contemplative, with echo-laden guitar pushing the song slowly forward amid wide open spaces. Then a storm of feedback ushers along the band's signature quiet-loud shift in an avalanche of heavy drums that push through crescendo after crescendo before settling on a lyrical violin melody.
If you're familiar with Godspeed's work, this is far from a reinvention, but it's also not a record of mourning, as much of the collective's music has been described. Instead, it feels more like a call to action and creation, even if only to assemble an hour or so of music. "More of us than them!" the album's notes remind us alongside "Bosses Hang," even in the face of a grim reality that "the forest is burning and soon they'll hunt us like wolves." The world is ruined — but all of us are still here.
It's not a revolutionary message for Godspeed, which has been delivering variations of this song for almost 20 years. But it still sounds like a revolution.
Godspeed You! Black Emperor, "Luciferian Towers" (Constellation) Sept. 22.
See the most-read stories in Entertainment this hour »
Follow me over here @chrisbarton.
ALSO:
Inventive and influential jazz guitarist John Abercrombie dies at 72
Herbie Hancock and Kamasi Washington cross the generational divide at the Hollywood Bowl
Transcending genre labels, Vijay Iyer leads the Ojai Music Festival toward bold new territory
---
Get our L.A. Goes Out newsletter, with the week's best events, to help you explore and experience our city.
You may occasionally receive promotional content from the Los Angeles Times.