Thursday's TV highlights: 'The Orville' on Fox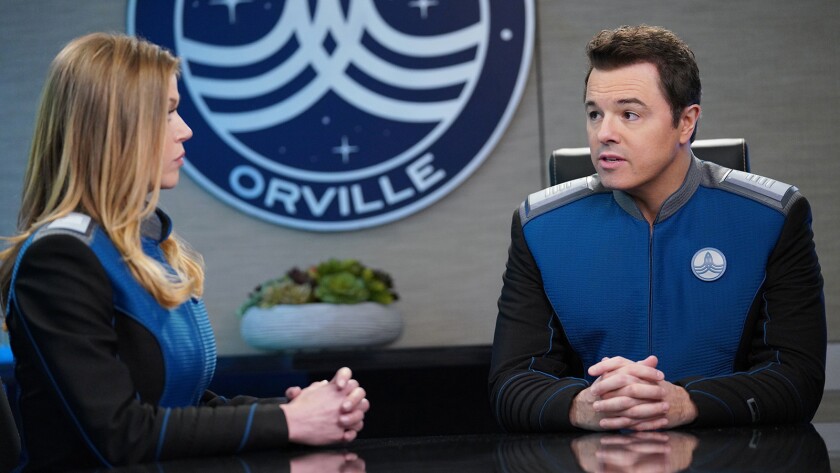 SERIES
The Big Bang Theory Penny and Leonard (Kaley Cuoco, Johnny Galecki) organize a paintball game for fun, but it soon devolves into a medium for settling grudges when Sheldon (Jim Parsons) becomes jealous of Amy (Mayim Bialik) in this new episode. 8 p.m. CBS
The Titan Games Dwayne Johnson hosts this energetic new athletic competition testing contestants' physical prowess and mental abilities. Liam McHugh and Alex "Goldenboy" Mendez provide commentary and Cari Champion interviews competitors. 8 p.m. NBC
Gotham The comic book-inspired drama returns for its fifth and final season, which will see the city's criminal landscape emerge, pitting Gordon and Bullock (Ben McKenzie, Donal Logue) against depraved and mercurial villains. David Mazouz also stars. 8 p.m. Fox
Young Sheldon Sheldon (Iain Armitage) uses his unwitting sister (Raegan Revord) as a test subject for an experiment. Also, Georgie (Montana Jordan) joins Mary's (Zoe Perry) Bible group to get close to his crush (Isabel May). 8:30 p.m. CBS
The Orville Ed (Seth MacFarlane) and the crew discover a planet about to be destroyed by its sun in this new episode of the science-fiction parody. Adrianne Palicki, Penny Johnson Jerald and Scott Grimes also star. 9 p.m. Fox
Surviving R. Kelly This three-night documentary series, premiering tonight with two episodes and concluding Saturday, sheds a light on many of the dark rumors surrounding R&B superstar R. Kelly. Among those sharing their perspectives on Kelly's controversial past are civil rights activist Tarana Burke, musician John Legend, talk show host Wendy Williams, ex-wife Andrea Kelly and brothers Carey and Bruce Kelly. 9 and 10 p.m. Lifetime
S.W.A.T. The team receives a warning that a copycat plans to reenact an old school shooting the team had responded to, in this new episode. Shemar Moore, Stephanie Sigman, Alex Russell and Lina Esco star. 10 p.m. CBS
The Blacklist This crime drama returns for a new season with a two-part story (concluding Friday) that opens as Red (James Spader) hands off a new case to the team, prompting a search for a plastic surgeon who specializes in creating new identities for fugitives. Elsewhere, Liz (Megan Boone) and her sister Jennifer (guest star Fiona Dourif) mount their own covert investigation into what happened the night the real Raymond Reddington died. Kenneth Tygar and Christopher Lambert guest star. 10 p.m. NBC
SPECIALS
The Last Days of John F. Kennedy Jr. This new special looks back at the weeks leading up to the plane crash that killed Kennedy, his wife, Carolyn Bessette-Kennedy, and her sister, Lauren. 9 p.m. ABC
TALK SHOWS
CBS This Morning (N) 7 a.m. KCBS
Today (N) 7 a.m. KNBC
KTLA Morning News (N) 7 a.m. KTLA
Good Morning America Aidan Gillen. (N) 7 a.m. KABC
Good Day L.A. David Mazouz ("Gotham"); Dr. Steve Perry; Mary Wilson performs; Mayor Eric Garcetti (D-Los Angeles). (N) 7 a.m. KTTV
Live With Kelly and Ryan Jada Pinkett Smith; Shay Mitchell; Sam Heughan; Troye Sivan. (N) 9 a.m. KABC
The View Author Alan Dershowitz. (N) 10 a.m. KABC
The Talk Shemar Moore. (N) 1 p.m. KCBS
Dr. Phil Kathy Bates talks about her battle with cancer and living with lymphedema. (N) 3 p.m. KCBS
The Ellen DeGeneres Show Podcaster Dax Shepard; special education teacher Jenna Albi. (N) 3 p.m. KNBC
The Dr. Oz Show A gynecologist recorded patients before being caught; how caffeine impacts weight gain and anxiety. (N) 3 p.m. KTTV
Amanpour and Company (N) 10 p.m. KVCR; 11 p.m. KOCE; 1 a.m. KLCS
Nightline (N) 12:37 a.m. KABC
SPORTS
College Basketball Penn State at Michigan, 4 p.m. ESPN; Illinois at Indiana, 4 p.m. FS1; Saint Mary's at San Francisco, 6 p.m. ESPN2; Colorado at Arizona, 6 p.m. FS1; Loyola Marymount at Pepperdine, 7 p.m. SPST; Stanford at UCLA, 8 p.m. ESPN
NHL Hockey The Chicago Blackhawks at the New York Islanders, 4:30 p.m. NBCSP; the Kings host the Tampa Bay Lightning, 7:30 p.m. FSN.
NBA Basketball The Toronto Raptors at the San Antonio Spurs, 5 p.m. TNT; the Houston Rockets visit Golden State Warriors, 7:30 p.m. TNT
For more sports on TV, see
the Sports section.
Customized TV listings are available here: www.latimes.com/tvtimes
Click here to download TV listings for the week of Dec. 30, 2018 - Jan. 5, 2019, in PDF format
---
The complete guide to home viewing
Get Screen Gab for weekly recommendations, analysis, interviews and irreverent discussion of the TV and streaming movies everyone's talking about.
You may occasionally receive promotional content from the Los Angeles Times.