Tuesday's TV highlights: 'The Kids are Alright' on ABC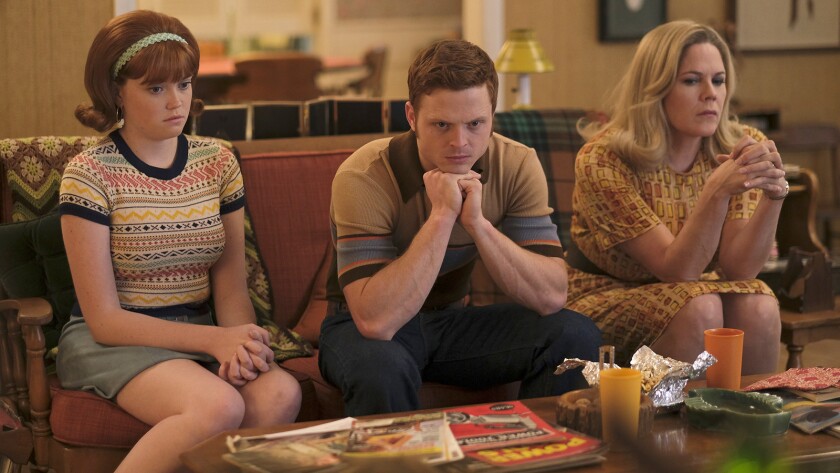 SERIES
The Flash Barry (Grant Gustin) and Ralph (Hartley Sawyer) go undercover as criminals in an illegal black market to purchase a device that could help them stop Cicada (Chris Klein) in this new episode. 8 p.m. KTLA
American Housewife Greg (Diedrich Bader) wants to do the family taxes on his own, but Katie (Katy Mixon) takes matters into her own hands as the family comedy returns from hiatus. Meg Donnelly also stars with guest stars Milo Manheim and Peyton Meyer. 8 p.m. ABC
SoCal Connected This new episode documents the enforcement of environmental policies, including tree removal and spending money meant for parks, by the city of Los Angeles. 8 p.m. KCET
Finding Your Roots With Henry Louis Gates, Jr. S. Epatha Merkerson ("Chicago Med") and Michael Strahan ("Good Morning America") each learn unexpected details about their families. 8 p.m. KOCE and KPBS
The Kids Are Alright The family is conflicted when Lawrence (Sam Straley) and Eddie (Caleb Foote) are drafted for the Vietnam War. Peggy (Mary McCormack) and Mike (Michael Cudlitz) try to influence their sons' decisions about serving in this new episode of the period comedy. 8:30 p.m. ABC
Leah Remini: Scientology and the Aftermath Constitutional law expert Jay Wexler discusses Scientology's effort to attain tax-exempt status in the U.S. in this new episode. 9 p.m. A&E
American Soul Sinqua Walls ("Once Upon a Time") stars as Don Cornelius in this new docudrama that charts the life and career of the entrepreneur as he launches the music and dance TV show "Soul Train." Jason Dirden, Iantha Richardson, Christopher Jefferson and Kelly Rowland (as Gladys Knight) also star as the series premieres with two new episodes. 9 and 10 p.m. BET
Teachers Hot Dad (Ryan Caltagirone) surprises Ms. Bennigan (Katie O'Brien) with a visit from her parents, but it turns out not to be the romantic gesture he had hoped for. 10 p.m. TV Land
My Great Big Live Wedding With David Tutera Each episode of this new eight-part event series spotlights a different couple working with event planner David Tutera to devise the wedding of their dreams. The premiere features a Los Angeles firefighter marrying a motivational speaker who lost a leg to an explosive device while serving as a Navy corpsman combat medic in Afghanistan. 10:03 p.m. Lifetime
SPECIALS
State of the Union 2019 President Donald J. Trump speaks to a joint session of Congress and the nation in this annual address. Former Georgia gubernatorial candidate Stacey Abrams will provide the Democratic Party's response. The speeches will be carried live by most major broadcast networks and cable news channels. 6 p.m.
TALK SHOWS
CBS This Morning Author Angie Thomas; author Jill Schlesinger. (N) 7 a.m. KCBS
Today Professional golfer Rory McIlroy; author DeVon Franklin. (N) 7 a.m. KNBC
KTLA Morning News (N) 7 a.m. KTLA
Good Morning America Chris Pratt; Liam Neeson; Reshma Saujani. (N) 7 a.m. KABC
Good Day L.A. Clinical psychologist Lisa Strohman; John Ratzenberger ("Toy Story 4"); Lorena Bobbitt and Joshua Rofe ("Lorena"). (N) 7 a.m. KTTV
Live With Kelly and Ryan Liam Neeson ("Cold Pursuit"). (N) 9 a.m. KABC
The View Jacqueline L. Jackson; Jesse L. Jackson Jr. (N) 10 a.m. KABC
The Wendy Williams Show Kenan Thompson ("Saturday Night Live"); Nick Cannon. (N) 10 a.m. KTTV
The Real Stephen "tWitch" Boss ("Ellen's Game of Games"). (N) 11 a.m. KTTV; 1 p.m. KCOP
The Doctors A woman who was shot in the face returns for an update and transformation reveal. (N) 11 a.m. KCOP
The Talk (N) 1 p.m. KCBS
Steve Giving RVs to wildfire survivors; how to fix bad credit; moments in black history: Rory Flack. (N) 2 p.m. KNBC
Dr. Phil Deceitful behavior. (N) 3 p.m. KCBS
The Ellen DeGeneres Show Ray Romano ("Ray Romano: Right Here, Around the Corner"); Kelly Clarkson ("Meaning of Life"). (N) 3 p.m. KNBC
The Dr. Oz Show John Wayne Bobbitt. (N) 3 p.m. KTTV
Amanpour and Company (N) 10 p.m. KVCR; 11 p.m. KOCE; 1 a.m. KLCS
The Daily Show With Trevor Noah A breakdown of the State of the Union address. (N) 11 p.m. Comedy Central
Conan Jean-Claude Van Damme; stand-up comic Sam Morril. (N) 11 p.m. TBS
The Tonight Show Starring Jimmy Fallon Priyanka Chopra; Henry Winkler; Savannah Guthrie; Lizzo. (N) 11:34 p.m. KNBC
The Late Show With Stephen Colbert (N) 11:35 p.m. KCBS
Jimmy Kimmel Live Will Arnett; Julián Castro; Randy Houser performs. (N) 11:35 p.m. KABC
The Late Late Show With James Corden Billy Crystal; Sarah Chalke; Buddy performs. (N) 12:37 a.m. KCBS
Late Night With Seth Meyers Taylor Schilling; Ana Navarro; Tucker Rule. (N) 12:37 a.m. KNBC
Nightline (N) 12:37 a.m. KABC
Last Call With Carson Daly Benedict Wong; Phoebe Bridgers performs; Drew Tarver. (N) 1:38 a.m. KNBC
SPORTS
NHL Hockey The Kings visit the New Jersey Devils, 4 p.m. FSN; the Ducks visit the Montreal Canadiens, 4:30 p.m. KCOP
NBA Basketball The Clippers visit the Charlotte Hornets, 4 p.m. FS Prime; the Lakers visit the Indiana Pacers, 4 p.m. SPST; the Toronto Raptors visit the Philadelphia 76ers, 5 p.m. TNT; Miami Heat visits the Portland Trail Blazers, 7:30 p.m. TNT
For more sports on TV, see the Sports section.
Customized TV listings are available here: www.latimes.com/tvtimes
Click here to download TV listings for the week of Feb. 2 - 9, 2019, in PDF format
---
From the Emmys to the Oscars.
Get our revamped Envelope newsletter, sent twice a week, for exclusive awards season coverage, behind-the-scenes insights and columnist Glenn Whipp's commentary.
You may occasionally receive promotional content from the Los Angeles Times.