Wednesday's TV highlights: 'Celebrity Big Brother'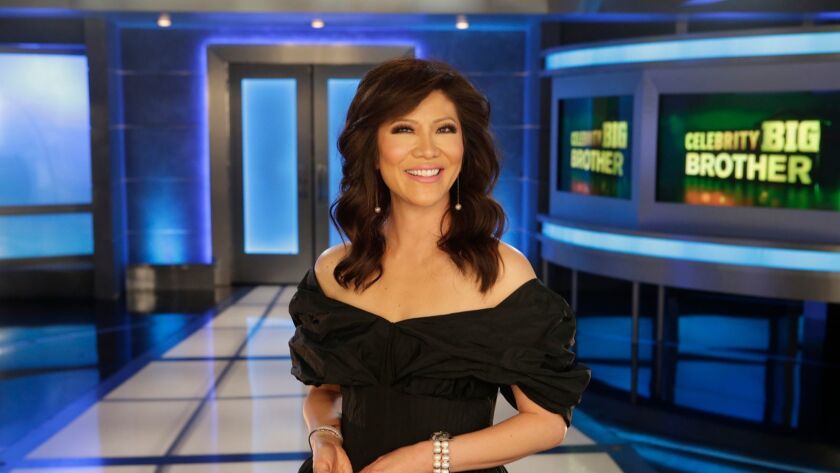 SERIES
Big Brother: Celebrity Edition Former Trump administration official Omarosa Manigault, Mark McGrath, Keshia Knight Pulliam ("The Cosby Show") and Ross Mathews become housemates as the unscripted series returns with a new twist. Julie Chen as host. 8 p.m. CBS
The X-Files Mulder and Scully (David Duchovny, Gillian Anderson) become concerned as Skinner (Mitch Pileggi), deeply affected by a something from his past, goes missing. Haley Joel Osment ("The Sixth Sense") and James Pickens Jr. ("Grey's Anatomy") guest star. 8 p.m. Fox
Animals With Cameras, A Nature Miniseries Cheetahs, seals and baboons are among those recording their lives in this documentary series. 8 p.m. KOCE and KPBS
grown-ish After going through a traumatic breakup, Zoey (Yara Shahidi) begins partying as a means of escape. 8 p.m. Freeform
The Librarians The season finale opens with the world transformed into a dystopian nightmare where the Library never existed and Baird (Rebecca Romijn) knows the only way to stop this chain of events is to reunite the Librarians (Christian Kane, Lindy Booth, John Harlan Kim) before this bleak world becomes their permanent reality. John Larroquette also stars. 8 p.m. TNT
Law & Order: Special Victims Unit Sam Waterston reprises the role of Jack McCoy, who returns to the courtroom over the complicated case of a missing infant that Barba (Raul Esparza) overstepped bounds in trying to handle. Philip Winchester appears in his former "Chicago Justice" role as attorney Peter Stone, and the guest cast also includes Abigail Hawk ("Blue Bloods"). Mariska Hargitay also stars. 9 p.m. NBC
9-1-1 A surprise marriage proposal takes a dangerous turn that requires the assistance of first responders, while Abby and Buck (Connie Britton, Oliver Stark) have their first date in this new Valentine's Day-themed episode. Mariette Hartley continues her recurring guest role. Angela Bassett, Peter Krause and Aisha Hinds also star. 9 p.m. Fox
NOVA The new episode "First Face of America" documents the efforts of forensic detectives as they reconstruct elements of the life and culture of a teenage girl whose 13,000-year-old skeleton was found in a Mexican underwater cave. 9 p.m. KOCE, KPBS
The Magicians Long-separated comrades Quentin and Eliot (Jason Ralph, Hale Appleman) share an adventure in this new episode. 9 p.m. Syfy
Expedition Unknown In the first of the two-part special "Great Women of Ancient Egypt," host and adventurer Josh Gates reveals the stories of three of the most powerful yet elusive women of that early civilization: Cleopatra, Nefertiti and Hatshepsut. 9 p.m. Travel. An "After the Hunt" episode follows at 10.
Chicago P.D. A college basketball star is killed shortly after taking a knee during the national anthem in this topical new episode. 10 p.m. NBC
Impossible Builds The premiere of this new series looks at "The Scorpion Tower," a 700-foot-tall Miami building that has its skeleton on the outside and supporting columns on the inside. 10 p.m. KOCE and KPBS
Corporate Jake (Jake Weisman) finds love at a networking mixer in this new episode. 10 p.m. Comedy Central
Knightfall Landry (Tom Cullen) and his fellow Knight Templars are forced to fight for their lives in a bitter face-off against the Red Knights. Padraic Delaney, Simon Merrells, Jim Carter and Ed Stoppard also star in the season finale. 10 p.m. History
Waco With the ATF siege in motion, assault vehicles storm the Mount Carmel compound, beginning a 51-day standoff in Part 3 of this six-part miniseries. 10 p.m. Paramount
Channel Zero: Butcher's Block Inspired by Kerry Hammond's chiller "Search and Rescue Woods," this horror anthology series opens a new season with "Insidious Onset," which introduces Olivia Luccardi as an idealistic young woman who looks forward to moving to the city, where mysterious things happen. Holland Roden, Brandon Scott and Rutger Hauer also star. 10 p.m. Syfy
Full Frontal With Samantha Bee This new episode marks Black History Month by exposing the racist origins of some of this country's most beloved heirlooms. 10:30 p.m. TBS
MOVIES
Inside Out This 2015 Disney-Pixar animated film gives emotions their own lives, with Amy Poehler, Bill Hader and Mindy Kaling among those giving voice to animated representations of such feelings as Joy and Fear. 8 p.m. ABC
TALK SHOWS
CBS This Morning Chance the Rapper. (N) 7 a.m. KCBS
Today Where are they now: Peggy Fleming; new Gerber baby revealed. (N) 7 a.m. KNBC
KTLA Morning News (N) 7 a.m. KTLA
Good Morning America Patricia Heaton. (N) 7 a.m. KABC
Good Day L.A. Meta Golding and Roger Smith ("Behind the Movement") Benj Pasek and Justin Paul ("The Greatest Showman"); Whitney English. (N) 7 a.m. KTTV
Megyn Kelly Today Author Dawn Davies. (N) 9 a.m. KNBC
Live With Kelly and Ryan Whitney Cummings ("The Female Brain"); Baha Men perform. (N) 9 a.m. KABC
The View Valerie Jarrett; Anthony Sadler, Spencer Stone and Alek Skarlatos. (N) 10 a.m. KABC
The Wendy Williams Show Robin Thede ("The Rundown With Robin Thede"). (N) 11 a.m. KTTV
The Talk Kelsey Grammer; Charlie Puth performs; Tabatha Coffey. (N) 1 p.m. KCBS
The Dr. Oz Show Substitutes for butter; a gluten-free diet and arsenic. (N) 1 p.m. KTTV
The Doctors People taking rideshare services instead of ambulances; spice may have cured cancer; belly fat. (N) 2 p.m. KCBS
Steve Eddie Griffin ("Eddie Griffin: Undeniable"); Tamara Taylor ("Altered Carbon"). (N) 2 p.m. KNBC
Harry Rick Springfield; Page Turner and DeRon Jenkins ("Flip or Flop: Nashville"); Jace Norman. (N) 2 p.m. KTTV
Rachael Ray Celebrity party planner Mary Giuliani, chef Amanda Freitag ("Chopped") and Tiffani Thiessen. (N) 2 p.m. KCOP
Dr. Phil A woman says that when her mother found out she was working as an escort, she told her she had to go. (N) 3 p.m. KCBS
The Ellen DeGeneres Show Milo Ventimiglia ("This Is Us"); Dax Shepard. (N) 3 p.m. KNBC
The Real Danica McKellar ("Very, Very, Valentine"). (N) 3 p.m. KTTV
Amanpour on PBS (N) 11 p.m. KOCE, KVCR
The Daily Show With Trevor Noah Anthony Sadler; Alek Skarlatos; Spencer Stone. (N) 11 p.m. Comedy Central
Conan Kumail Nanjiani; Van Jones. (N) 11 p.m. TBS
The Tonight Show Starring Jimmy Fallon Sienna Miller; Tim Tebow; Noel Gallagher's High Flying Birds perform; Tye Tribbett. (N) 11:34 p.m. KNBC
The Late Show With Stephen Colbert John Oliver; Beanie Feldstein; Wolfgang Puck. (N) 11:35 p.m. KCBS
Jimmy Kimmel Live Rose Byrne; In Real Life performs. (N) 11:35 p.m. KABC
The Late Late Show With James Corden Meghan Trainor; Guillermo del Toro; Jamie Lee. (N) 12:37 a.m. KCBS
Late Night With Seth Meyers John Mulaney; Seth Moulton; Tony Rock; Alan Cage performs. (N) 12:37 a.m. KNBC
Nightline (N) 12:37 a.m. KABC
Last Call With Carson Daly Daniel Brühl; Angus and Julia Stone; Orla Doherty. (N) 1:38 a.m. KNBC
SPORTS
2018 Winter Olympics Coverage kicks off early with the world's fastest alpine skiers in training runs of the men's downhill. 8 p.m. NBCSP
Customized TV Listings are available here: www.latimes.com/tvtimes
Click here to download: TV listings for the week of Feb. 4 - 10, 2018, in PDF format
---
The complete guide to home viewing
Get Screen Gab for weekly recommendations, analysis, interviews and irreverent discussion of the TV and streaming movies everyone's talking about.
You may occasionally receive promotional content from the Los Angeles Times.