Tuesday's TV Highlights: 'This Is Us' on NBC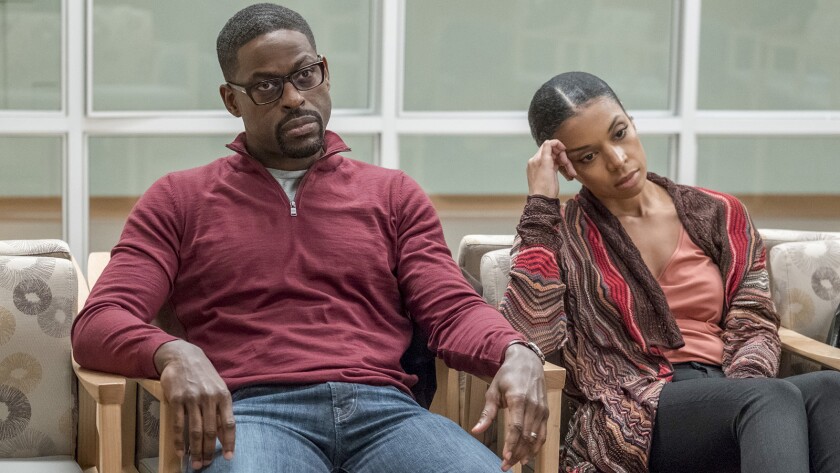 SERIES
NCIS Jimmy (Brian Dietzen) is torn between family and work after his father-in-law asks him to tamper with evidence in a murder investigation. Mark Harmon and David McCallum also star in this new episode of the procedural drama. 8 p.m. CBS
The Flash With the meta-human cure ready to use, Barry (Grant Gustin) and the team must figure out a way to subdue Cicada (Chris Klein) long enough to administer it. Jesse L. Martin and Jessica Parker Kennedy also star in this new episode. 8 p.m. KTLA
The Bachelor Colton Underwood discusses how the end of his time on the show unfolded with host Chris Harrison in the conclusion of the season finale. 8 p.m. ABC
MasterChef: Junior Edition A new round of the cooking competition gets underway with a two-hour season premiere that sees the arrival of 24 young home cooks. Host Gordon Ramsay is joined on the judging panel by Aarón Sánchez and Christina Tosi. 8 p.m. Fox
FBI When investigating the abduction of the daughter of a wealthy family, Special Agents Bell and Zidan (Missy Peregrym, Zeeko Zaki) discover the kidnapper plans to gain internet notoriety by going far beyond abduction. 9 p.m. CBS
This Is Us Tensions run high as the family awaits news about Kate's (Chrissy Metz) pregnancy. Mandy Moore, Sterling K. Brown, Susan Kelechi Watson and Justin Hartley also star in this new episode of the family drama. 9 p.m. NBC
Roswell, New Mexico As Isobel's (Lily Cowles) life hangs in the balance, Liz and Michael (Jeanine Mason, Michael Vlamis) search for a way to help her. Nathan Parsons also stars in this new episode. 9 p.m. KTLA
American Soul Don Cornelius (Sinqua Walls) celebrates the success of "Soul Train" in Chicago but discovers there are hidden costs. Jelani Winston also stars. 9 p.m. BET
I Am Jazz Jazz reevaluates her relationship with Ahmir after returning home from New York in this new episode of the unscripted series. 9 p.m. TLC
NCIS: New Orleans After an elusive terrorist with a personal vendetta against Hannah (Necar Zadegan) resurfaces, she and her family are placed in protective custody while the team searches for the suspect. Scott Bakula, Lucas Black, Rob Kerkovich and CCH Pounder also star. 10 p.m. CBS
Videos After Dark Bob Saget, former host of "America's Funniest Home Videos," presents home videos with an edgy twist, not for kids. 10 p.m. ABC
Corporate The sardonic, critically acclaimed workplace comedy wraps up its second season with two new back-to-back episodes. Matt (Matt Ingebretson) is on vacation in the first, and Jake (Jake Weisman) is forced to share their office with a deeply unnerving new desk mate. Then in the season finale, the company pulls out all the stops in its marketing aimed at doomsday preppers. 10 and 10:30 p.m. Comedy Central
Project Blue Book When residents of Washington, D.C., report UFO activity, Hynek and Quinn (Aidan Gillen, Michael Malarkey) are dispatched to determine what's behind this apparent threat before it's too late in the season finale of the mystery series. 10:03 p.m. History
TALK SHOWS
CBS This Morning (N) 7 a.m. KCBS
Today Sleeping better; Padma Lakshmi. (N) 7 a.m. KNBC
KTLA Morning News (N) 7 a.m. KTLA
Good Morning America Actor and author Andrew Rannells. (N) 7 a.m. KABC
Good Day L.A. Jenna Willis; Karamo Brown. (N) 7 a.m. KTTV
Live With Kelly and Ryan Christine Baranski ("The Good Fight"); Maggie Siff. (N) 9 a.m. KABC
The View Idris Elba; Cole Sprouse; Haley Lu Richardson. (N) 10 a.m. KABC
The Wendy Williams Show Author Hoda Kotb ("You Are My Happy"); Shaun T. (N) 10 a.m. KTTV
The Real Wyclef Jean ("Wyclef Goes Back to School"). (N) 11 a.m. KTTV
The Doctors The hazards of baby car-seat accessories; giving orange juice more nutrients. (N) 11 a.m. KCOP
The Talk Mary McCormack. (N) 1 p.m. KCBS
The Real Wyclef Jean ("Wyclef Goes Back to School"). (N) 1 p.m. KCOP
Steve Kimberly Caldwell-Harvey, Nina Parker and Katie O'Brien; college roommates. (N) 2 p.m. KNBC
Rachael Ray Chef Emeril Lagasse; a conversation with Michelle Obama; Alfre Woodard. (N) 2 p.m. KTTV
Dr. Phil A woman says she is exhausted being a full-time caregiver for her boyfriend, injured in an accident. (N) 3 p.m. KCBS
The Ellen DeGeneres Show Colin Farrell ("Dumbo"); Sophia Lillis. (N) 3 p.m. KNBC
The Dr. Oz Show Serial killer taunted police and the press with his letters half a century ago but was never caught. (N) 3 p.m. KTTV
The Daily Show With Trevor Noah Padma Lakshmi. (N) 11 p.m. Comedy Central
Conan Timothy Olyphant. (N) 11 p.m. TBS
The Tonight Show Starring Jimmy Fallon Keira Knightley; Jon Glaser; the Chainsmokers perform. (N) 11:34 p.m. KNBC
The Late Show With Stephen Colbert John Turturro; Andrew Rannells; Robyn performs. (N) 11:35 p.m. KCBS
Jimmy Kimmel Live Colton Underwood; Walk the Moon performs. (N) 11:35 p.m. KABC
Amanpour & Company (N) 12:30 a.m. KOCE; 1 a.m. KLCS
The Late Late Show With James Corden Gordon Ramsay; Piper Perabo; Elle King performs. (N) 12:37 a.m. KCBS
Late Night With Seth Meyers Paul Giamatti; Jessica Walter; Allison Miller. (N) 12:37 a.m. KNBC
Nightline (N) 12:37 a.m. KABC
SPORTS
College Basketball ACC Tournament: Wake Forest versus Miami, 9 a.m. ESPN; Notre Dame versus Georgia Tech, 11 a.m. ESPN; Horizon League Tournament, Final: Teams TBA, 4 p.m. ESPN; Northeast Conference Tournament: Fairleigh Dickinson at St. Francis (Pa.), 4 p.m. ESPN2; WCC Tournament, Final: Teams TBA, 6 p.m. ESPN; Summit League Tournament, Final: Teams TBA, 6 p.m. ESPN2
NBA Basketball The Lakers visit the Chicago Bulls, 5 p.m. SportsNet; San Antonio Spurs visit the Dallas Mavericks, 5 p.m. TNT; the Clippers host Portland Trail, 7:30 p.m. FS Prime; Minnesota Timberwolves visit the Denver Nuggets, 7:30 p.m. TNT.
NHL Hockey The Washington Capitals visit the Pittsburgh Penguins, 4 p.m. NBCSP; the Ducks host the Nashville Predators, 7 p.m. Fox Sports Net
For more sports on TV, see
the Sports section.
Customized TV listings are available here: www.latimes.com/tvtimes
Click here to download TV listings for the week of March 10 - 16, 2019, in PDF format
---
From the Emmys to the Oscars.
Get our revamped Envelope newsletter, sent twice a week, for exclusive awards season coverage, behind-the-scenes insights and columnist Glenn Whipp's commentary.
You may occasionally receive promotional content from the Los Angeles Times.