Wednesday's TV highlights: 'It's Always Sunny in Philadelphia' and more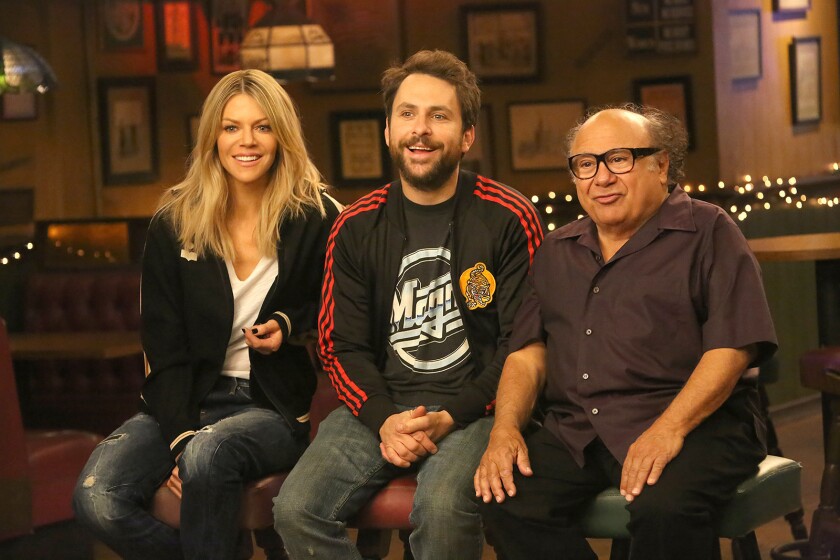 SERIES
Burden of Truth Joanna (Kristin Kreuk) won't let threats made against her and Billy (Peter Mooney) knock her off course on a new episode of the legal drama. 8 p.m. KTLA
MasterChef In this new episode of the Gordon Ramsay-hosted culinary competition, the six remaining chefs are split into two teams and put in charge of a fancy restaurant in Los Angeles. 8 p.m. Fox
Born This Way In this unscripted series' fourth season finale, the nuptials of Angel and Cristina fast approaching. 8 p.m. A&E
Model Squad Los Angeles-based model Ashley Moore relocates to New York City, while her friend Caroline Lowe tries to balance her career and personal life on a new episode of the reality series. 8 p.m. E!
Suits An assist from Harvey (Gabriel Macht) helps Samantha (Katherine Heigl) settle an old score on a new episode of the legal drama. 8:59 p.m. USA
World of Dance American Ballet Theatre's Misty Copeland serves as a guest judge. Also, pop-music star Ciara helps mentor the remaining contestants in this new episode of the reality competition. With host Jenna Dewan. 9 p.m. NBC
Ancient Invisible Cities The second installment of this three-part series focuses on Cairo, where professor Darius Arya uses 3-D scanning to locate and examine some of the hidden treasures of Egypt. 9 p.m. KOCE
Martha & Snoop's Potluck Dinner Party T-Pain and Karrueche Tran join the fun in the first of two new episodes. 9 and 9:30 p.m. VH1
It's Always Sunny in Philadelphia This off-color sitcom set in a neighborhood bar in the City of Brotherly Love returns for its 13th season. With Kaitlin Olson, Charlie Day and Danny DeVito. 10 p.m. FXX
Greenleaf Lady Mae (Lynn Whitfield) is caught completely off guard when the Bishop (Keith David) serves her with divorce papers on a new episode of this drama about a Memphis, Tenn., megachurch. 10 p.m. OWN
SPECIALS
Back to School Just for Laughs Comics including Jon Stewart, John Mulaney, Dave Chappelle and Eric Andre reflect on their misadventures in education in sets recorded at the annual Just for Laughs comedy festival in Montreal in this new special. 9 p.m. KTLA
The Bobby Brown Story This two-night miniseries based on the R&B star's autobiography concludes. With Woody McClain as Brown and Gabrielle Dennis as Whitney Houston. 9 p.m. BET
Narco Bling: Getting Chapo Guzman The notorious Mexican drug lord Joaquín "El Chapo" Guzmán is profiled in this new special. 10 p.m. National Geographic Channel
TALK SHOWS
CBS This Morning (N) 7 a.m. KCBS
Today Jon Stewart; John Krasinski; Lisa Brennan-Jobs. (N) 7 a.m. KNBC
KTLA Morning News (N) 7 a.m. KTLA
Good Morning America Basketball coach Rick Pitino. (N) 7 a.m. KABC
Good Day L.A. Former NFL player LaDainian "LT" Tomlinson ("God Bless the Broken Road"); Kate del Castillo ("Ingobernable"); Malibu Triathlon: Mark Feuerstein. (N) 7 a.m. KTTV
Megyn Kelly Today Midterm elections: Jacob Soboroff; author Polo Tate ("Deep Dark Blue: A Memoir of Survival"). (N) 9 a.m. KNBC
Live With Kelly and Ryan Alisha Marie; Trevor Noah ("The Daily Show"); Shay Mitchell ("You"); Troye Sivan. (N) 9 a.m. KABC
The View Former Secretary of State John Kerry. (N) 10 a.m. KABC
Steve A viral-video dancing dentist tells what he is up to next; the Kingdom Choir performs. (N) 2 p.m. KNBC
Rachael Ray Kyan Douglas ("Queer Eye"). (N) 2 p.m. KCOP
Dr. Phil A woman does not believe it was self-defense when her mother shot her father. (N) 3 p.m. KCBS
The Ellen DeGeneres Show Mark Wahlberg ("Instant Family"); Rep. Beto O'Rourke (D-Texas); Fleetwood Mac performs. (N) 3 p.m. KNBC
Amanpour on PBS (N) 11 p.m. KOCE
The Daily Show With Trevor Noah (N) 11 p.m. Comedy Central
The Tonight Show Starring Jimmy Fallon Jennifer Garner; Jeff Foxworthy; Sheryl Crow performs. (N) 11:34 p.m. KNBC
The Late Show With Stephen Colbert Rob Lowe; former Secretary of State John Kerry. (N) 11:35 p.m. KCBS
Jimmy Kimmel Live Sarah Silverman; Dave Matthews; Dave Matthews Band performs. (N) 11:35 p.m. KABC
The Late Late Show With James Corden Rob Corddry; Paula Abdul talks and performs. (N) 12:37 a.m. KCBS
Nightline (N) 12:37 a.m. KABC
Last Call With Carson Daly Charlie Hunnam; Rami Malek; Amen Dunes; Lana Condor. (N) 1:38 a.m. KNBC
SPORTS
Tennis 2018 U.S. Open tournament: Men's and women's quarterfinals. From Flushing, N.Y. 9 a.m. and 4 p.m. ESPN
Baseball The Angels take on the Texas Rangers. 5 p.m. FSN
For more sports on TV, see the Sports section.
---
From the Emmys to the Oscars.
Get our revamped Envelope newsletter, sent twice a week, for exclusive awards season coverage, behind-the-scenes insights and columnist Glenn Whipp's commentary.
You may occasionally receive promotional content from the Los Angeles Times.