Monday's TV highlights: 'Salvation' on CBS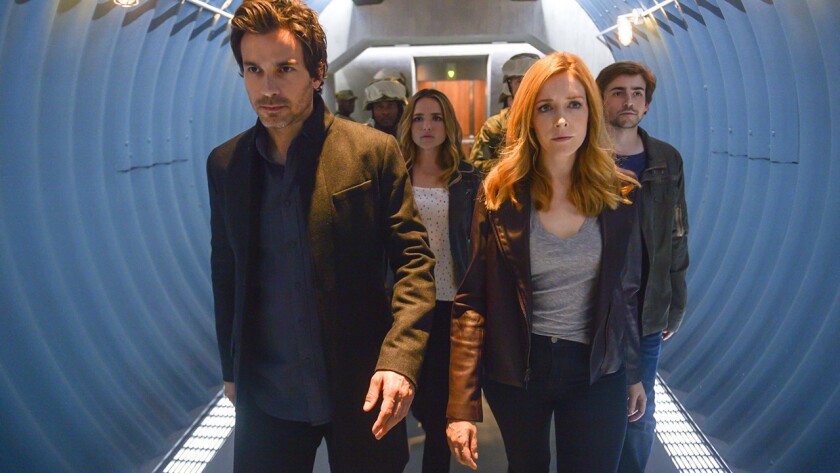 SERIES
Castaways One contestant survives on resources left behind by other Castaways in the first of two new episodes of the unscripted survival competition. 8 and 9 p.m. ABC
Antiques Roadshow This new episode highlights items with a connection to Latin American history and culture and includes one item that is the highest-valued in the "Antiques Roadshow" archive. 8 p.m. KOCE
Salvation Grace (Jennifer Finnigan) must choose how she spends her final days while one last mystery holds the key to saving the world. Ian Anthony Dale, Santiago Cabrera, Charlie Rowe and Jacqueline Byers also star in the season finale. 9 p.m. CBS
Better Call Saul In expanding his business, Jimmy (Bob Odenkirk) runs into a problem that only Kim (Rhea Seehorn) can solve. Also, Gus (Giancarlo Esposito) intervenes in Hector's (Mark Margolis) medical care. Jonathan Banks also stars. 9 p.m. AMC
Kids Baking Championship A rainbow following a dramatic storm provides inspiration for a colorful cake challenge in the season finale of the unscripted competition. Valerie Bertinelli and Duff Goldman host. 9 p.m. Food Network
Elementary A murder investigation strains the friendship of Holmes and Watson (Jonny Lee Miller, Lucy Liu) in the season finale of the mystery series. 10 p.m. CBS
POV Set in Borough Park, a Hasidic enclave in Brooklyn, N.Y., filmmaker Paula Eiselt's documentary "93Queen" focuses on a group of Hasidic women who are challenging the patriarchal nature of their community by forming the first all-female volunteer ambulance team in New York City. 10 p.m. KOCE
Lodge 49 Lodge members cope with the death of one of their own, and a new visitor arrives with some troubling news in this new episode. Wyatt Russell and Brent Jennings star. 10 p.m. AMC
Baked Chef Tom Papa takes a trip to Philadelphia in this new episode. 10 p.m. Food Network
House Hunters An engaged couple outgrows their one-bedroom Los Angeles apartment in the season premiere of this real estate oriented unscripted series. 10 p.m. HGTV
SPECIALS
Emmy pre-shows "E! Countdown to the Red Carpet" 1:30 p.m. E!; "Live From the Emmys," hosts Sam Rubin and Jessica Holmes interview nominees on the red carpet. 2 p.m. KTLA; "E! Live From the Red Carpet." 3 p.m. E!; "70th Emmy Awards Arrivals Special." 4:30 p.m. NBC
70th Emmy Awards Michael Che and Colin Jost ("Saturday Night Live") are the hosts of the ceremony at Microsoft Theater. "Game of Thrones" leads the contenders with 22 nominations, followed by "SNL" and "Westworld" with 21 each. 5 and 8 p.m. NBC
Inside the Manson Cult: The Lost Tapes This new two-hour special reexamines the workings of the Charles Manson "family" from the inside-out, drawn from more than 100 hours of footage originally shot by a filmmaker who visited the Manson compound in 1969, intending to make a documentary. 8 p.m. Fox
TALK SHOWS
CBS This Morning Olympian Michael Phelps. (N) 7 a.m. KCBS
Today (N) 7 a.m. KNBC
KTLA Morning News (N) 7 a.m. KTLA
Good Morning America (N) 7 a.m. KABC
Good Day L.A. Elizabeth Wagmeister, Page Six TV; Marla Tellez; TV producer Shonda Rhimes. (N) 7 a.m. KTTV
Megyn Kelly Today (N) 9 a.m. KNBC
Live With Kelly and Ryan Michael Weatherly ("Bull"). (N) 9 a.m. KABC
The View Chuck Schumer. (N) 10 a.m. KABC
The Wendy Williams Show (N) 10 a.m. KTTV
The Dr. Oz Show (Season premiere) A potentially cancer-causing chemical in food; Dr. Oz faces his own health scare; hands-only CPR. (N) 10 a.m. KCOP; 3 p.m. KTTV
The Real (Season premiere) Teyana Taylor. (N) 11 a.m. KTTV
The Doctors (N) 11 a.m. KCOP
The Talk (N) 1 p.m. KCBS
The Ellen DeGeneres Show Cate Blanchett ("The House With a Clock in Its Walls"); Issa Rae ("Insecure"). (N) 2 p.m. KNBC
Rachael Ray (N) 2 p.m. KTTV
Dr. Phil (N) 3 p.m. KCBS
To the Contrary With Bonnie Erbé Political analyst Mona Charen. (N) 6 p.m. KVCR
Amanpour and Company (N) 10 p.m. KVCR; 11:30 p.m. KOCE; 1 a.m. KLCS
Conan Ethan Hawke; Daniel Sloss. (N) 11 p.m. TBS
The Tonight Show Starring Jimmy Fallon Reese Witherspoon; Lenny Kravitz performs. (N) 11:34 p.m. KNBC
Late Night With Seth Meyers Julianne Moore; Sturgill Simpson; Khaled Hosseini; Sean Kinney performs. (N) 12:37 a.m. KNBC
Nightline (N) 12:37 a.m. KABC
SPORTS
NFL Football Seattle Seahawks visit the Chicago Bears 5:15 p.m. ESPN
For more sports on TV, see the Sports section.
Customized TV listings are available here: www.latimes.com/tvtimes
Click here to download TV listings for the week of Sept. 16 - 22, 2018, in PDF format
---
Get our daily Entertainment newsletter
Get the day's top stories on Hollywood, film, television, music, arts, culture and more.
You may occasionally receive promotional content from the Los Angeles Times.