Monday's TV Highlights: 'The Odd Couple' pays tribute to Garry Marshall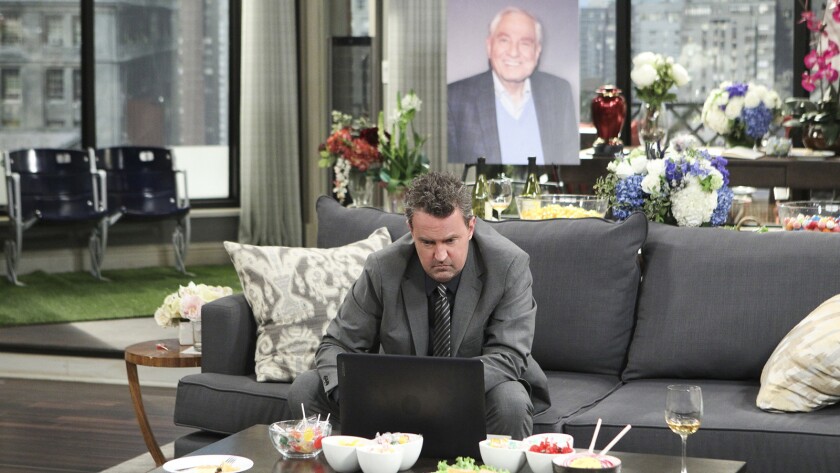 SERIES
Kevin Can Wait Newly retired Kevin (Kevin James) learns that he isn't missed on the police force, and his rookie successor (Chris Weidman, UFC) is doing just fine. Erinn Hayes and Taylor Spreitler also star and Jim Breuer guest stars. 8 p.m. CBS
Supergirl Cadmus gives advanced – and deadly – technology to a criminal gang that Supergirl (Melissa Benoist) must use her powers against in this new episode. Katie McGrath and Chris Wood also star. 8 p.m. KTLA
Dancing With the Stars The six remaining celebrities dance to numbers from Broadway musicals on showstoppers night. Idina Menzel, Leona Lewis, Mark Ballas and the Four Seasons perform. 8 p.m. ABC
Gotham Det. Barnes' (Michael Chiklis) behavior begins to change, and Falcone (guest star John Doman) throws a party to celebrate the engagement of Lee and Mario (Morena Baccarin, James Carpinello). 8 p.m. Fox
Man With a Plan Adam (Matt LeBlanc) makes a hasty decision when Emme's (Hala Finley) kindergarten teacher (Diana Maria Riva) gives him another of many demands. Liza Snyder, Kevin Nealon, Jessica Chaffin, Grace Kaufman and Matthew McCann also star. 8:30 p.m. CBS
2 Broke Girls Earl (Garrett Morris) worries that when his girlfriend (Telma Hopkins) arrives from Cuba he won't be able to keep up. Also, Max (Kat Dennings) ponders moving forward with Randy (Ed Quinn) via their frequent texting. Beth Behrs also stars. 9 p.m. CBS
Jane the Virgin Jane and Michael (Gina Rodriguez, Brett Dier) get eviction orders just as they throw a party to celebrate their new home. 9 p.m. KTLA
Lucifer The alleged murderer of Chloe's (Lauren German) father is killed behind bars but she's determined to find the perpetrator when it appears the now-deceased convict was framed. Tom Ellis also stars. 9 p.m. Fox
Vanderpump Rules Restaurateur Lisa Vanderpump returns for a new season of overseeing a group of staff members who lead drama-filled lives. 9 p.m. Bravo and E!
People Magazine Investigates This new 10-episode true-crime series, premiering with two new episodes on two channels, takes a fresh look at some of the most compelling cases in American history, starting with the 2010 disappearance of Shannan Gilbert on Long Island's south shore. That's followed by a look back at a Long Island serial killer. 9 and p.m. TLC and ID
The Odd Couple This new episode reaches back into television's past to pay tribute to the late Garry Marshall – a driving force behind the 1970s series version of this show, and many other favorite sitcoms – who guest starred as Oscar's (Matthew Perry) father. Featured guests include Penny Marshall (Garry's sister), Ron Howard, Cindy Williams and Pam Dawber. 9:30 p.m. CBS
Scorpion The team goes into action on election day to counter a plot to throw the balloting awry, which just might validate concerns about the election being "rigged." Elyes Gabel, Katharine McPhee, Robert Patrick and Eddie Kaye Thomas star. 10 p.m. CBS
Martha & Snoop's Potluck Dinner Party Martha Stewart and Snoop Dogg each put a personal spin on dishes for a meal built around a theme in this new cooking show. 10 p.m. VH1
SPECIALS
USO — For the Troops Legendary for sending entertainers overseas to help keep American military personnel connected to home, the United Service Organizations are celebrated in this new documentary narrated by David Strathairn. The story of the initiative's first 75 years is illustrated in part through interview comments from veterans, historians and USO participants including Jay Leno, Ann-Margret, Jon Stewart and Raquel Welch. Former President George W. Bush also appears. 9 p.m. KOCE, KPBS
The 2016 SNL Election Special On the last day of the marathon presidential campaign, this new special offers highlights of political sketches. 10 p.m. NBC
TALK SHOWS
CBS This Morning (N) 7 a.m. KCBS
Today Jason Sudeikis; Radio City Rockettes perform; Mary Lane Haskell. (N) 7 a.m. KNBC
KTLA Morning News (N) 7 a.m. KTLA
Good Morning America (N) 7 a.m. KABC
Good Day L.A. Author Bill Rancic ("First Light"); Rams Talk: Jackie Slater. (N) 7 a.m. KTTV
Live with Kelly Sarah Jessica Parker ("Divorce"); Jared Padalecki ("Supernatural"); Richard Curtis. (N) 9 a.m. KABC
Rachael Ray Victor Cruz. (N) 10 a.m. KCAL
The Doctors A child with a degenerative disease needs a miracle; sexual abuse by physicians; game-day treats. (N) 11 a.m. KCAL
The Dr. Oz Show Supermarket-ready foods, boxed delivery meal kits, Costco. (N) 1 p.m. KTTV
The Ellen DeGeneres Show Jessica Alba; Sen. Elizabeth Warren; Brielle Milla. (N) 3 p.m. KNBC
Harry Common; La'Porsha Renae ("American Idol"); Olympian Laurie Hernandez. (N) 4 p.m. KTTV and 9 p.m. KCOP
Charlie Rose (N) 11 p.m. KVCR; 12:30 a.m. KOCE; 1 a.m. KLCS
The Daily Show With Trevor Noah (N) 11 p.m. Comedy Central
StarTalk Jeremy Irons and director Matt Brown ("The Man Who Knew Infinity"). (N) 11 p.m. National Geographic
The Tonight Show Starring Jimmy Fallon Bill Maher; Daveed Diggs; MUNA performs. (N) 11:34 p.m. KNBC
The Late Show With Stephen Colbert Don Cheadle; Katherine Waterston; Drive-By Truckers perform. (N) 11:35 p.m. KCBS
Tavis Smiley (N) midnight KOCE
The Late Late Show With James Corden Actress Molly Shannon; actor Ike Barinholtz. (N) 12:37 a.m. KCBS
Late Night With Seth Meyers John Goodman; Andrew Rannells; the 1975 performs; Keith Carlock performs. (N) 12:37 a.m. KNBC
Nightline (N) 12:37 a.m. KABC
---
Customized TV Listings are available here: www.latimes.com/tvtimes
Click below to download
TV listings for the week of Nov. 6 - 12, 2016 in PDF format
---
Inside the business of entertainment
The Wide Shot brings you news, analysis and insights on everything from streaming wars to production — and what it all means for the future.
You may occasionally receive promotional content from the Los Angeles Times.