Monday's TV highlights: 'The Neighborhood' on CBS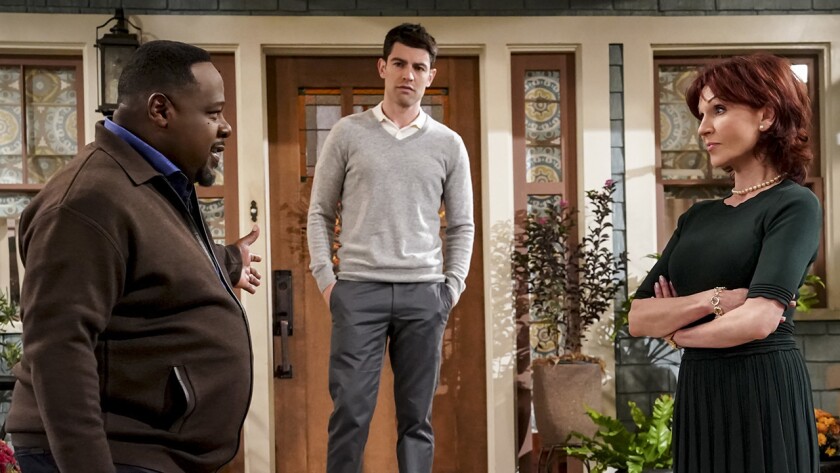 SERIES
The Neighborhood When Dave and Gemma (Max Greenfield, Beth Behrs) host Thanksgiving for the first time in their new home Dave's opinionated and politically incorrect mother (Marilu Henner) visits and meets the Butler family. Cedric the Entertainer and Tichina Arnold also star in this new episode. 8 p.m. CBS
Arrow The Slabside prison becomes even more dangerous for Oliver (Stephen Amell) after a guard is murdered and everyone is a suspect. 8 p.m. KTLA
The Resident Conrad (Matt Czuchry) doesn't like it when Bell (Bruce Greenwood) recommends one of Julian's (Jenna Dewan) pricey and risky medical devices to a woman (guest star Daniella Alonso) who recently lost one child and is back with another in this new episode. Manish Dayal, Shaunette Renee Wilson and Malcolm-Jamal Warner also star with guest star Melina Kanakaredes. 8 p.m. Fox
Magnum P.I. After a 16-year-old kidnap victim (Lyrica Okano) escapes her captors, Magnum (Jay Hernandez) is hired to find her abductors. 9 p.m. CBS
DC's Legends of Tomorrow Ava (Jes Macallan) joins Nate (Nick Zano) and his family for an unconventional Thanksgiving dinner. Brandon Routh, Caity Lotz and Matt Ryan also star in this new episode. 9 p.m. KTLA
Dancing With the Stars The final four couples perform two dances in the season finale, featuring performances from Dan & Shay, Lauren Daigle, Avril Lavigne, John Schneider, Robin Thicke and Tinashe. 9 p.m. ABC
The Clinton Affair This documentary series continues with a new episode recalling when Monica Lewinsky confided details of her relationship with President Clinton to Linda Tripp, who recorded their private conversations. 9 p.m. A&E
The Little Drummer Girl Florence Pugh stars as an idealistic actress who is swept off her feet by a handsome stranger (Alexander Skarsgard) during a Greek holiday and gets caught up in the complex plot of a spy mastermind (Michael Shannon) in the premiere of this three-part miniseries thriller. 9 p.m. AMC
The Real Housewives of Orange County The unscripted series ends its season. 9 p.m. Bravo
Holiday Baking Championship Seven bakers make Thanksgiving desserts, each combining cranberry with another flavor in this new episode. 9 p.m. Food Network
Mars The tenuous coexistence between the two Mars colonies threatens to dissolve in this new episode of the science fiction series. 9 p.m. National Geographic
Manifest Ben (Josh Dallas) finds himself in an improbable alliance with Vance (Daryl Edwards) as they make a high-stakes dash to locate missing passengers from Flight 828 in this new episode. 10 p.m. NBC
Christmas Cookie Challenge Five cookie makers each prepare two cookies on sticks: one representing Christmas for kids and the other for grown-ups. Their creations are judged by Ree Drummond, Dan Langan and Aarti Sequeira. 10 p.m. Food Network
Explorer Host Phil Keoghan heads to Utah to dig for dinosaur fossils in this new episode. 10 p.m. National Geographic
Independent Lens The new episode "The Judge" profiles Kholoud al-Faqih becomes the first woman judge appointed to the Middle East's Shari'a (Islamic law) courts. 10:30 p.m. KOCE and KPBS
SPECIALS
The Race to Mars This new special weighs the pros and cons of whether astronauts should go to Mars. 7 p.m. National Geographic
Mission to the Sun The Parker Solar Probe, a tiny spacecraft the size of a small car, flew closer to the sun than any man-made object has ever been and at a speed faster than any man-made object has ever traveled, surviving the heat and radiation to gather valuable scientific data in this new episode. 8 p.m. National Geographic
Julia Louis-Dreyfus: The Mark Twain Prize Some of the 11-time Emmy-winning actress' closest friends and colleagues gather at the John F. Kennedy Center for the Performing Arts to pay tribute in this new special. Participants include Jerry Seinfeld, Tina Fey, Bryan Cranston, Tony Hale and Stephen Colbert and others. 9 p.m. KOCE and KPBS
MOVIES
Ferrari: Race to Immortality Daryl Goodrich's 2017 documentary looks back at the golden age of motor racing in the 1950s, when Scuderia Ferrari, the racing division of the iconic auto manufacturer, stopped at nothing to retain their racing crown, pushing cars and drivers alike to their limits. At the center of the story is Enzo Ferrari, who was driven to win at any cost. 9 p.m. Starz
TALK SHOWS
CBS This Morning (N) 7 a.m. KCBS
Today (N) 7 a.m. KNBC
KTLA Morning News (N) 7 a.m. KTLA
Good Morning America (N) 7 a.m. KABC
Good Day L.A. Cayla Craft; Elizabeth Wagmeister, "Page Six"; Kelley "Kali" Chatman; "Chef Flynn" documentary; Amy Katzenberg ("NCIS"). (N) 7 a.m. KTTV
Live With Kelly and Ryan Sarah Silverman ("Ralph Breaks the Internet"); Taron Egerton ("Robin Hood"). (N) 9 a.m. KABC
The View Sarah Silverman. (N) 10 a.m. KABC
The Wendy Williams Show (N) 10 a.m. KTTV
The Dr. Oz Show The good and the bad: whipped toppings, coffee, cooking sprays, toilet seat covers. (N) 10 a.m. KCOP; 3 p.m. KTTV
The Real Jenifer Lewis. (N) 11 a.m. KTTV
The Doctors (N) 11 a.m. KCOP
The Talk (N) 1 p.m. KCBS
Rachael Ray Chef Michael Schlow. (N) 2 p.m. KTTV
Dr. Phil A woman claims a man she hooked up with a few times has teamed up with her mother to destroy her. (N) 3 p.m. KCBS
The Ellen DeGeneres Show Emily Blunt ("Mary Poppins Returns"); Backstreet Boys. (N) 3 p.m. KNBC
To the Contrary With Bonnie Erbé Gay marriage and Christian Churches. (N) 6 p.m. KVCR
Amanpour and Company (N) 10 p.m. KVCR; midnight KOCE; 1 a.m. KLCS
StarTalk Joe Rogan. (N) 11 p.m. National Geographic
The Tonight Show Starring Jimmy Fallon Mahershala Ali; Chris Colfer; Blake Mycoskie; Michael Bublé. (N) 11:34 p.m. KNBC
The Late Show With Stephen Colbert Millie Bobby Brown; Paul Simon performs. (N) 11:35 p.m. KCBS
Jimmy Kimmel Live Bono; Chris Rock; Will Ferrell; Kristen Bell; Channing Tatum; Snoop Dogg; Mila Kunis; Pharrell. (N) 11:35 p.m. KABC
The Late Late Show With James Corden Kurt Russell; Viggo Mortensen; Marc E. Bassy and G-Eazy. (N) 12:37 a.m. KCBS
Late Night With Seth Meyers Sarah Silverman; Jason Mantzoukas; Broods. (N) 12:37 a.m. KNBC
Nightline (N) 12:37 a.m. KABC
SPORTS
NBA Basketball The Clippers visit the Atlanta Hawks, 4:30 p.m. FS Prime.
NHL Hockey The Kings visit the St. Louis Blues, 5 p.m. FSN
NFL Football This game between the two teams with the best records in the NFL was originally scheduled to by played in Mexico, but now is a Monday Night Football home game for the Rams, who host the Kansas City Chiefs, 5:15 p.m. ABC and ESPN
For more sports on TV, see
the Sports section.
Customized TV listings are available here: www.latimes.com/tvtimes
Click here to download TV listings for the week of Nov. 18 - 24, 2018, in PDF format
---
Inside the business of entertainment
The Wide Shot brings you news, analysis and insights on everything from streaming wars to production — and what it all means for the future.
You may occasionally receive promotional content from the Los Angeles Times.