Friday's TV highlights: 'Blindspot' on NBC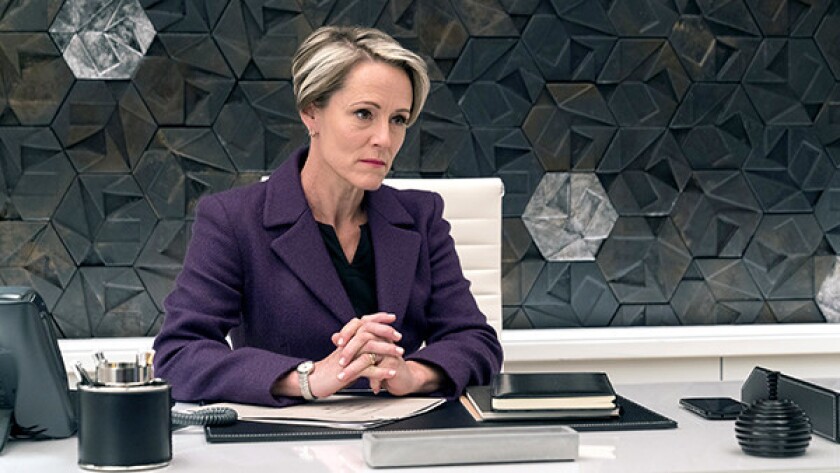 SERIES
MacGyver Mac and Jack (Lucas Till, George Eads) and the team follow mercenaries who are transporting stolen lethal nerve gas in this new episode. 8 p.m. CBS
Blindspot While Jane (Jaimie Alexander) struggles with a secret from her past, director (guest star Mary Stuart Masterson) sends the team on an urgent mission to prevent an international crisis. Sullivan Stapleton, Rob Brown, Audrey Esparza and Luke Mitchell also star. 8 p.m. NBC
Marvel's Agents of S.H.I.E.L.D. Coulson (Clark Gregg) and his team are stranded on a mysterious ship in outer space in the two-hour season premiere. Iain De Caestecker, Ming-Na Wen and Chloe Bennet also star. 8 p.m. ABC
Hell's Kitchen The contestants must use exotic meats (such as boar, elk and venison) and have to use spears in gathering the ingredients for side dishes. John Rzeznik of music's Goo Goo Dolls is a guest for the dinner service in this new episode. 8 p.m. Fox
Hawaii Five-0 McGarrett (Alex O'Loughlin) investigates a pilot's death in a plane crash during an air-race by posing as an aviator. Ricardo Chavira guest stars. Scott Caan, Chi McBride and Meaghan Rath also star. 9 p.m. CBS
The Exorcist The exorcism is underway, but the sinister spirit is determined to use every wile against Marcus and Tomas (Ben Daniels, Alfonso Herrera). 9 p.m. Fox
Z Nation Doc (Russell Hodgkinson) and his band run into a pair of weapons dealers (guest stars Mark Carr and Doug Dawson) when they take shelter in a barber shop that also is filled with characters that are mysterious and perhaps even murderous. Kellita Smith and Nat Zang also star. 9 p.m. Syfy
Blue Bloods When Danny and Baez (Donnie Wahlberg, Marisa Ramirez) work with a task force to bring down a drug-dealing operation, Baez ends up being subjected to a potentially lethal overdose. David Zayas ("Dexter") guest stars. 10 p.m. CBS
Superstition The malignant entity known as the Dredge returns, this time the spirit is inhabiting the body of a medical professional (David E. Collier), who's also an old flame of May (Demetria McKinney). Brad James and Morgana Van Peebles also star in the first of a new two-part story.10 p.m. Syfy
SPECIALS
Grandma Got Run Over by a Reindeer A youngster has his suspicions about why his grandmother is missing on Christmas Eve in this annual animated special. 8 p.m. KTLA
Masters of Illusion: Christmas Magic Featured magicians in this new special include Jarret and Raja, Jonathan Pendragon, Ed Alonzo, Jibrizy, Les Arnold, Murray SawChuck, Farrell Dillon, Tommy Wind, Titou, Naathan Phan, Greg Gleason and Christmas Choir. 9 p.m. KTLA
MOVIES
The Belko Experiment John Gallagher Jr. ("The Newsroom") heads the ensemble cast of this modestly budgeted 2017 horror thriller about co-workers at a remote industrial facility in Colombia, who become inexplicably trapped in their building one day, and a voice over the intercom begins orders them to kill colleagues or face execution themselves. Tony Goldwyn, John C. McGinley and Michael Rooker also star. 8 p.m. Cinemax
TALK SHOWS
CBS This Morning (N) 7 a.m. KCBS
Today "The Crown" set visit; Rossen Reports. (N) 7 a.m. KNBC
KTLA Morning News (N) 7 a.m. KTLA
Good Morning America Charlize Theron (Charlize Theron Africa Outreach Project); Mark Hamill. (N) 7 a.m. KABC
Good Day L.A. Vince Ferragamo and Vince Slater; Ming-Na Wen ("Marvel's Agents of S.H.I.E.L.D."); Chris Wallace: political commentator(N) 7 a.m. KTTV
Megyn Kelly Today Danielle Bradbery. (N) 9 a.m. KNBC
Live with Kelly and Ryan Terrence Howard ("Empire"); Kumail Nanjiani. (N) 9 a.m. KABC
The View (N) 10 a.m. KABC
The Talk Taye Diggs. (N) 1 p.m. KCBS
The Dr. Oz Show Sexual-harassment victims take a stand while the accused see their careers crumbling. (N) 1 p.m. KTTV
The Doctors Surprises for hometown heroes; a nurse devotes her time to California wildfire victims. (Part 2 of 2) (N) 2 p.m. KCBS
Rachael Ray David Muir ("World News Tonight"). (N) 2 p.m. KCOP
Dr. Phil A runaway teenager faces her mother for the first time in more than a month. (N) 3 p.m. KCBS
The Ellen DeGeneres Show Octavia Spencer ("The Shape of Water"); Dave Franco; Ed Sheeran performs. (N) 3 p.m. KNBC
The Real Melissa Rivers ("Joan Rivers Confidential"). (N) 3 p.m. KTTV
Washington Week First episode: Battles over taxes inside the Republican Party; partisan battles over the budget: Shawna Thomas, Vice News; Erica Werner, the Washington Post; Jonathan Swan, Axios. Second episode: Sexual harassment and abuse complaints on Capitol Hill: Michael Scherer, Time; Shawna Thomas; Erica Werner, the Associated Press; Jonathan Swan (N) 7 and 7:30 p.m. KOCE
The Tonight Show Starring Jimmy Fallon Queen Latifah; Freddie Highmore; Sam Smith performs. (N) 11:34 p.m. KNBC
The Late Show With Stephen Colbert Carol Burnett; Lewis Black. (N) 11:35 p.m. KCBS
Jimmy Kimmel Live Mark Hamill; Andy Serkis; John Boyega; Oscar Isaac; Laura Dern; Adam Driver; Daisy Ridley. (N) 11:35 p.m. KABC
Tavis Smiley Computer scientist Jaron Lanier. (Part 2 of 2) (N) midnight KOCE
Nightline (N) 12:37 a.m. KABC
SPORTS
NHL Hockey The Ducks visit the Columbus Blue Jackets, 4 p.m. FS Prime; the Kings visit the St. Louis Blues, 5 p.m. FSN.
College Football Pac-12 Championship: Stanford vs. USC. 5 p.m. ESPN
For more sports on TV, see the Sports section.
Customized TV Listings are available here: www.latimes.com/tvtimes
Click here to download: TV listings for the week of Nov. 26 - Dec. 2, 2017 in PDF format
---
Get our daily Entertainment newsletter
Get the day's top stories on Hollywood, film, television, music, arts, culture and more.
You may occasionally receive promotional content from the Los Angeles Times.