Review: BET's 'Bobby Brown Story' packs compelling highs and lows for music fans and pop culture fiends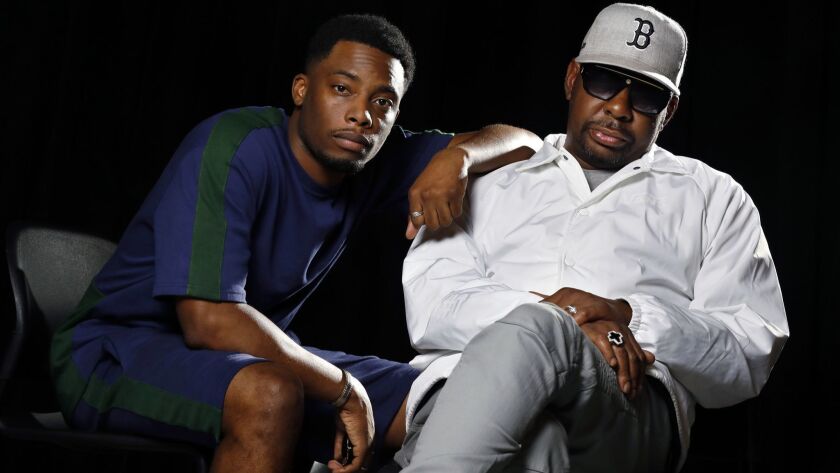 Television Critic
Gumby hairdos, sequined genie pants and lots of tragedy populate "The Bobby Brown Story," BET's biopic of R&B bad boy Bobby Brown, the former New Edition member who was celebrated as a performer and villainized as the husband of Whitney Houston.
The two-part miniseries, which premieres Tuesday, follows Brown from the beginnings of his solo career to the heights of fame with songs such as "My Prerogative" to his music-star royalty marriage with Houston to the drug addictions that brought his career — and ultimately her life — to an end.
The drama, co-produced by Brown, grew out of last year's BET ratings boon "The New Edition Story." This chapter is Brown's story from his perspective — a man who's suffered more loss than anyone should and who was often blamed for the tragedies that befell those around him.
How accurate is "The Bobby Brown Story"? It's hard to say because facts and history are pliable when viewed through tabloid media accounts, pop music lore and the memories of those who lived the dream-turned-nightmare.
As a drama, however, the first half of the "The Bobby Brown Story" (the only part available for review) reveals a compelling miniseries filled with the sort of controversy, nostalgia and personal ups and downs that music fans and pop culture junkies find irresistible. In "The Bobby Brown Story" we're meant to see the man behind the tabloid headlines and the jokes of late-night hosts and comedians.
Woody McClain, who also starred in "The New Edition Story," reprises his role as the conflicted, passionate and frequently selfish Brown. Gabrielle Dennis plays Houston, a vivacious and bubbly personality whose light begins to fade even before their 1992 marriage due to the pressures of fame and the effects of cocaine. Brown was often portrayed in the media as the corrupting influence that got Houston hooked on drugs, but here, it's Houston who brings the drugs into their monied home.
This scripted version of Brown is no angel, however. He cheats on Houston, needs no help getting high on his own and has a pop star-sized ego.
The chemistry between Brown and Houston is magnetic and dangerous throughout the first half of the miniseries. They're in love — a deep and real love — but they're also terrible for each other. They're soul mates who understand what it means to come from nothing then have it all, but their combined baggage portends a catastrophic end we all know is coming: substance abuse, arrests, the train-wreck Bravo reality series "Being Bobby Brown," their 2007 divorce, her 2012 death and their daughter Bobbi Kristina Brown's death three years later.
The miniseries, directed by Kiel Adrian Scott, written by Abdul Williams and executive produced by Jesse Collins, also stars Mekhi Phifer as Brown's brother Tommy and T.K. Carter as their father, Herbert. They along with the rest of the cast paint a story of loss and redemption that can be stiff and amateur at times and has some pacing issues, but it stays focused on dramatic points in Brown's life, and there are plenty to keep viewers entertained. McClain's vibrant performances of Brown's '80s and '90s hits (covers of original recordings), and the addition of other popular music from the time, provide a much-needed context to the wild ride that is Brown's life.
Oddly enough, it's the first few minutes of this life-spanning miniseries that have the most impact. A late-career Brown, his face bloodied and bruised, is wheeled on a hospital gurney into the emergency room. Through narration, he tells viewers he knew it all had to end in tragedy, but "at least this time, it's me and not somebody else." And so begins "The Bobby Brown Story."
------------
'The Bobby Brown Story'
Where: BET
When: 9 p.m. Tuesday and Wednesday
Rated: TV-14 (may be unsuitable for children under the age of 14)
---
The complete guide to home viewing
Get Screen Gab for everything about the TV shows and streaming movies everyone's talking about.
You may occasionally receive promotional content from the Los Angeles Times.