HBO's 'Chernobyl' is a searing departure from 'Hangover' comedy for creator Craig Mazin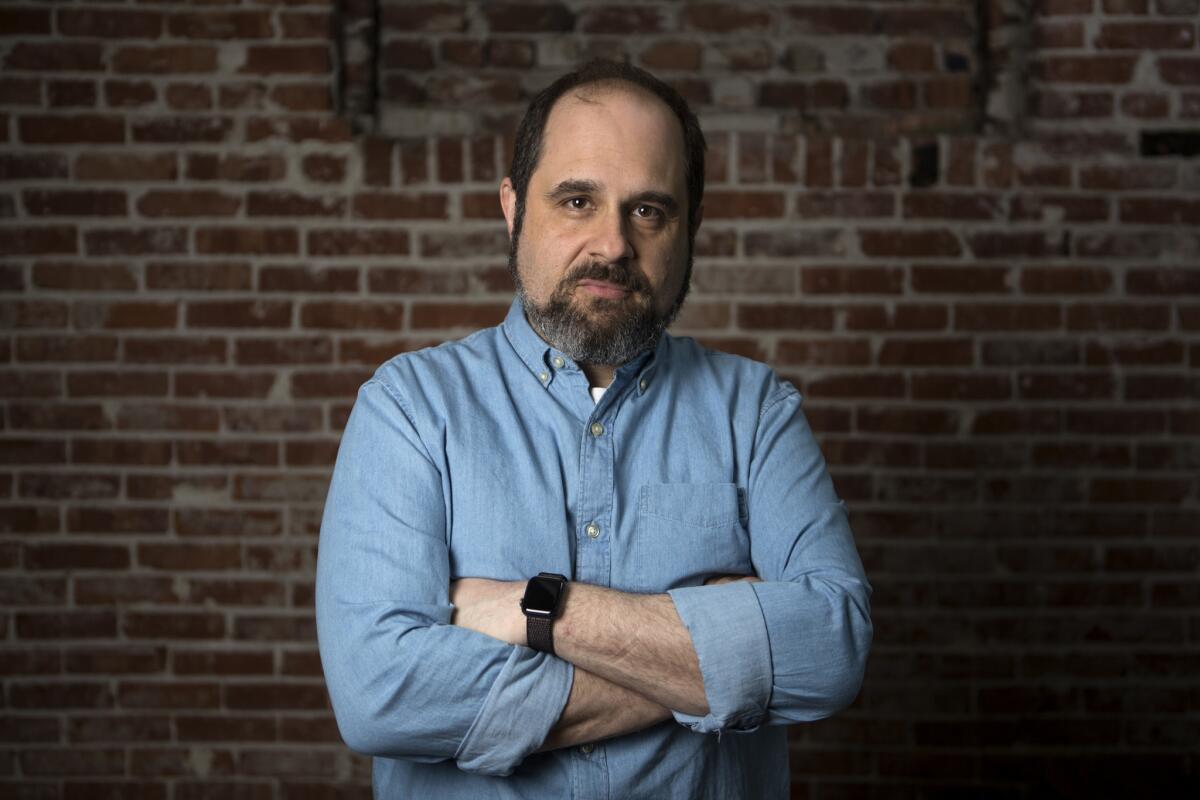 The night sky is aflame in strange color. Mothers, fathers and children gather on a bridge and watch in wonder. A woman says it's beautiful. They smile and twirl as if witnessing something sacred, even as ash, like snow, falls around them, charged with poison that will send many to early graves and lead to a nation's collapse.
Few in the town of Pripyat knew the dangers that were unleashed when the Chernobyl nuclear power plant exploded in the Soviet Union in 1986. Their stories, eerie whispers from the Cold War, are part of the HBO miniseries "Chernobyl," which premieres Monday. The production is a moving elegy on a dark history, but for its creator, Craig Mazin, it marks a stunning break from a career in comedies, including the last two movies in "The Hangover" franchise.
"We all have our different sides. I love comedy. I love the absurdity of it. I love the kind of intelligence that's required to be dumb in comedy," says Mazin, sitting beneath a storyboard in his Pasadena office. "At some point, and maybe it's a function of age, you've had enough of it. You start to slide in other directions. A lot of comedy writers begin to turn the dial. With me it was a switch. Comedy off. Drama on."
That switch led Mazin on an exploration into a defining moment of the 20th century. Nuclear radiation spread from what is now Ukraine to Sweden. Hundreds of thousands had to be evacuated. Estimates on deaths from the accident and its aftermath ranged well into the thousands; although the official count was 31. The Soviet Union, desperate not to let the Americans know the extent of damage or the ineptness of its nuclear reactor system, would begin dissolving with the fall of the Berlin Wall three years later.
Spiraling mistakes and failed cover-ups turned the nuclear meltdown into a metaphor for a corrupt empire. "Chernobyl's" resonance is in the quiet heroism of two unheralded scientists — Valery Legasov (Jared Harris) and Ulana Khomyuk (Emily Watson in a composite role) — and Communist Party official Boris Shcherbina (Stellan Skarsgard). They seek to expose a tragedy that left nearly 2,000 square miles uninhabitable and led to fouled rivers and years of high cancer rates.
"What I was not prepared for was the breathtaking human drama that occurred after that explosion and told from the perspective of people I've always been separated from, Soviet citizens," Mazin says. "'Chernobyl' is a human story. It's not a disaster movie. It's not about explosions. It's about people and truths and lies."
The miniseries is "a page turner," says Harris, whose Legasov is a righteous, tormented man flung into calamity. "It's really gripping and very cleverly told. Mazin's structure for the story was smart. What Craig wanted to do was recover some of these names from history that have been forgotten and give them an appropriate place and have their sacrifice be remembered."
'Chernobyl' is a human story. It's not a disaster movie. It's not about explosions. It's about people and truths and lies."
— Craig Mazin, creator of the miniseries 'Chernobyl'
Dressed in jeans, sneaks and a blue shirt, Mazin, his beard graying, is fast approaching 50. He is at once disposed to science and fantasy, like a precocious boy unfolding maps and diagrams in a basement. He's fascinated with "Dungeons & Dragons." Growing up in New York's Staten Island and Marlboro Township, N.J., he read "Lord of the Rings," anything by Roald Dahl, and "Microbe Hunters," a book about early vaccines and epidemiology given to him by his schoolteacher father.
He fidgets when he sits and, in the quiet of an office above a tidy street, is thoughtful and blunt in equal measure. Culturally sensitive in discussing portrayals of Chernobyl victims, Mazin is more outspoken on his podcast, "Scriptnotes," where he rails about the "existential threat" faced by talent agencies and the paranoia of the Writers Guild of America in the current battle over money and industry practices. He has a particular disdain, often played out on Twitter, for Sen. Ted Cruz, his freshman roommate at Princeton.
"Ted knows that the one who has despised him the longest is me," says Mazin, who was majoring in pre-med as Soviet leader Mikhail Gorbachev glimmered on the nightly news while his country disintegrated. "It took me minutes to loathe him. He is the most inauthentic, pointlessly ambitious person I've ever met. A total disregard for the truth."
After working on a college radio show, Mazin abandoned the notion of becoming a neurosurgeon. He graduated Princeton, packed his Toyota and drove to Los Angeles in 1992. He still keeps in his office — not far from a 1940s-style black rotary telephone — a laminated sheet of paper with the names of temp agencies he called upon arrival. Five years later, he co-wrote the comic sci-fi "RocketMan" for Disney, and went on to write screenplays for "The Hangover" parts II and III, "Scary Movie 3" and "The Identity Thief."
Those movies, which received Rotten Tomatoes ratings ranging from 19% to 35%, seem an unlikely foreshadowing of "Chernobyl," a tale whose power and poignancy is in its restraint and in the subtlety and finely pitched tone of its language. It mixes the complexities of nuclear fission with the messiness and resolve of human nature. The narrative lays bare the fate of a people: "There's a thousand years of sacrifice in our veins."
"I wanted to fill this bizarre gap in my knowledge," says Mazin, who like many in the West had only a cursory understanding of what unraveled more than three decades ago. "We know how World War I happened, someone shot Archduke Ferdinand. The Titanic hit an iceberg and Lee Harvey Oswald took a shot at JFK. We all know Chernobyl blew up, but we don't know why."
The arc of Mazin's career reads like an anecdote on his podcast, which launched in 2011 and examines the world of screenwriters. His "Scriptnotes" co-host, John August, whose credits include "Go" and "Big Fish," says Mazin has long wanted to abandon broad comedy films for insightful dramas.
"On the podcast we're always talking about how characters have ambitions. They have wants and things driving them," August says. "As long as I've known Craig, he's had a drive to tell serious stories. If you want to look at Craig as being the hero in his own story, this is that hero getting a chance to do the thing he's been trying to do for a decade."
"Chernobyl" is an echo from the Cold War, a time of Ronald Reagan and glasnost, silos and intercontinental ballistic missiles, punk rock and Soviet kitsch, and a world more starkly divided than today between good and evil. But Moscow's hubris and deception at trying to keep nuclear catastrophe a secret mirrors the alternative facts and distortions that pervade American, Russian and European politics in an age of nationalists and populists.
"We are now living in a global war on the truth," Mazin says. "The debasement of the truth is the scariest thing of all. It's scarier than the lies. We look at this president who lies, outrageous lies, not little ones but outstandingly absurd lies. The truth isn't even in the conversation. It's just forgotten or obscured to the point where we can't see it. That's what Chernobyl is about."
Mazin ran the idea for the miniseries past friends and "Game of Thrones" creators David Benioff and D.B. Weiss. "If they had said no, there would be no 'Chernobyl,'" he says. HBO signed on and Johan Renck, a Swedish director who had worked on David Bowie music videos and "Breaking Bad," was hired to direct. The story was sold as a six-parter, but Mazin, who felt it a little long, cut it to five.
The mood of "Chernobyl" is as somber as a cello and gray as a winter sky, like a slow pulse beating toward an uncertain resolution. People smoke, drink vodka, watch for spies, shoot contaminated dogs, salve their blistered skin and commiserate in the humor of the oppressed. But there is a defiance within that has survived world wars, revolutions, purges and famines.
The miniseries format allowed Mazin, who often felt constrained on film scripts, to explore nuances, develop characters and create an intricate world that for so much of the last century was a mystery defined by the harsh and often slanted lens of geopolitics. The writer in him discovered the chance to expand story lines and other allures that have led many filmmakers, actors and directors to cross over into television.
"When you're writing a feature film, the moment you begin Page 1 you are in a sweat that you're running out of pages," he says. "You are terrified. You have 200 pages of story. You have moments and things you want to expand upon. But you can't because there's this hydraulic press of page count on you. It's brutal and it forces to you compromise every single scene, every character, every page."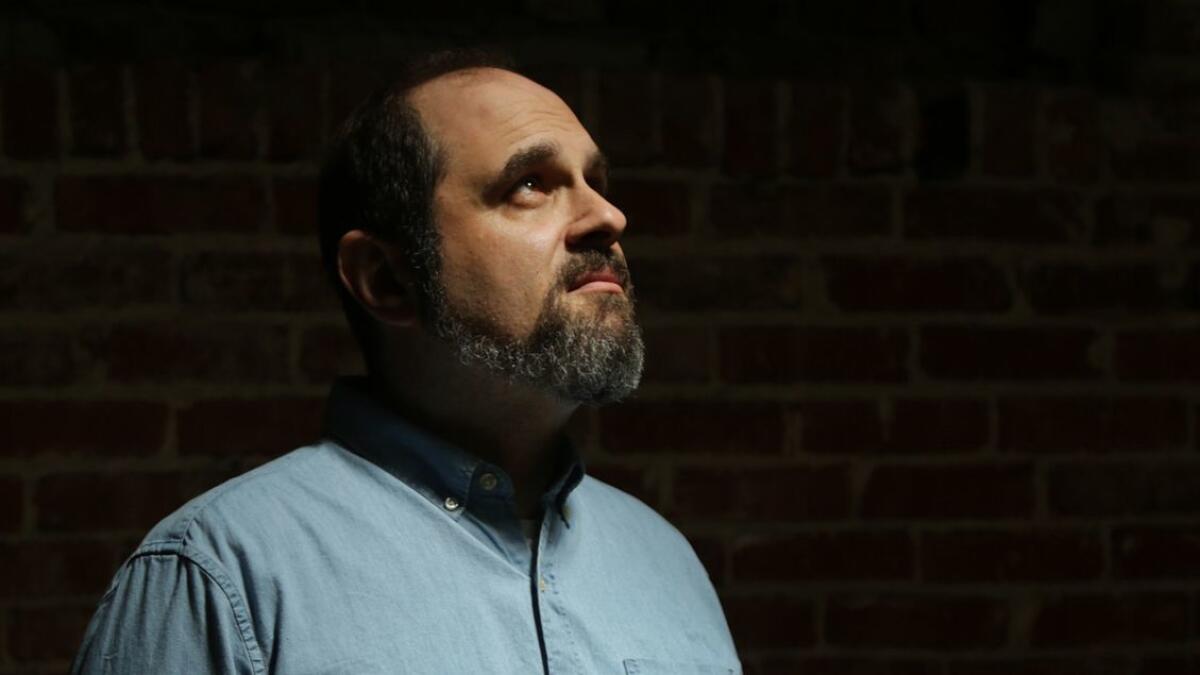 One seldom escapes compromise; it is the art and grease of this town. Mazin's upcoming projects include a reboot of "Charlie's Angels," which is in post-production, and "this apocalyptic movie for Lionsgate."
But one senses that Mazin's view of what he wants to say has changed. There will be more miniseries, more stories with weight. In the retelling of a nuclear tragedy, he has found where his voice belongs.
Twitter: @JeffreyLAT
Get our L.A. Goes Out newsletter, with the week's best events, to help you explore and experience our city.
You may occasionally receive promotional content from the Los Angeles Times.