Commentary: Who enabled accused sexual predators R. Kelly and Jeffrey Epstein? We did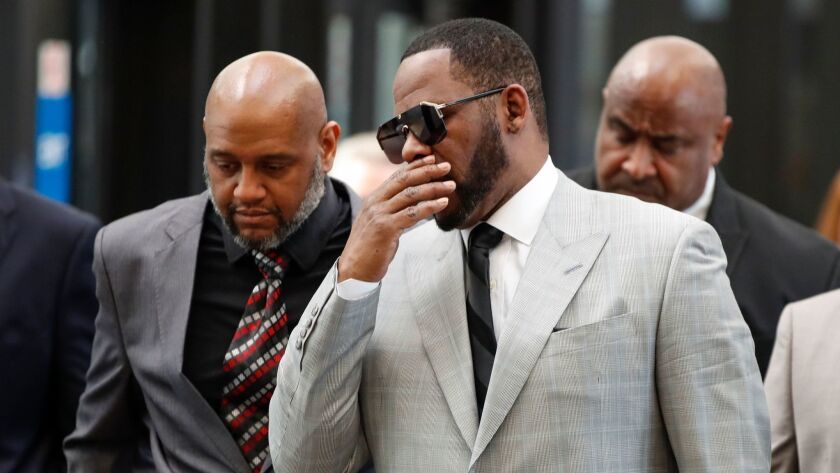 Television Critic
It takes a village to protect an alleged high-profile predator.
That was the takeaway late last week when the indictments of two rich, powerful men, both charged with preying on underage girls, also swept up the men accused of enabling them.

For the record:
12:57 p.m. July 17, 2019This article says director Woody Allen was married to Mia Farrow. They were in a relationship but they never married.
Superstar singer R. Kelly and billionaire businessman Jeffrey Epstein openly enjoyed the spoils of success, which according to federal prosecutors included soliciting teens for sex over several decades, with little to no consequences thanks to acolytes, permissive officials and a culture that lionizes the successful man's pursuit of younger women. In other words, all of us.
Kelly's former manager Derrel McDavid was arraigned Friday, and another employee, Milton "June" Brown, must turn himself in by Monday after New York federal prosecutors included the two men as defendants in the indictment charging Kelly with child pornography, conspiracy and obstruction of justice. Within the same hour, Secretary of Labor R. Alexander Acosta resigned from his post after the Justice Department opened an investigation into a lenient deal he struck with convicted sex offender Epstein in 2008 while serving as a federal prosecutor in Florida.
"What those two cases show is that it takes networks of people to enable this behavior," says Jim DeRogatis, author of "Soulless: The Case Against R. Kelly," a former Chicago Sun-Times reporter who's spent decades investigating the singer's troubled history with women. "Everybody from the driver to the personal assistant to the person who books the airplane tickets and makes the travel arrangements to the person who pays off the girls to be quiet. .… And the fact that Acosta's career is coming down in flames. He was part of the justice system that turned a blind eye."
But the aforementioned folks shouldn't take all the blame when an entire industry, and nation, stood by and watched these stories unfold.
R. Kelly rose to fame in the 1990s on the strength of raw talent, passionate performances and songs filled with references to his sexual prowess. In 1994, for example, the then-27-year-old wrote and produced the hit album and song "Age Ain't Nothing but a Number" for his then-15-year-old bride, singer Aaliyah. Audiences ate it up.
Epstein's rags-to-riches story was a tale of success the media had loved to retell, despite troubling signs. "He likes beautiful women as much as I do, and many of them are on the younger side," said Donald Trump in a 2002 New York magazine story. This came two years after Kevin Spacey won the Oscar for portraying a man obsessed with his teenage daughter's best friend in "American Beauty." Woody Allen had weathered child molestation charges in his divorce from Mia Farrow and would go on to win his fourth Oscar in 2012 for "Midnight in Paris." And television has regularly exploited the sexuality of school-age teens, often in the guise of comedy.
A 2013 report by the Parents Television Council found that "the likelihood that a scene would include sexual exploitation was highest when the female characters were underage" and "topics that targeted underage girls and were presented as jokes included sexual violence (child molestation), sex trafficking, sexual harassment, pornography and stripping." Too many of us laughed along.
The trope of the oversexed high school teen helped normalize so-called May-December affairs, on and off screen. Female characters as young as 15 have appeared more experienced and aggressive than seasoned porn stars in coming-of-age films such as "Fast Times at Ridgemont High" and "Cruel Intentions." And that dynamic didn't die with the 1990s.
For better and worse, Netflix's "Sex Education" and HBO's "Euphoria" are veritable orgies of teen libido designed to make adults laugh and gasp while wondering where their kids are. The reality, however, is that the majority of today's high school juniors are virgins. The percentage of those who have sexual intercourse has declined from 62% to 42% since 1991, according to the Centers for Disease Control and Prevention.
That less titillating reality, or the responsibility we all have for protecting our kids, rarely seems to make it into the narrative. The seduction of younger women by older men — romanticized on film from "Casablanca" to "Birdman" — has long been considered one of the perks of wealth and power. Kelly and Epstein were admired for public lifestyles that appeared to follow that script.
But now the script is changing. The Kelly and Epstein indictments mark a milestone: Two formidable men at the height of their careers are facing serious charges thanks to the accounts of teenage girls.
Thank the #MeToo movement.
Far more than an empty hashtag rallying cry, it incited a cultural shift that in hindsight might prove as revolutionary for women as the civil rights movement was for people of color. It called BS on the socially accepted norms of young women being open game for the highest bidder, demanded accountability and unleashed half a century's worth of outrage — all of which aided in the charging of Epstein and Kelly.
"I don't believe that in the history of popular music we've ever seen criminal sexual charges of this length and breadth and number," said DeRogatis. "And we're talking bad behavior that started way before Frank Sinatra and continues after Ryan Adams."
He added of Kelly: "Nobody's ever been hit with federal charges of this amount. It's 145 years in jail if he's convicted of all the federal charges. But I think also we were looking at going after the enablers and a system that allowed this stuff to happen. Whether you're talking about R. Kelly or Epstein, it marks some sort of movement in the right direction."
Like DeRogatis' book, which chronicles the alleged crimes of Kelly through reporting and victim accounts, the 2019 Lifetime documentary "Surviving R. Kelly" is one of those movements. It gave voice to the women who alleged sexual abuse, rape and kidnapping by the superstar, catapulting Kelly's rumored misconduct back into the spotlight.
A village of enablers helped these accused predators roam free, now a rising chorus of women is taking them down. The rest of us need to pick a side.

---
The complete guide to home viewing
Get Screen Gab for everything about the TV shows and streaming movies everyone's talking about.
You may occasionally receive promotional content from the Los Angeles Times.