Review: 'Full Circle's' in a sticky situation with Chicago cops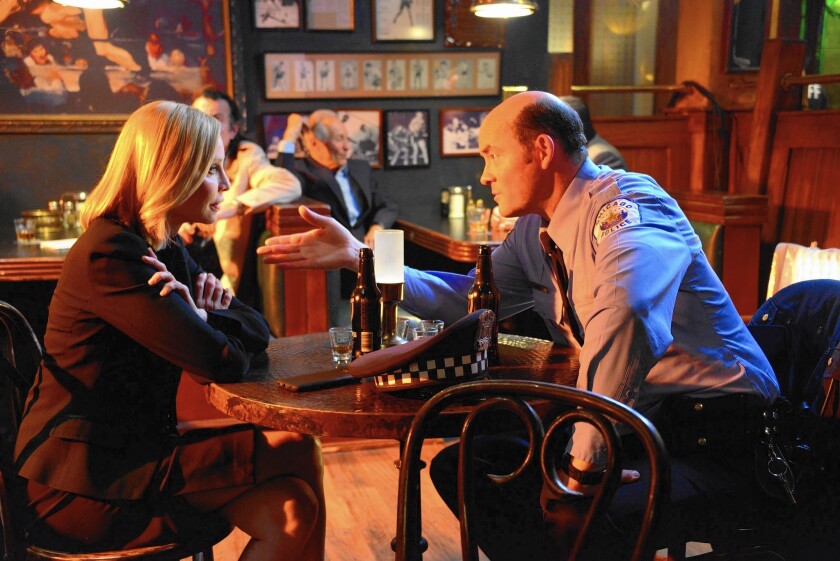 Los Angeles Times Television Critic
The first season of "Full Circle," which returns Wednesday on DirecTV's Audience Network, was written by the playwright Neil LaBute and based loosely on Arthur Schnitzler's play "La Ronde." Each episode was an encounter between two characters, one of whom went on to encounter another character in the next episode, a kind of dramatic round robin that all tied together in the end.
Keith Huff, a Chicago-based playwright who has been on staff at "House of Cards" and whose "A Steady Rain" ran on Broadway in 2009, has written the second season. Where the first was set entirely in a restaurant, the new one takes place (mostly) in a bar.
And though it is not quite so formally scrupulous, it is again built on a series of duologues and, again, theatrical sometimes to a fault, with a kind of stylized declamatory weightiness to even the most casual remarks. (You will be forgiven for thinking of David Mamet, Chicago's unofficial playwright laureate; this is music very much in his key.)
Here are two lines that appear in close proximity: "Will this Q&A appear on today's blog, Studs Terkel?" And "Get a phone, Greta Garbo." That is where we are.
Like "A Steady Rain," "Full Circle" is about cops and criminals (and criminal cops). Terry O'Quinn plays Jimmy Parerra, an honest policeman who blew the whistle on his father-in-law, Bud O'Rourke (Stacy Keach), a crooked one. The deal has earned him the nickname Jimmy Pariah and sent him into hiding with a price on his head. (Not hiding very well, one would say; he's still hanging around Chicago, albeit in a baseball cap and sunglasses.)
Eighteen years later — 18 years! — Bud is about to leave prison, just as Jimmy's old friend and partner (Chris Bauer), now a private eye, decides that Jimmy is the chip he needs to play to get out of a sticky situation.
Chicago! Right?
Also in the cast are Rita Wilson as Jimmy's ex-wife; Patrick Fugit as his son, a crooked cop in training; Brittany Snow, his daughter, a voice for good; Calista Flockhart, his niece, in "risk management"; Eric McCormack and Kate Burton as people of the FBI; and David Koechner as yet another compromised policeman.
It is nice for actors to play long scenes full of words for them to say — a serious conversation in a television show might last all of six lines — and though the story feels improbable at some times and obvious at others, it can be fun just to watch them work out, flexing their Chicago Irish accents. (Here, you may be forgiven of thinking of "Da Bears.") But only in passing moments does the production seem anything other than artificial.
I've seen only four episodes of 10, and things are already complicated enough that I can't say with certainty what the story's about or which characters, for all their speechmaking, are not who they seem.
There is much talk of an impending wedding involving most of them, and I would expect at least that whatever unburdenings Huff has reserved for the endgame will be unburdened there. But it's just a guess.
---
Inside the business of entertainment
The Wide Shot brings you news, analysis and insights on everything from streaming wars to production — and what it all means for the future.
You may occasionally receive promotional content from the Los Angeles Times.