Review: Lifetime's 'Whitney' hits right notes but still falls flat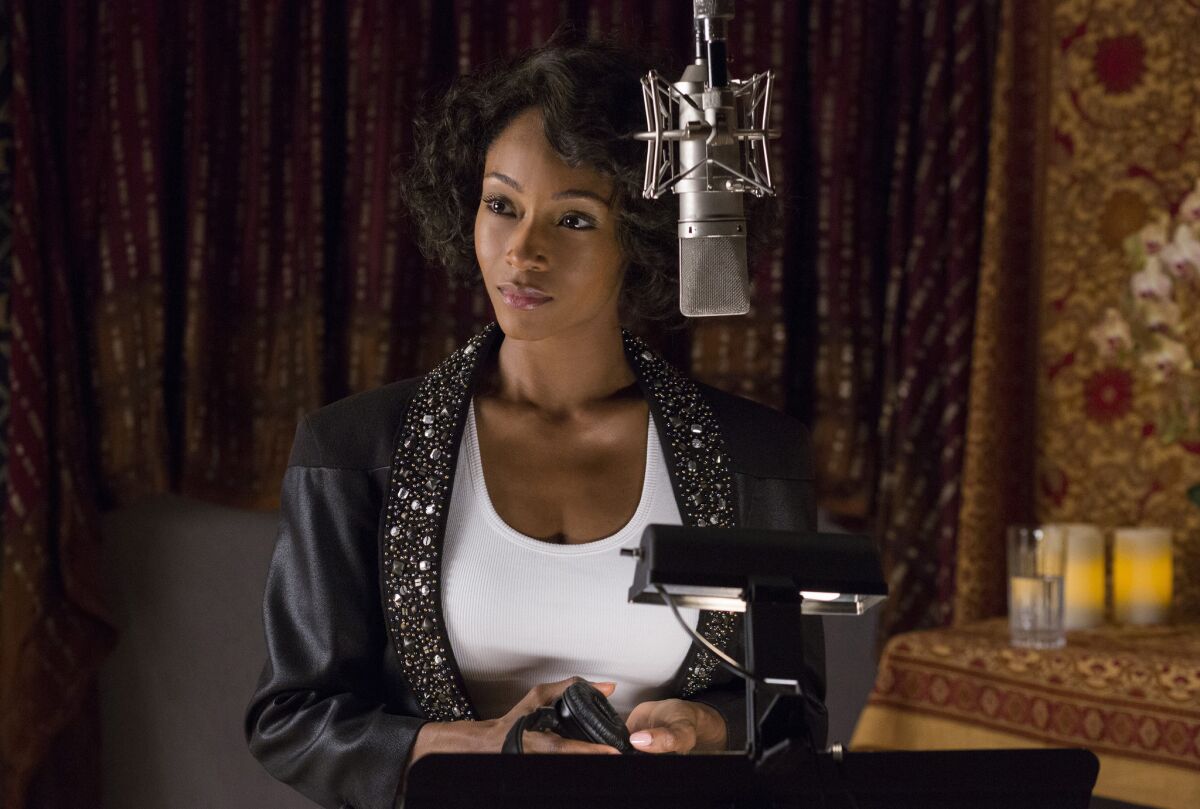 Television Critic
"Whitney," a biopic of the singer Whitney Houston — you were expecting maybe Eli Whitney? — premiering Saturday on Lifetime, is certainly not the worst film to be made from a real person's life.
That it was made isn't surprising: Houston was famous, beloved and influential — we are still traveling in the widening wake of her melisma — and the shoulder-padded, big-hair '80s-'90s are a locus for nostalgia for people who are in charge of making movies nowadays.
But though it works in parts and pieces — were you to be shown any random scene out of context, you might imagine a better picture — it doesn't add up to much.
While this is true of most such films, the appeal of making them remains enormous. For the filmmaker, a famous subject pre-sells the film; you can borrow energy from the original item, like a bicyclist drafting behind a semi.
The appeal of inhabiting a brilliant famous person is attractive to actors; the chance to make the past live stirs the juices of designers. For the viewer, there is the promise of being taken to the heart of a mystery, to learn what the facts alone can't tell you.
It's all fiction, in the end, of course, bits of the actual filtered through a writer's imagination, a director's vision, an actor's interpretation. And where wholly invented characters can seem deeply complicated and wholly real, most impersonations — though they do sometimes stand on their own — usually break down beside their ultimately unknowable originals.
"Whitney" reunites first-time director Angela Bassett with screenwriter Shem Bitterman, who wrote the 2013 Lifetime double-biopic "Betty and Coretta." It's a better-than-average Lifetime film — and at its boudoir heart, it is very much a Lifetime film.
Indeed, it might more accurately be called "Whitney and Bobby," since it begins with Houston (Yaya DaCosta) meeting future husband Bobby Brown (Arlen Escarpeta) and almost entirely concerns their relationship, even when music, business or extended family matters are involved.
Much of it feels extracted from other films, as when a frustrated Brown goes into a bar and says "make it double" or Houston regards herself in a mirror before doing a line of cocaine or writer's block is represented by wadded up pieces of paper and a piano covered in empty bottles. For that matter, it begins just like "A Star Is Born," with the principals meeting cute at an awards show and continues on into a similar story of love at the mercy of dueling careers (and substance abuse).
The leads, including Yolonda Ross as Robyn Crawford (as Houston's childhood friend and tabloid-rumored lesbian lover, a thread this film doesn't really pick up), all do individually fine work, and DaCosta is remarkably convincing lip-syncing to Deborah Cox's re-recordings of Houston's hits.
But though DaCosta and Escarpeta each creates a sympathetic character — at times, the picture feels meant to make you forget you ever saw "Being Bobby Brown" — they lack chemistry. For all the script insists otherwise, their love, and thus the film about it, feels something less than necessary.
--------------
'Whitney'
Where: Lifetime
When: 8 p.m. Saturday
Rating: TV-14-LSV (may be unsuitable for children under the age of 14, with advisories for coarse language, sex and violence)
---
Get our L.A. Goes Out newsletter, with the week's best events, to help you explore and experience our city.
You may occasionally receive promotional content from the Los Angeles Times.