Why my Luke Perry was '90210's' Dylan McKay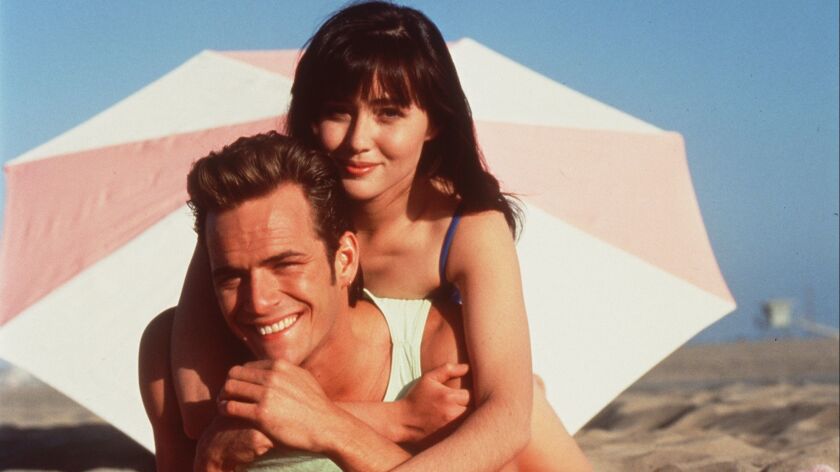 I saw him just a few weeks ago. Dylan McKay was atop his parked motorcycle, wearing his brown leather jacket and flashing his heartthrob smile — the one that made his right eyebrow, the one with the scar, rise up — while nudging Brenda Walsh to hop a ride.
This was my Luke Perry.
Every year, sometimes more than once, I rewatch "Beverly Hills, 90210." It's my unapologetic TV blankie.
Maybe that's because I watched the show during its original run, which began in 1990 … when I was 6 years old. Brandon, Dylan, Brenda, Kelly, Donna, Steve, Andrea and David — and all who came into the fold in later years — have spent more time in my living room than even my closest friends IRL.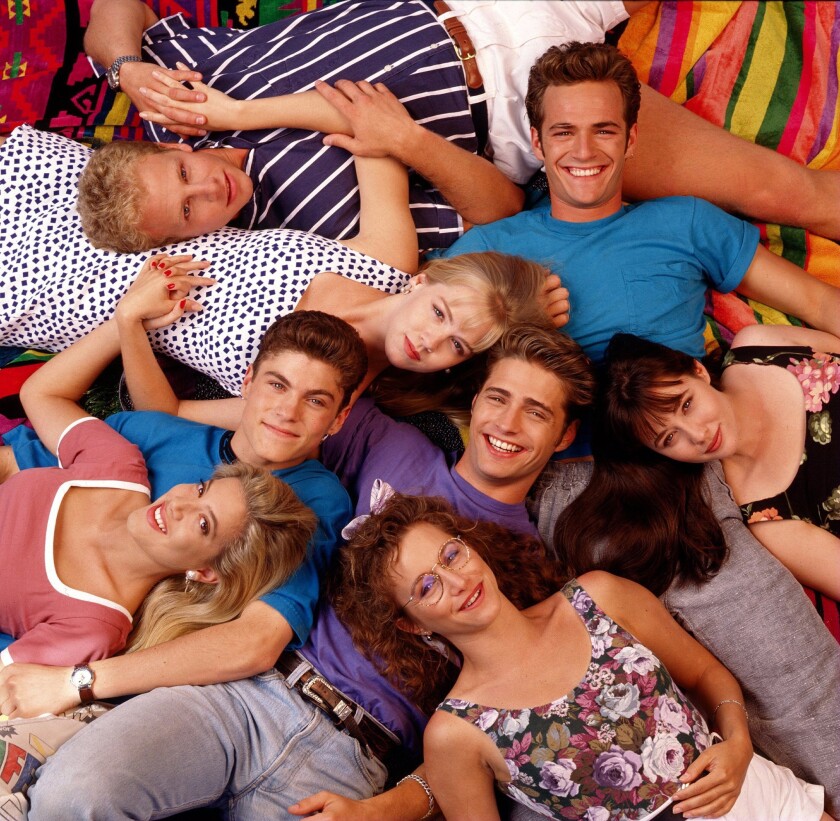 ALSO: Luke Perry of 'Beverly Hills, 90210' and 'Riverdale' fame dies at 52 after stroke »
There was always something about Dylan. Introduced in the second episode of "Beverly Hills, 90210," titled "The Green Room," Dylan was West Beverly High's cool, brooding bad boy who wasn't all that bad — the one every teen drama has tried to replicate in the years since.
He was the teen who lived on his own in a hotel — and had a penchant for venturing to Mexico on a whim. His mom lived in Hawaii; his dad was in jail and later died (or did he?). Naturally, he drove around town on a motorcycle or his prized 1964 black Porsche 356 Speedster, if he wasn't catching a wave.
He was also at the center of one of TV's most popular love triangles — people of a certain age still mull over where they stand in the Brenda-Dylan-Kelly dynamic — that helped propel the show into a '90s sensation and Perry into one of the show's breakout stars. The way he effortlessly exuded a coolness and vulnerability in playing Dylan often drew comparisons to James Dean — hey, the heartthrob face and hair didn't hurt.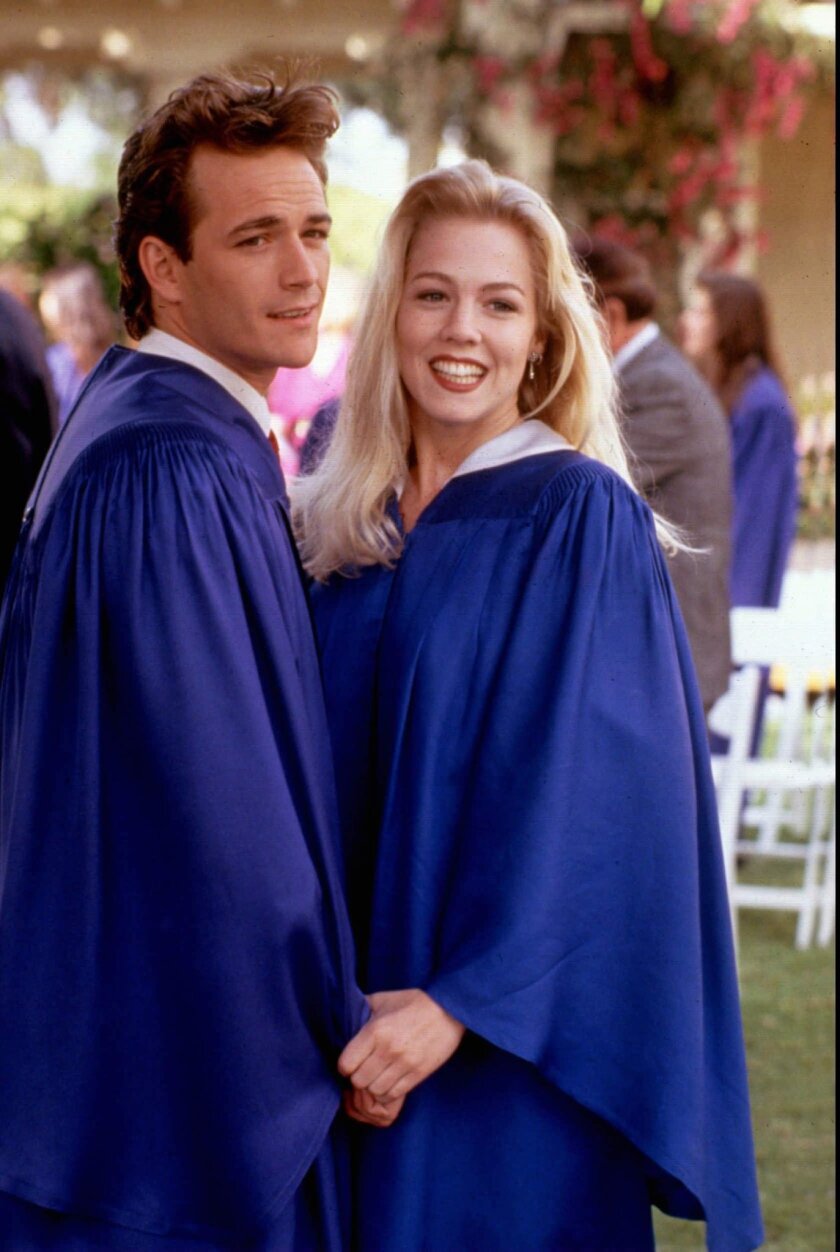 ALSO: Luke Perry remembered: 'a character actor in the body of a heartthrob' »
It's easy to dismiss the acting on a show like "Beverly Hills, 90210," but for a young-adult drama that touched on important social issues such as date rape, teenage pregnancy and alcoholism, there's no denying the show broke ground in the way it pushed the expectations of what a teen drama could be. And Perry as Dylan often delivered some of the most effective moments.
Who can forget the time in Season 3 when Dylan's father, Jack, fresh out of prison and living with his son on a boat in an effort to mend their relationship, is unlocking his car door when it bursts into flames. The way Perry's Dylan screams in horror as he runs to the explosion is so primal. Or in Season 6, when he pulled his dead wife's body out of his car in the pouring rain — screaming with pain before weeping into her neck. I still cry when I see that scene. And, sure, those weren't moments that earned him Emmy recognition, but ask any "90210" fan to name some of the show's most memorable moments, and those scenes will likely get a mention.
Of course, in the years since the show wrapped its 10-year run in 2000, Perry did his part to shake the alter ego he is undeniably best known for. He had an arc as a televangelist inmate on HBO's prison drama "Oz," and he also had a memorable turn as a surfing talent scout in HBO's "John From Cincinnati." More recently he was reaching a new generation of young viewers, graduating to father status on a popular teen soap of this era, the CW's "Riverdale." Currently airing its third season, and renewed for a fourth, Perry played Fred Andrews, the father of protagonist and heartthrob Archie Andrews (KJ Apa). Fred is a single father who runs a construction company in the fictional town of Riverdale. It's unclear how the series will deal with Perry's death.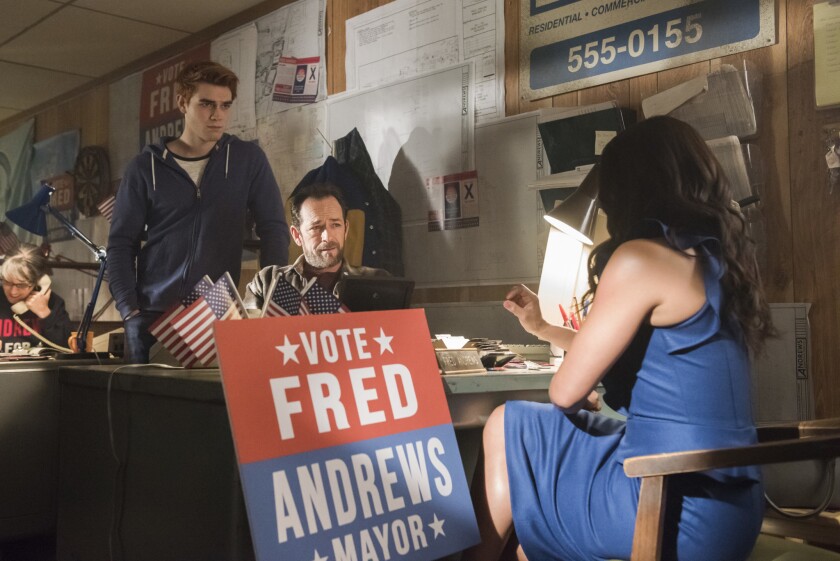 ALSO: Luke Perry's death upends 'Riverdale' »
His fans, meanwhile, are trying to process it. Because for so long he's been alive and well on my TV screen.
Just a few days ago, die-hard "Beverly Hills, 90210" fans (some, anyway) were giddy when Fox announced a quasi-revival of the drama. Though Perry was not attached (likely because of his "Riverdale" commitment), it didn't seem like a far-off dream that he might make a guest appearance to appease fans like me.
Except until we meet again, on my TV screen.
The most-read Entertainment stories this hour »
Twitter: @villarrealy
---
The complete guide to home viewing
Get Screen Gab for weekly recommendations, analysis, interviews and irreverent discussion of the TV and streaming movies everyone's talking about.
You may occasionally receive promotional content from the Los Angeles Times.