Commentary: The rise and fall of Megyn Kelly and what it says about the state of the media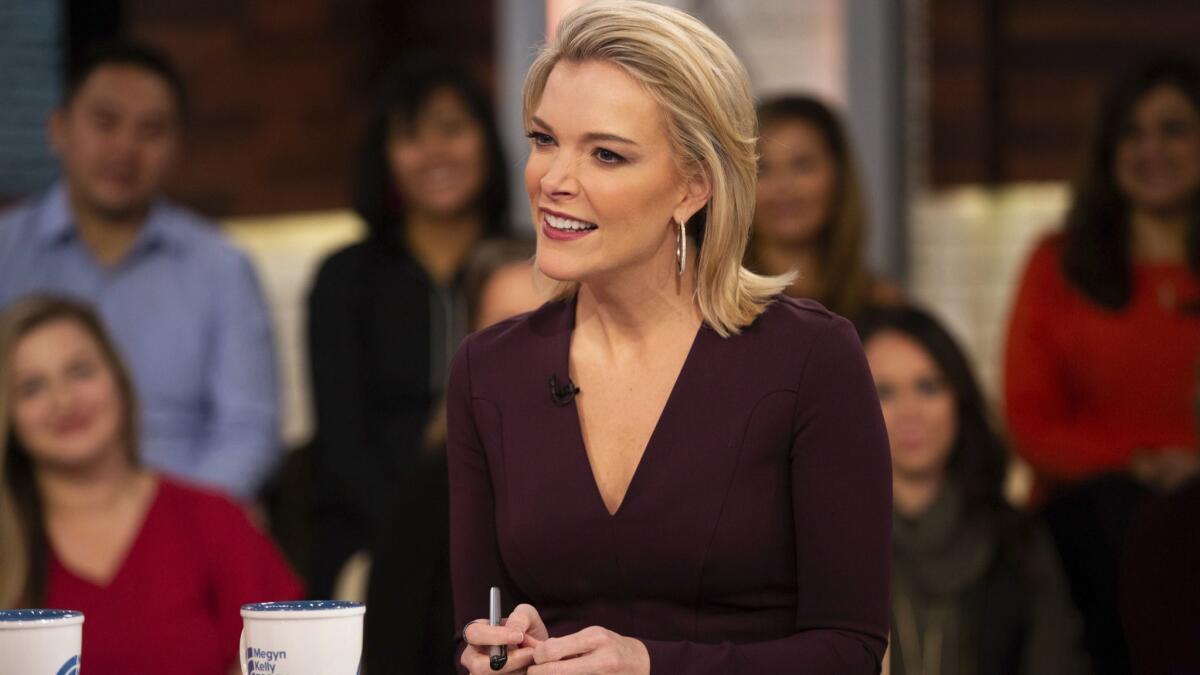 For a brief period, Megyn Kelly was a hero.
The former Fox News anchor stood up to then-presidential candidate Donald Trump when he bullied her after Kelly moderated a debate. She called out network founder and media mogul Roger Ailes on charges of sexual harassment. She persevered in the pre-#MeToo era at one of the most patriarchal newsrooms around.
NBC News Chairman Andrew Lack saw a celebrity journalist who could pull in viewership across untapped partisan lines when he hired Kelly away from Fox News in 2017 for a reported $23 million a year. There was much fanfare around the move, and NBC gave her a Sunday magazine show and the 9 a.m. "Today" show spot.
The network gambled on the host becoming television news' next hybrid star — a conservative crossover who appealed to, well, a mystery demographic that was neither left nor right. Or perhaps that audience was both or apolitical? Never mind. Viewers would surely recognize her innate star power.
That transformation, however, never happened. At NBC, Kelly was still the same anchor who sat stiffly at her desk, exuded little charisma and had trouble conducting engaging interviews. The steely demeanor that worked in her favor during a debate with Newt Gingrich or a beef with Trump felt robotic in a setting that was designed to be more personable and viewed while sipping your morning coffee.
Kelly did, however, become the central figure in a cautionary tale, where NBC's desperation to remain relevant in the streaming era produced another "What the Hell Did You Expect?" moment.
Last week was like a replay of the "Roseanne" debacle, but with less impressive ratings at stake.
The network abruptly canceled "Megyn Kelly Today" and parted ways with the host after her on-air defense of the racist practice of whites wearing blackface: "'What is racist?" Kelly asked her fellow panelists on Oct. 23. "Truly, you do get in trouble if you are a white person who puts on blackface for Halloween, or a black person who put on whiteface for Halloween? When I was a kid, it was OK as long as you were dressing up as, like, a character."
The failed attempt to transform the right-wing anchor into a congenial morning show host was ambitious, shortsighted or just plain cynical. The answer depended, of course, on whom you asked.
Kelly ultimately did reach a larger audience, but only after her show was pulled and she became a symbol of everything that's wrong in 2018. For some, she's a high-profile example of how political correctness is ruining the day. For others, she's the latest offender in a long line of public figures whose lack of sensitivity around issues of race is out of touch at best, or prejudiced — whether deliberately or not — at worst.
In 2013, when Kelly was a premier anchor at Fox News, she specifically addressed "kids watching at home" when she said that Santa was white. Kelly later added that Jesus Christ was white too. In the run-up to the 2010 midterm election, she dedicated hours of her show to the dangers of a fringe black group that was supposedly suppressing the vote. And she apparently had no qualms about a caption on her show that referred to Michelle Obama as "Obama's baby mama."
It all made sense within the Fox News eco-sphere, where such commentary generates ratings rather than pink slips. And Kelly was a moderate voice, compared with the five-alarm fires that were Glenn Beck and Sean Hannity. But outside that conservative-right echo chamber, Kelly had difficulty connecting with audiences that lack Pavlovian responses to words like "Benghazi" or "caravan."
One of the first guests on her short-lived NBC newsmagazine, "Sunday Night With Megyn Kelly," was Sandy Hook shooting denier and alt-right conspiracy peddler Alex Jones.
Her black face remark was the last straw. Last week, she promptly apologized for it, but it was too late. The short-lived hero had fallen, and TV journalism had lost another celebrity anchor to a cultural reckoning that's taken down Matt Lauer, Charlie Rose and dozens of media stars.
Monday morning's edition of "Today" arrived without Kelly. Instead, three diverse anchors were in her place: Craig Melvin, Hoda Kotb and Al Roker.
"Today, as you know, we are starting a new chapter in the third hour of our show as it evolves," Kotb said. "We want you to know that the entire 'Today' family will continue to bring you informative and important stories, just as we always have."
The show, however, wasn't lacking star power. It was just lacking Kelly, whose star faded once she left Fox News' protective universe. Lack will no doubt be searching for the next personality that embodies everything the industry believes audiences want to see — a controversial hero, an unlikely crossover, a media sensation. As Megyn Kelly can tell you, good luck with that.
ALSO:
Megyn Kelly is off the air as NBC News weighs her future
Megyn Kelly apologizes for blackface comments
Get our L.A. Goes Out newsletter, with the week's best events, to help you explore and experience our city.
You may occasionally receive promotional content from the Los Angeles Times.