The royal wedding: Fairy tale or 'Game of Thrones'?
Television Critic
A royal romance. A fairy-tale affair. A love story for the ages.
Run-up coverage to Prince Harry and Meghan Markle's royal wedding has sounded more like an ad campaign for a new Barbie Princess franchise than coverage of a 21st century union between two live adults.
Amid news of broken talks between North and South Korea and the massacre of 60 Palestinian protesters, we've learned, whether we want to or not, that the couple's wedding invitations were printed on British paper by a 1930s die press using American ink, their cake will be lemon elderflower and Markle may or may not wear a tiara.
Listed in your cable server's guide or On Demand right now are more specials, documentaries and dramas revolving around this "unlikely dream couple" than there are dainty finger sandwiches in Windsor Castle. Toss rose petals in any given direction and they'll land atop a marriage countdown, fantasy guest list or the latest on "conflicting reports" whether the bride's father will be attending the wedding.
If the sheer volume of air time devoted to their engagement is any indication, Americans apparently do want to immerse themselves in a ceremony full of arcane tradition for a royal sixth in line to the throne.
Countdown to the Royal Wedding: Your complete guide »
Blame or thank a world gone mad. Harry and Meghan's wedding is a fortuitously timed distraction from the disturbing deterioration of our own democracy, which appears to be crumbling like the British Empire we once fought to escape. But it's also a curious escape hatch given that the last few royal nuptials to elicit this much attention from American TV audiences were hardly idyllic or dreamy affairs.
The "Game of Thrones" blood-soaked "Red Wedding" is still at the top of that list, followed by King Joffrey's less bloody but still colorful demise. Then there's "The Crown's" near-loveless union between Queen Elizabeth II and Philip, "Victoria's" fraught marriage, the pairing that ripped apart a nation in "The White Queen" and the ill-fated string of matrimonies that made marriage a blood sport in "The Tudors." And we haven't even hopped the channel yet to the infidelity capitol of "Versailles."
The renewed interest in British monarchy has as much to do with peering behind the brocade curtains at royal dysfunction and the erosion of power than with the majesty of the crown.
Yet the countdown to Harry and Meghan's big day has even turned a cynical media soft, driving them toward princess-isms that feminist moms have been steering their daughters away from for decades. Dream wedding. A love for the ages. A rags-to-riches story.
By the time the ceremony is televised from St. George's Chapel in Windsor Castle, there better be a unicorn pulling the regals in a 24-karat gold carriage — or dragons overhead spelling out "Congratulations Newlyweds" in flames — to live up to all the breathless hype.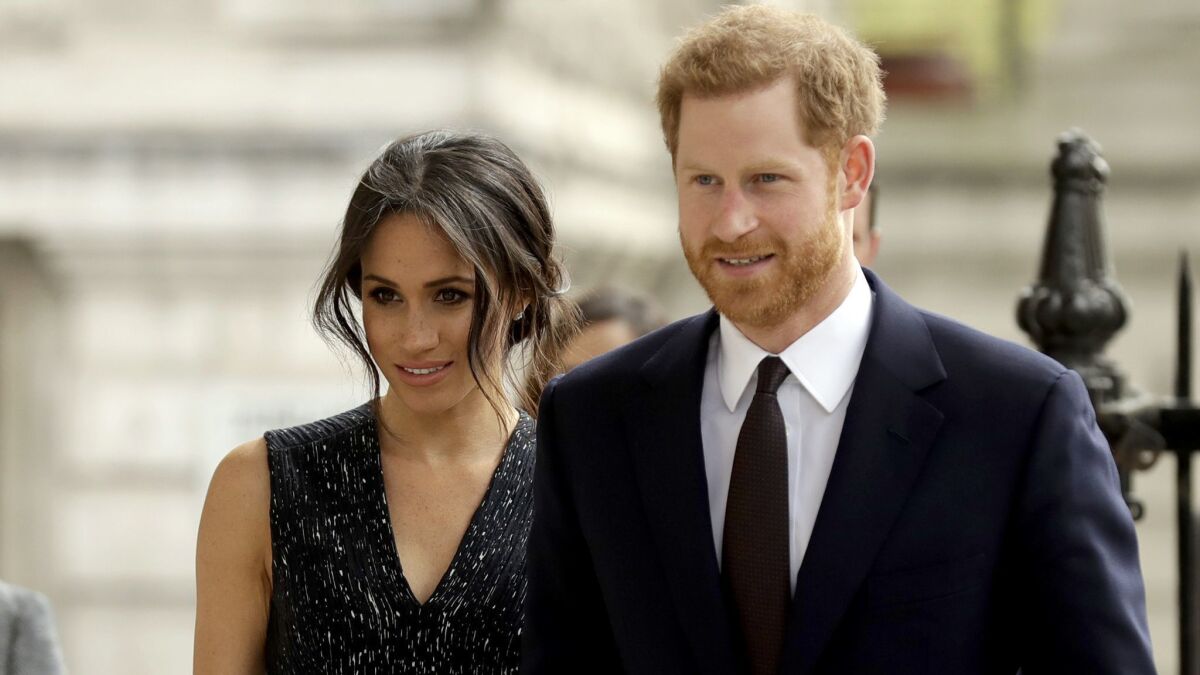 Royal weddings have of course been the subject of worldwide fascination given the remnants of British culture scattered about the globe because of migration and colonization. The special event results in commemorative tea tray sales across places such as Australia and India, and allows American news anchors like Hoda Kotb and Katie Couric to emulate their favorite "Downton Abbey" character for a weekend. Borrowing from traditions we once rejected as remnants of an oppressive empire is in itself an American tradition.
The Trumps have been called American royalty, but their recent state-sponsored celebration beamed 'round the globe was not a storybook event. As Ivanka and Jared Kushner waved at the cameras like blue bloods during the opening of the hotly contested U.S. Embassy in Jerusalem, Israeli Defense Forces were shooting scores of unarmed protesters on the Gaza border 60 miles away. No amount of fairy dust could make that scene majestic.
Harry's engagement to Markle isn't all that exceptional in the history of royal-falls-for-commoner relationships. Sophie Rhys-Jones and Kate Middleton were commoners. Camilla Parker Bowles was a mistress. Edward VIII abdicated the crown in 1936 when he fell in love with the twice-divorced American Wallis Simpson.
And like Camilla Parker Bowles when she wed Harry's dad, Prince Charles, Markle's not the first divorcee to marry into the royal family. The intrigue around the "Suits" co-star is perhaps due to her Hollywood roots, but even that pales when compared to the glow that hovered over actress Grace Kelly, who became Princess Grace after marrying the Prince of Monaco.
L.A.-raised Markle is multiracial though, and that's made for uncomfortable headlines in the British press as well as attention around their early days as a couple way back in the intolerant 2016s. Their engagement in November 2017 must have been devastating news for boilerplate bigots and anyone banking on making #WindsorSoWhite the next big cause across social media.
But those earthly trifles aren't what the American media and a generation of viewers who still care about palace tradition want from this wedding. The world is spinning faster than it did for those old enough to remember the "fairy-tale" wedding of Diana and Charles. Saturday's ceremony is not that of a likely future king and it won't transport them back to simpler times, but if they squint hard enough and believe, they can become the subject of a care free kingdom for a day.
ALSO
When Harry Met Meghan: The royal wedding is the perfect Hollywood ending for a very Hollywood story
Look back at Prince Harry and Meghan Markle's early relationship milestones
Throwing your own royal wedding watch party? We've got recipes
---
Get our L.A. Goes Out newsletter, with the week's best events, to help you explore and experience our city.
You may occasionally receive promotional content from the Los Angeles Times.