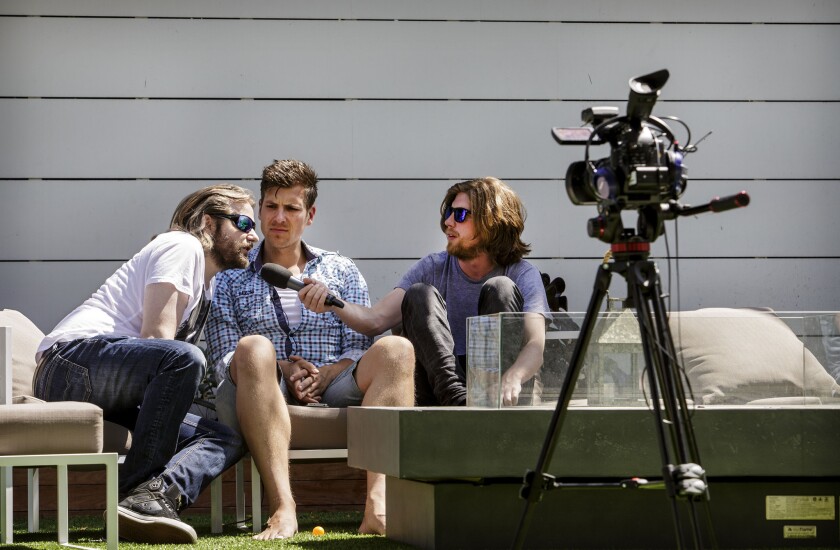 Like a little sister sneaking up on her older brothers, 20-year-old Kelly Svirakova inched closer to her housemates Valentin Rahmel and Erik Range, hoping to go unnoticed.
It was an 80-degree day in West Hollywood and the friends were taking advantage of their backyard — Range lounged on a couch checking his laptop while Rahmel strummed a guitar.
Then they felt something hit the backs of their heads: Foam arrows. A direct strike. Svirakova held her plastic archery bow with a look of satisfaction. Rahmel didn't hesitate to chase after Svirakova.
Payback time: One, two, three — splash! Range, 37, and Rahmel, 30, grabbed Svirakova and threw her into the pool. She let out a shriek and started giggling. Range walked back to the couch, held up the bow and laughed in front of the laptop's built-in camera.
There was one more camera that captured the incident. Roberta Weinberger, wearing headphones and sitting in front of another laptop, monitored everything to make sure there were no technical glitches. After all, the scene was being streamed live on the Internet.
Welcome to a typical day at "The Mansion." It's like any other reality show — except it's a YouTube channel. Since its debut about a month ago, it's logged more than 8 million views and 165,000 subscribers.
The other thing to know about "The Mansion" is that almost everyone on camera is speaking German. It's the first international project from Studio 71, a multichannel network from Germany's media giant ProSiebenSat.1 Group.
"We wanted to set foot in the international market and the idea of the show is to have a creativity hub where we bring our YouTube talent here," said Christian Meinberger, head of content programming and production for Studio 71. "Hollywood offers top-tier entertainment that will inspire our Web stars."
Seen around Los Angeles, "The Mansion" residents look like just another goofy group of friends filming themselves, but in Germany, they are Internet stars.
Range, best-known by his YouTube name "Gronkh," has more than 3 million subscribers on his personal YouTube channel. Rahmel, or "Sarazar" on YouTube, has nearly 1.4 million subscribers. Svirakova, a.k.a. "MissesVlog," has almost 400,000 subscribers, and Robin Blase ("RobBubble") has nearly 40,000 subscribers. All four traveled 5,000 miles from Germany to make the series together.
Their West Hollywood home, less a grand mansion than a modern five-bedroom house, is part-production facility and part residence. A mostly German crew of about five spend their days huddled in the garage, the house's makeshift work space, to edit video footage of the YouTube stars exploring Southern California and hanging out at home. Scattered all over the garage walls, color-coded Post-it notes serve as reminders for upcoming feeds.
The crew uploads at least two videos a day to the channel, not including the content that the YouTube stars regularly upload to their own channels. And every Friday, the stars do an hour-long live stream for fans at 11 a.m. California time, which is 7 p.m. in Germany.
"Constant uploading is a key element in channel performance," Meinberger said. "Two is the minimum to keep the subscriber base."
Though the YouTubers each have their own themes on their respective channels — Sarazar and Gronkh critique and play video games; MissesVlog and RobBubble post lighthearted videos — "The Mansion" allows them to branch out and reach a new audience.
ProSiebenSat.1 Group has been pushing to boost its digital and production business since March, when it acquired a 20% stake in Collective Digital Studio, a U.S. multichannel network that produces, distributes and markets online video content.
"There are so many opportunities for collaboration," Rahmel said. "When you blend our talent with other international talent, you build an even bigger audience."
Last month, "The Mansion" stars attended the annual VidCon at the Anaheim Convention Center in hopes of connecting with other vloggers who could potentially become part of the channel.
It was there where Range met Steven Williams, also known as "Boogie2988." The Fayetteville, Ark., native has been using his YouTube channel to talk about video games since 2006.
Although Williams' channel has more than 1.8 million subscribers, the 40-year-old said he never knew his audience could become global. Then Range (Gronkh) told him about "The Mansion."
"Gronkh was easily the friendliest person I met at VidCon," Williams said. "He was just genuinely excited to meet me and be there. He greeted me with a big smile on his face."
Now Williams is joining in on "The Mansion" fun. Though he won't actually be living with the YouTube stars, he'll join the video feeds from his home in Arkansas. He's already participated in several live streams conducted in English with German subtitles.
"I had no clue people knew I existed in Germany," he said. "It's amazing to have an audience at all but then to have a global audience across the pond is amazing."
Other YouTube stars from Germany and possibly other U.S. multichannel networks will come and go in "The Mansion" before the conclusion of its first season sometime in October.
"We switch up the stars based on performance and what our audience wants," said Meinberger, who wants to forge alliances with other YouTube talent.
Svirakova was scheduled to return to Germany this week. Rahmel and Range will also take a brief hiatus. In the fall, Rahmel and Range head to Nepal, where they will travel by train and backpack in a scenario that replicates a video game they will be promoting and playing.
For now, "The Mansion's" stars said they're just trying to enjoy their time together.
"We love L.A.," Rahmel said before stepping outside to smoke a cigarette. "It has everything."
As for the mansion itself, the lease is up in August with renewal to be determined.
"I have a feeling we'll be back," Range said.
---