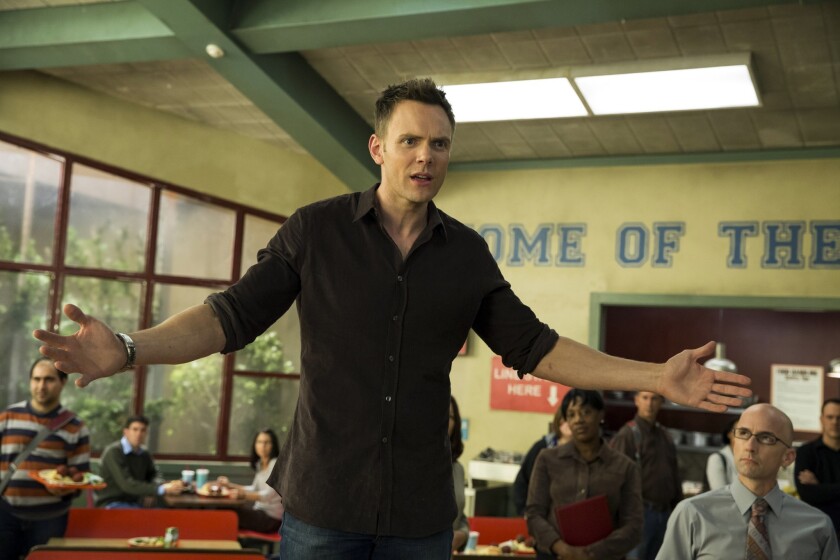 "Community" will live to fight another day. And it gets its long-hoped-for sixth season to boot.
Yahoo has renewed the beloved cult comedy for 13 more episodes and will release them this fall on Yahoo Screen.
After NBC canceled the series in May, fans were devestated. The acclaimed comedy had seen the departure and return of its creator, Dan Harmon, and many hoped it would make good on the promise of "six seasons and a movie." Now the six seasons are assured. The movie is still a big question mark, however.
Joel McHale leads an ensemble cast that includes Gillian Jacobs, Yvette Nicole Brown, Danny Pudi, Alison Brie, Ken Jeong and Jim Rash as the students and faculty of Greendale Community College. Mascot: the Human Being.
Harmon will return as showrunner and executive producer for the new season. And in a statement, got in a dig at his former network, saying, "I look forward to bringing our beloved NBC sitcom to a larger audience by moving it online."
The series, which premiered in 2009, has had a rocky history. Harmon was replaced as show runner for the series' fourth season, but after the show's devoted fan base loudly complained, he returned to lead the writing of the fifth season. Despite the return of Harmon, the show's ratings were still too low for NBC to renew it for a sixth season.
One of the show's stars, Chevy Chase, also left during the show's fourth season after many disagreements over the direction of his character, Pierce Hawthorne. Another cast member, Donald Glover, reduced his appearances on the show in the fifth season to concentrate on his music career and was not listed among the cast members set to return for season six.
The Yahoo deal came at the last minute, as the actors' deals were set to expire on June 30, according to TVLine.
The "Community" deal is the latest push by Yahoo to expand its online TV offerings. It recently announced two original series: "Other Space" and "Sin City Saints."
Follow me on Twitter: @patrickkevinday
---