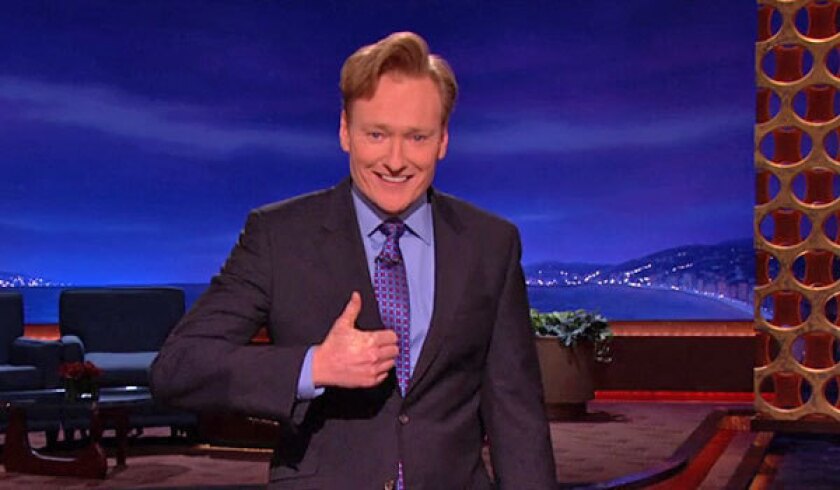 While Jay Leno was busy signing off from "The Tonight Show" for the second (and presumably final) time, former "Tonight Show" host Conan O'Brien was busy over on TBS getting in one final dig.
During his opening monologue, O'Brien brought up the Olympics, which began airing Thursday night on NBC.
"That's right, NBC has the Olympics," O'Brien told the audience. "It's a big deal. NBC will finally get to show somebody who's OK with passing the torch."
PHOTOS: A day on set with Jay Leno
No names were named, but come on, we all know who he was referring to. And so did the studio audience, which cheered him on wildly.
O'Brien responded with a thumbs up and a very satisfied grin.
"I allowed myself one. But it was a good one," he said.
O'Brien briefly hosted "The Tonight Show" in 2009 and early 2010 before Leno resumed the job after NBC pushed O'Brien out.
PHOTOS: Classic 'Tonight Show' moments
Meanwhile, over on NBC, Leno delivered a tearful goodbye to the audience, telling them that after losing his mother, father and brother in the 22 years he'd been host of "The Tonight Show," the people who worked there had become his family.
Though he quoted Johnny Carson's final words uttered on network TV, "I bid you a heartfelt goodnight," it's Leno's final words on the broadcast that will probably prove to be the most prophetic.
"Thanks folks," Leno waved. "See you later!"
Something tells us we haven't seen the last of Jay Leno.
ALSO:
Finally, a wistful Jay Leno does go gently out of that late night
'Biggest Loser' won't address Rachel's controversial weight loss
George Clooney pranks Matt Damon, Tina Fey and Amy Poehler
---