TCA: Leno's last guest announced, while Fallon and Meyers reveal their first guests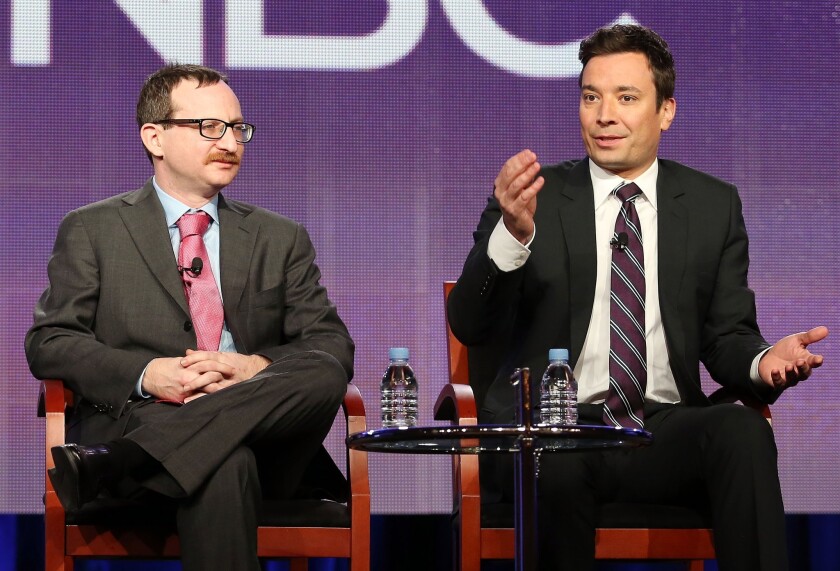 It really is happening. If there was ever any doubt that NBC would actually go through with the restructuring of its late-night block, let this stand as hard proof:
While promoting his new position as "Tonight Show" host Sunday at the Television Critics Assn. press tour in Pasadena, Jimmy Fallon revealed the first guests of his Feb, 17 debut. Drum roll, please.... It's Will Smith and musical guest U2.
On the flip side, Jay Leno will once more wrap his run as late-night king pin — a gig that has totaled more than two decades — on Feb. 6 with first-ever guest Billy Crystal returning to send out Leno, along with musical guest Garth Brooks.
WINTER TV PREVIEW: Full coverage of the season's shows
Still not a believer? Here's more proof: Seth Meyers, who will take over Fallon's "Late Night" spot, announced later on Sunday that fellow "SNL" alum and NBC top dog Amy Poehler will be his first guest.
During his session, Fallon said that not much will change from the offbeat style of his "Late Night" show as he makes the transition to the earlier time period, So those click-worthy videos, like last week's bit wherein he and Bruce Springsteen poked fun at New Jersey Gov. Chris Christie's recent traffic jam scandal, won't be falling by the wayside.
In speaking of the bit, Fallon said he gave Christie a heads-up that he recruited Springsteen, an idol of Christie's, for the routine — because he had been a guest on the show and because he knew it might not go down easy with the governor.
"First of all, the bit was funny. I knew that," Fallon explained. "You have to go with that first when making these decisions. Secondly, I let Chris Christie know we were doing it. And I said, 'The silver lining is Bruce Springsteen says your name.' "
Then a pause.
"I haven't heard back yet."
---
The complete guide to home viewing
Get Screen Gab for everything about the TV shows and streaming movies everyone's talking about.
You may occasionally receive promotional content from the Los Angeles Times.