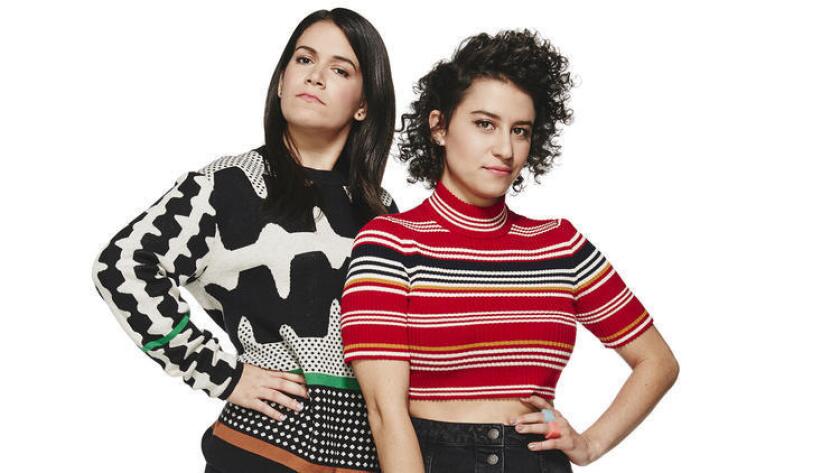 SUNDAY
Filmmakers Tom Hooper, Danny Boyle, Todd Haynes, Tom McCarthy, Ridley Scott and Quentin Tarantino take part in a roundtable on "The Envelope." 5:30 p.m. Ovation
Blimey! It's time for the "The EE British Academy Film Awards 2016" — a.k.a. the BAFTAs. 7:30 p.m. BBC America
Isn't it romantic? Is that a rhetorical question? Either way, it's "The Bachelor at 20: A Celebration of Love." 8 p.m. ABC
Jimmy Fallon marks his second year in the seat once occupied by Steve Allen, Jack Parr, Johnny Carson, Jay Leno, Conan O'Brien and Jay Leno again in "The Tonight Show Valentine's Day Special." 9 p.m. NBC
The zombie apocalypse will continue until morale improves on the return of creepy drama "The Walking Dead." 9 p.m. AMC
She's no Meat Loaf, but Erika Christensen would still do "Anything for Love" in this new TV movie. 9 p.m. Hallmark Channel
They know it's only rock 'n' roll, but they like it: From producers Mick Jagger and Martin Scorsese comes "Vinyl." Bobby Cannavale and Olivia Wilde head the cast of this new drama about the music biz circa the 1970s. 9 p.m. HBO
Blimey again! The new special "Adele: Live in London" showcases the chart-busting British songstress in concert and in conversation with TV host Graham Norton. 10 p.m. BBC America
MONDAY
Is there nothing he can't do? James Franco travels through time to try to stop the JFK assassination in the new online series "11.22.63" based on the Stephen King novel. Anytime, Hulu
Kendrick Lamar and the aforementioned Adele are among the many musical acts slated for "The 58th Annual Grammy Awards." 5 and 8:30 p.m. CBS
They'll be putting their best paws forward at the "140th Westminster Kennel Club Dog Show." 5 p.m. CNBC; also Tue.
Capt. Raydor (Mary McDonnell) and her squad are back in the midseason premiere of "Major Crimes." 9 p.m. TNT
Better call series star Bob Odenkirk and tell him it's time for a second season of the "Breaking Bad" prequel "Better Call Saul." 10 p.m. AMC
Werewolf? There, wolf! The supernatural drama "Bitten" is back for a third season. Laura Vandervoort stars. 11 p.m. Syfy
TUESDAY
Word to their mothers: Rap music's Sean "Puffy" Combs and LL Cool J are featured on a new episode of "Finding Your Roots." 8 p.m. KOCE
The good, the bad, and whatever it was that Lady Gaga was wearing will get the once-over on a new Grammy Awards edition of "Fashion Police." 8 p.m. E!
The more militant edge of the civil rights movement of the 1960s is remembered in the 2015 documentary "The Black Panthers: Vanguard of the Revolution" airing on a new "Independent Lens." 9 p.m. KOCE
Get a double dose of your favorite crime-solving gal pals (Angie Harmon, Sasha Alexander) when "Rizzoli & Isles" returns with two new episodes. 9 and 10 p.m. TNT
WEDNESDAY
"Evil Stepmothers" always get a bad rap, a situation not likely to be remedied by this new true-crime series. 7 and 10 p.m. Investigation Discovery
It's not exactly a holiday in Cambodia on the return of "Survivor." 8 p.m. CBS
Paleontologists re-create a super-sized dinosaur — fear not, it's only a computer model — on a new episode of "Nature." 8 p.m. KOCE
Cool customer: "Nova" checks back in with Otzi, the prehistoric frozen mummy, in the episode "Iceman Reborn." 9 p.m. KOCE
Those brassy, sassy, fun-lovin' lassies Abbi and Ilana (Abbi Jacobson, Ilana Glazer) are back in a new season of "Broad City." 10 p.m. Comedy Central
THURSDAY
The truth comes out in the finale of the six-part mystery-drama "London Spy." With Ben Whishaw. 10 p.m. BBC America
It takes a pillage: Ragnar (Travis Fimmel) and company return on the season premiere of "Vikings." 10 p.m. History Channel
Great Scot! "Join or Die With Craig Ferguson" is a new star-studded weekly panel show helmed by the former late-night fixture. 11 p.m. History Channel
FRIDAY
We'd best get our dietary priorities in order, or else our goose is "Cooked." That's one takeaway from this new four-part docu-series from author Michael Pollan and filmmaker Alex Gibney. Anytime, Netflix
"Love" is a many splendored thing … except when it isn't, which is most of the time in this sardonic new sitcom from Judd Apatow. Paul Rust and "Community's" Gillian Jacobs star. Anytime, Netflix
Will we still love her tomorrow? Yes! The decades-long career of singer-songwriter Carole King is charted on "American Masters." 9 p.m. KOCE
SATURDAY
She's "Pregnant at 17" and her much-older and already-married boyfriend is none too happy about it in this new thriller. With Zoé De Grand Maison and Josie Bissett. 8 p.m. Lifetime
Men dance sans pants — again! — in the hunk-heavy 2015 male-stripper sequel "Magic Mike XXL." Channing Tatum, Matt Bomer and Joe Manganiello star. 9 p.m. HBO
---
Customized TV Listings are available here: www.latimes.com/tvtimes
Click here to download
TV listings for the week of Feb. 14 -20, 2016 in PDF format
---