Former NBC boss Grant Tinker, who brought 'Mary Tyler Moore Show' to TV, dies at 90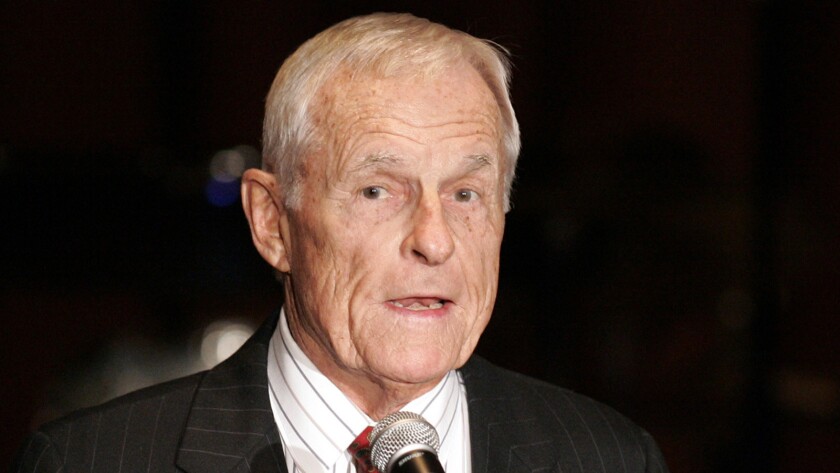 Grant Tinker, the plain-spoken, silver-haired executive who led a prime-time renaissance at NBC and developed shows that helped redefine series television in the 1970s and '80s, died Monday at his home in Los Angeles. He was 90.
NBC announced his death Wednesday morning. The cause of death was not disclosed.
"Grant Tinker was a great man who made an indelible mark on NBC and the history of television that continues to this day," NBCUniversal Chief Executive Steve Burke said in a statement. "He loved creative people and protected them, while still expertly managing the business. Very few people have been able to achieve such a balance. We try to live up to the standards he set each and every day."
Tinker's company, MTM Enterprises, which he founded in 1969 with then-wife Mary Tyler Moore, helped change the course of television comedy over the decade that followed. Thanks to such series as "The Mary Tyler Moore Show" and "The Bob Newhart Show," the juvenile escapism prevalent in the sitcom genre during the 1960s gave way to adult sophistication. The company also developed Steven Bochco's innovative police show "Hill Street Blues," which introduced a higher level of realism and new narrative structure to TV drama.
Appointed NBC's chairman in 1981, when the network had been in a prolonged ratings slump behind CBS and ABC, Tinker helped achieve a major if gradual turnaround, opting to stick by low-rated but critically acclaimed programs — including the barroom comedy "Cheers" — that eventually blossomed into long-running hits.
Other series introduced by NBC during those years included "The Cosby Show," "Family Ties" and "Miami Vice." David Letterman also began his late-night series after "The Tonight Show Starring Johnny Carson."
The changes did more than just heighten NBC's prestige. By the time Tinker left in 1986, after General Electric purchased NBC from RCA, the network's profits had almost increased tenfold, to more than $400 million.
Tinker built his reputation as a hands-off manager who nurtured quality and stood behind it — an attitude that lured creative talent to NBC and MTM.
Warren Littlefield, who worked for Tinker along with the late programming guru Brandon Tartikoff, recalled the executive telling the staff in NBC's dark days when he arrived, "First be best. Then be first."
Bochco recalled approaching Tinker when he joined MTM, asking, '''Do you have any thoughts about what you'd like me to be working on?' He said, 'No. We asked you to come to MTM to work on what you want to do.' This was a guy who created an environment in which writers were genuinely free to create and produce their work.''
Tinker characteristically downplayed his role in the victories with which he was associated.
"I just had the good luck to be around people who did the kind of work that the audience appreciates," he said in a 1994 interview coinciding with the release of his autobiography, ''Tinker on Television." "The success just rubbed off on me."
Similarly, when Tartikoff died of cancer in 1997, Tinker credited him as the architect of NBC's ratings turnaround. Reminded of his own contribution to that process, Tinker said only that the time for that would be in his own obituary.
Still, the late Gary David Goldberg, who created the long-running "Family Ties" for NBC, told the New York Times in 1987 that Tinker "let me know a writer was special" and that "Grant makes everyone he comes into contact with better."
Although he was associated with numerous Emmy-winning programs, Tinker was also willing to try commercial fare that he freely admitted was not to his personal taste. A key component of NBC's success during the 1980s, for example, was the fanciful action show "The A-Team."
When Tartikoff gave him the script, he nervously waited through the weekend for Tinker's response, finally calling to gauge his reaction. "It's pretty good, if you like that sort of stuff," he recalled Tinker saying.
Later, running his own production company, Tinker launched the beach-going lifeguard series "Baywatch." NBC canceled the show, which eventually became a long-running international smash in syndication. Eager to see the project find new life — and make NBC rue dropping it — Tinker sold the rights back to the producers for $10.
"I don't have any problems with programming for mass audiences even a lowest-common-denominator show," Tinker said in a 1983 interview. "I just don't want to have 'em every night of the week."
Tinker was born Jan. 11, 1926, in Stamford, Conn. His father was a lumber supplier. After graduating from Dartmouth College with a bachelor's degree in English, Tinker joined the NBC radio network in 1949 as a management trainee and was later named operations manager.
When he started, Tinker noted, network founder David Sarnoff was still ensconced on the 53rd floor, "and I was delivering mail on the sixth."
He left NBC in 1954, becoming deputy director of Radio Free Europe, but soon segued to the ad agency McCann-Erickson to develop television programs.
Tinker worked in a similar capacity at another ad agency, Benton & Bowles, before returning to NBC in 1961 as a programming executive, moving to the network's West Coast offices later that year. Promoted to vice president of programming in 1966, he returned to New York only briefly, leaving the network for short stints at Universal and 20th Century Fox.
In 1969, Tinker and Moore (who had married in 1963, while "The Dick Van Dyke Show" was running on CBS) formed MTM, taking its initials from the actress' name. The company logo — a parody of MGM's signature introduction — featured a kitten, instead of a lion, giving forth a soft meow.
MTM's first program, "The Mary Tyler Moore Show," turned into a huge hit for CBS, and a parade of hits followed: "The Bob Newhart Show," "WKRP in Cincinnati," and the "Mary" spinoffs "Rhoda," "Phyllis" and "Lou Grant" among them.
Even the medical drama "St. Elsewhere," though never a major commercial success, was widely considered one of TV's best programs.
Tinker and Moore's 18-year marriage officially ended in 1981 (though the two had been separated for several years at that point), the same year he began at NBC.
Presented the Academy of Television Arts & Sciences' Governors Award for his achievements in 1987, Tinker said the recognition "means that I choose wisely the people I work with." In fact, he often referred to himself as a professional "appreciator" — someone who couldn't act or write but was able to identify those who can. His job, he said, was to attract creative people, then protect them and their vision from network interference.
Bochco once said Tinker's primary contribution was "liberating the writer, which is conducive to raising the standards of television."
After Tinker chose to leave NBC after the network was acquired by GE, he partnered with Gannett Co., the publisher of USA Today, to create a production entity named GTG Entertainment. Several projects were launched — including a daytime TV show based on USA Today, as well as "Baywatch" for NBC — but none of them stuck.
Despite receding from television, Tinker remained active in charity and nonprofit endeavors, sitting on numerous boards, including public television station KCET in Los Angeles. He also championed anti-drug efforts — enlisting NBC stars to tape public-service announcements while at the network — and worked on behalf of Phoenix House, a drug-abuse services agency.
In his later years, Tinker was also an outspoken critic of various trends in television, from the excesses of reality programs such as "Survivor" to the corporate controls initiated after studios were allowed to acquire and merge with broadcast networks.
Still, he stressed at the time his autobiography was published, "I try not to be one of those as-you-get-older people who say, 'We used to do it better in the old days.' The truth is, they're in a more difficult business now."
As part of his television legacy, Tinker's sons Mark and John have both become successful producers, with John working on such programs as "Chicago Hope" and Mark, an Emmy-winning director, having spent several years on "NYPD Blue."
"My father set the bar high both as a television executive and a father," Mark Tinker said Wednesday in a statement. "I never heard anyone speak of him with anything other than respect and admiration. I'm proud to be his son and especially proud of the legacy he leaves behind in business and as a gentleman."
Another son, Mike, became a veteran Los Angeles police detective, who occasionally played bit roles on his brothers' various programs.
All four of Tinker's children (the other being a daughter, Jodie) came from his first marriage, to Ruth Byerly, which ended in 1962.
Tinker possessed a self-deprecating sense of humor — quipping, for example, when the TV academy chose to honor him, "I guess it's my age. You last long enough in this business and they give you an award."
But Tinker's impact made him revered among many television executives who followed him.
"His level of class set him apart from everyone else in our business, and all of us at this company owe him a debt of gratitude," said NBC Entertainment Chairman Bob Greenblatt. "In fact, TV watchers everywhere do."
Lowry is a former Times staff writer.
ALSO
A tour through dark chapters of American history hits close to home at site of California internment camp
Awards season is coming up. See how they rank, from must-see to pass
'Hawaii Five-O' actor Keo Woolford dies at 49
---
UPDATES:
10:53 a.m.: This article has been updated with additional details throughout.
This article was originally published at 7:50 a.m.
---
Inside the business of entertainment
The Wide Shot brings you news, analysis and insights on everything from streaming wars to production — and what it all means for the future.
You may occasionally receive promotional content from the Los Angeles Times.