3 VMAs fashion statements that weren't awful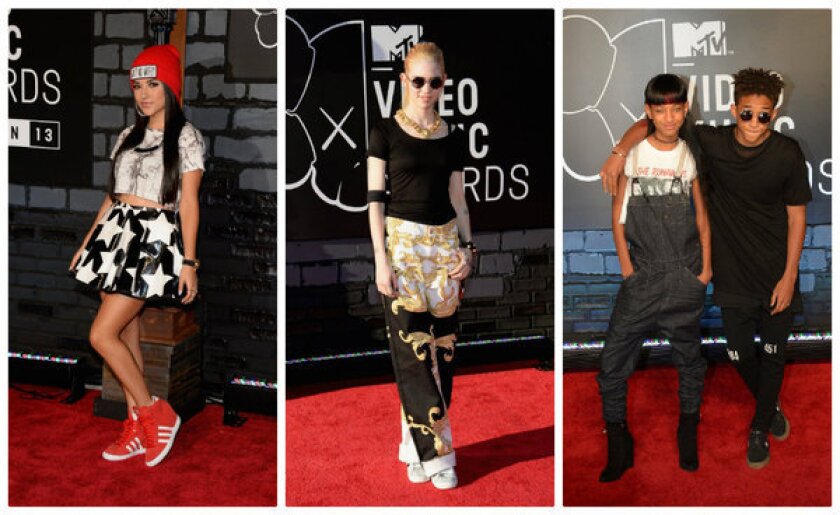 Los Angeles Times Fashion Critic
What a train wreck of desperation the MTV Video Music Awards were Sunday night, right?
I'm not going to continue to pile on Miley Cyrus. The girl is 20, lest we forget, and if we're not careful, she's going to end up like Lindsay Lohan.
But her look--on the red carpet and onstage--just reinforced that the whole show was about bumping and grinding and butt jokes and bare midriffs and above all, trying too hard.
Taylor Swift, poured into that navy blue Herve Leger column dress, had an unpleasant air of being above it all. So did her pal Selena Gomez, who looked like Swift's mean girl partner-in-crime, dressed in a navy blue Versace column gown. Did they conspire to dress alike?
Rita Ora, who is usually impeccable, looked like she was trying too hard to be the evening's fashion star in her over-the-top Alexandre Vaultier gown, dragging a duvet's worth of feathers behind her. In Brooklyn, are you kidding me?
And Katy Perry's leopard print Emanuel Ungaro dress was a rerun, first seen back in May on Coco Rocha at the Met Gala. She deserved better (and a better fit; the dress was a bit snug, skewing spots every which way).
Lady Gaga's technical black satin Prabal Gurung gown was haute in a trashy-luxe way, but kind of got lost with all her hair and cleavage.
My favorite looks were on the kids who weren't trying to look twice their age or sell themselves as sex objects. Also, going casual seemed like a smart thing to do. This is MTV, after all, not the Oscars.
Willow Smith's drop-crotch overalls had attitude, paired with a Runaways T-shirt.
I also liked 16-year-old Becky G's "urban girly" look, as she called it, with a schoolgirl skirt and red knit cap emblazoned with the slogan, "Ain't No Wifey." Ha!
Grimes rocked a pair of '80s-baroque Versace pants with a black T-shirt and chunky gold chain necklace.
All three looked like cool customers.
ALSO:
Coming up roses on the red carpet
Lady Gaga and fall fashion's military trend
Lily Collins and the overplayed red carpet crop top
---