Fashion's Night Out set for Sept. 6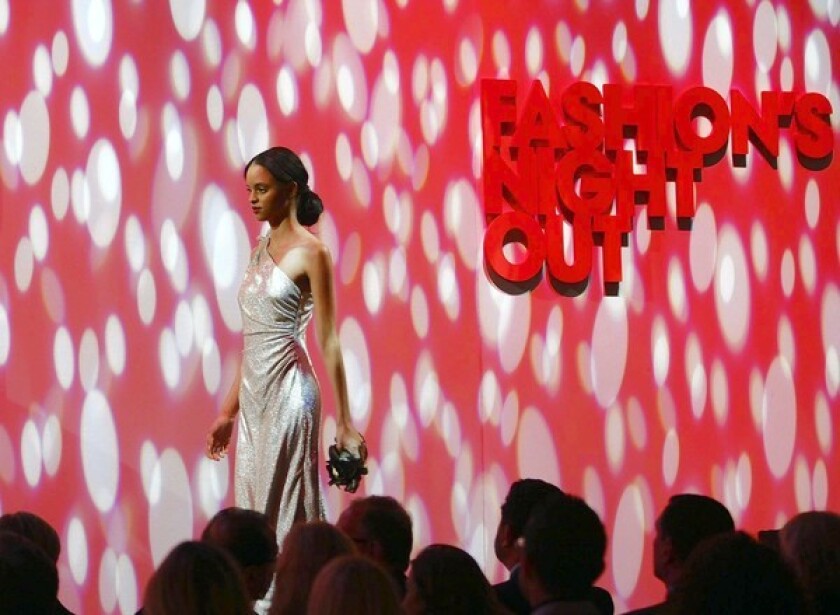 Los Angeles Times
Shopping centers, department stores and boutiques all over Southern California are gearing up for the fourth annual observance of Fashion's Night Out, the worldwide shopping event created by Vogue editor in chief Anna Wintour to stimulate sales in the fashion industry.
The designated night of special activities and promotions is Sept. 6. But those who act fast enough to purchase the limited tickets can attend an intimate pre-event dinner and private Barbara Bui fashion show Sept. 4 at Saam at the Bazaar by José Andrés at the SLS Hotel, Beverly Hills. Tickets are $200 and can be purchased by calling (310) 246-5555. Proceeds from the dinner will go to the Art of Elysium, which encourages artists to dedicate their talent to workshops for children with serious medical conditions. The get-together, attended by fashion industry insiders and guests, is only a precursor to what Fashion's Night Out has in store.
A complete listing of events, organized by city and store or type of event, can be found at FashionsNightOut.com — and is far too extensive to be repeated here.
But here are a few notable things to know about what is — and isn't — happening in the greater Los Angeles area. (And if none of what follows is nearby, don't worry. Just about every major shopping venue in the greater L.A. area has something fun and fashionable planned.)
At the Beverly Center, traditionally an epicenter for the local festivities, Fashion's Night Out will be hosted by "Pretty Little Liars" star Lucy Hale.
Los Angeles Mayor Antonio Villaraigosa will make a video appearance to kick things off at 6:30 p.m., introducing Vogue's West Coast fashion editor, Lisa Love. Later on, retailers' fall merchandise will be featured during fashion shows at 7 and 9 p.m. Kendall Jenner — who is the celebrity face of the Beverly Center's FNO marketing campaign — is expected to appear, along with her sister Kylie Jenner, Jaimie Hilfiger, Francesca Eastwood and Peta Murgatroyd.
Rodeo Drive will not be the circus-themed spectacle that it was last year, with a Ferris wheel and costumed stilt-walkers. "As the economy has started to recover, we have had to reprioritize our focus with limited dollars," said Rodeo Drive committee spokeswoman Ashley Wong. Instead of an overall, coordinated extravaganza, 30 to 40 stores are expected to host individual events.
Bottega Veneta, for instance, plans to introduce a new line of eco-friendly handbags, available on a first-come, first-serve basis, and Chanel will present a new Fashion's Night Out collection of matching lip and nail duos. The two retailers are among numerous labels with special merchandise created for the event.
Robertson Boulevard will replace Rodeo Drive's street party with its first official street celebration of FNO. An anticipated 2,000 guests will be treated to live music, art-inspired activities, surprise celebrity guest appearances and a chance to experience fall's latest trends as they stroll through the stores.
Santa Monica Place plans to step up with a roster of in-store events, including two beauty lounges. Entertainment onstage starts at 7 p.m., featuring a performance by "American Idol" contestant Stefano Langone and a fashion show hosted by Linda Immediato, style editor of Los Angeles magazine.
Farther along the coast, the celebration at the Malibu Country Mart is scheduled to be led by Gill and Jill Bumby, New York performance artists who famously rate guests' appearances on a scale from 1 to 10, issuing witty, typed-out, personal assessments of their style.
Malibu will pick up on last year's circus theme, with carnival-style red carpets and entertainment stations, including henna tattoos and magic shows.
The Alice + Olivia store in Malibu's newest shopping area, the Malibu Lumber Yard, plans to host an in-store party, featuring palm readings, manicures, hair-braiding stations and charm-bracelet design stands.
At Fashion Island in Newport Beach, more than 40 stores plan to host fashion and beauty events and giveaways as DJs keep music pulsing throughout the center.
Jillian Barberie-Reynolds, co-host of "Good Day L.A." on Fox Channel 11, and fashion designer David Meister are scheduled to emcee the night. At 5 p.m., Reynolds is to provide commentary for a presentation on fall's top trends, concluding in a runway show featuring Meister's eye-catching new collection of dresses and gowns.
South Coast Plaza in Costa Mesa plans to feature a Chloe runway show at 6 p.m., along with special offers at more than 100 stores.
Rounding off the evening is West Hollywood's official after-party at the Standard on Sunset, complete with DJ. The party is slated for 10 p.m. to midnight, with a complimentary cocktail hour till 11 p.m.
---