Bill Clinton goes true blue — with some subtle details — for his Democratic convention speech
When former President Bill Clinton took to the stage of the Wells Fargo Center in Philadelphia on Tuesday night it was just as much — or perhaps more — as the candidate's spouse as the previous occupant of the Oval Office. And since there's a time-honored tradition of giving the potential leader of the free world's arm candy a wardrobe once-over after such events, let's dive right in. Bill Clinton, wait for it, wore a navy blue suit.
We don't know who made the suit specifically (he's worn Hickey Freeman and Hart Schaffner Marx in the past, among others) but we can tell you that if you stare at it long enough, a subtle tone-on-tone stripe becomes apparent.
The jacket is a two-button, notch-lapel number and he's wearing it with a spread collar dress shirt with one-button round cuffs. The necktie, tied with what looks like a chunky Windsor knot, is a solid-colored light (let's say "sky") blue that revealed a diamond pattern when it caught the light.
On his left wrist was what appears to be a 47-mm Runwell timepiece with a blue dial by Detroit-based Shinola (retail price $550).
The watch was visible on Monday — the first day of the convention, where the former president could be seen sitting in the audience in a navy blue pinstripe suit with a notch lapel, three-button jacket. That dress shirt had the same spread collar but slightly different one-button angle cuffs. (When buttoned, an angle cuff looks like a triangular notch has been cut out of the cuff edge.)
Monday night's necktie took patriotic zeal up a notch with an all-over pattern of tiny American flags fluttering as if in an invisible breeze against a field of blue. (Italian luxury label Salvatore Ferragamo, whose neckties retail in the $190 range, has offered one with this exact pattern in the past.)
Last night's ensemble also included a little bit of lapel flair — in the form of a lapel pin bearing the capital H-and-arrow logo of his wife's presidential campaign. (They retail for $15 at the Hillary Clinton online store, though we suspect his may have been pinned on him by the one who wears the pantsuit in the relationship.)
Changes in menswear, it's often pointed out, move at a glacial pace, and that appears to be the case with the convention style evolution of the former commander-in-chief and hopeful future First Gentleman. A look back at No. 42's speech-giving wardrobe finds him taking the stage in Charlotte, N.C., in 2012 wearing what appears to be a navy blue suit. (Because navy blue is a color that often registers as black we're hedging our bets, but, also because it's a political convention and not a funeral, we feel pretty confident in our assessment.)
The notch collar lapel is clearly visible on his two-button jacket, of which only the top button is buttoned (as is appropriate). The white dress shirt he wears here has a slightly more narrow semi-spread collar and sports one-button round cuffs. Although the provenance of his red-and-blue diagonal stripe necktie is unknown, the pattern looks like one we've seen offered by French brand Charvet, and it's tied with a chunky Windsor knot.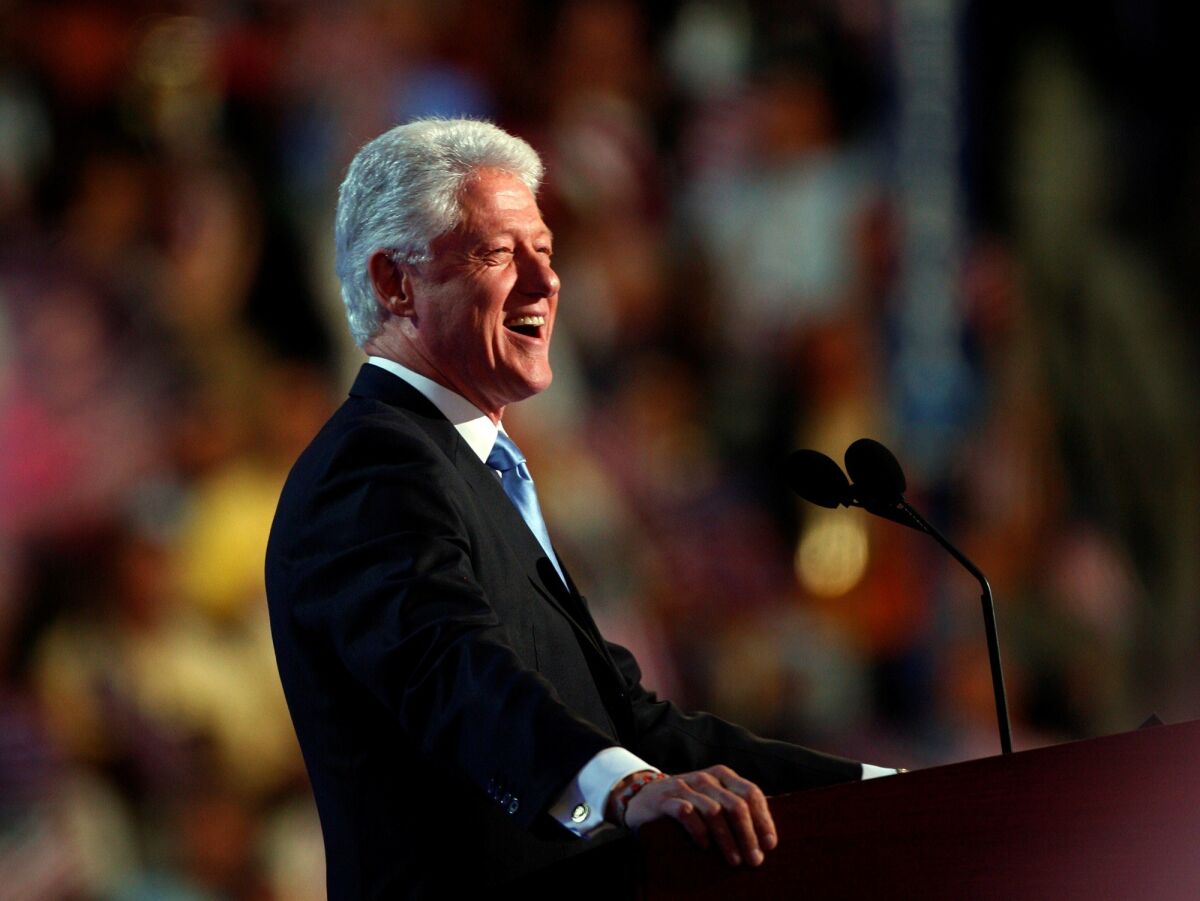 Four years before that, he delivered his convention speech in Denver in a black suit (though see our black/blue caveat above) with a two-button, notch lapel jacket. Here he went with a solid-colored sky blue necktie that was a stunningly perfect match for the "08" in the convention logo on the lectern in front of him. The white dress shirt the former president wore here has a more classic point collar as well as French cuffs held in place with round, gold-colored cufflinks. (A betting man might wager the links were emblazoned with the presidential seal of the U.S., but we haven't been able to turn up reliable photo evidence on that point.)
Former President Bill Clinton speaks at the Democratic National Convention. More coverage at latimes.com/trailguide
And, if you look closely enough at the convention photos, one thing that's almost always visible — from Denver in 2008 right up to Philadelphia in 2016 — is the string bracelet on his right wrist. It's reportedly a bracelet he wears to show solidarity with the Colombian people.
Although it's not a story we've had a chance to independently verify, it's clear that whatever the backstory, it has great symbolic meaning. And it's one of the details of the potential First Gentleman's look that truly tugs at the heartstrings.
For more musings on all things fashion and style, follow me @ARTschorn.
ALSO
Michelle Obama delivers her convention speech in a dress by Christian Siriano
Melania Trump picks a Roksanda dress for her Republican convention address
---