Kim Kardashian West was surrounded by three lookalike mannequin heads complete with Kardashian West-approved sunglasses and long brunette hair. Seated in a director's chair, the television-personality-turned-entrepreneur was on hand at Los Angeles' Hotel Bel-Air to hype her new sunglasses collaboration with Israeli eyewear brand Carolina Lemke.
Released just in time for Coachella, shades from the collection will more than likely pop up in the desert this month. But will Kardashian West make the trek to Indio for the music and arts festival wearing any of her new sunnies?
"I hope so," she said on a Tuesday afternoon just before a luncheon to celebrate the new line. "I'm kind of thinking, like, maybe the more golden vibe will be my vibe at Coachella. I've never been. It's my first time, so I've got to make sure that … I have a look. It's all about the look at Coachella."
Kardashian West said she would be in the desert to support husband Kanye West, who will bring his private weekly series, Sunday Service, to the Coachella crowd for a special second-weekend Easter Sunday performance. A limited number of second-weekend Coachella passes will go on sale 3 p.m. Friday.
"It's such a healing experience," Kardashian West said of the music sessions, which feature a gospel choir singing popular songs in addition to West's music.
Previous sessions have featured collaborators including Kid Cudi from the privacy of the couple's home. "It's something that Kanye did just to have it be super healing for him and everyone that came by to listen," she told The Times, labeling the series as "healing through music." "It's like a mini-concert with a really good message. It's definitely very spiritual.
"I'm just so excited for other people to feel that energy and that vibe," said the mother of three who is expecting a second son with West by surrogate. "I think it's just such an experience that people really love to take in."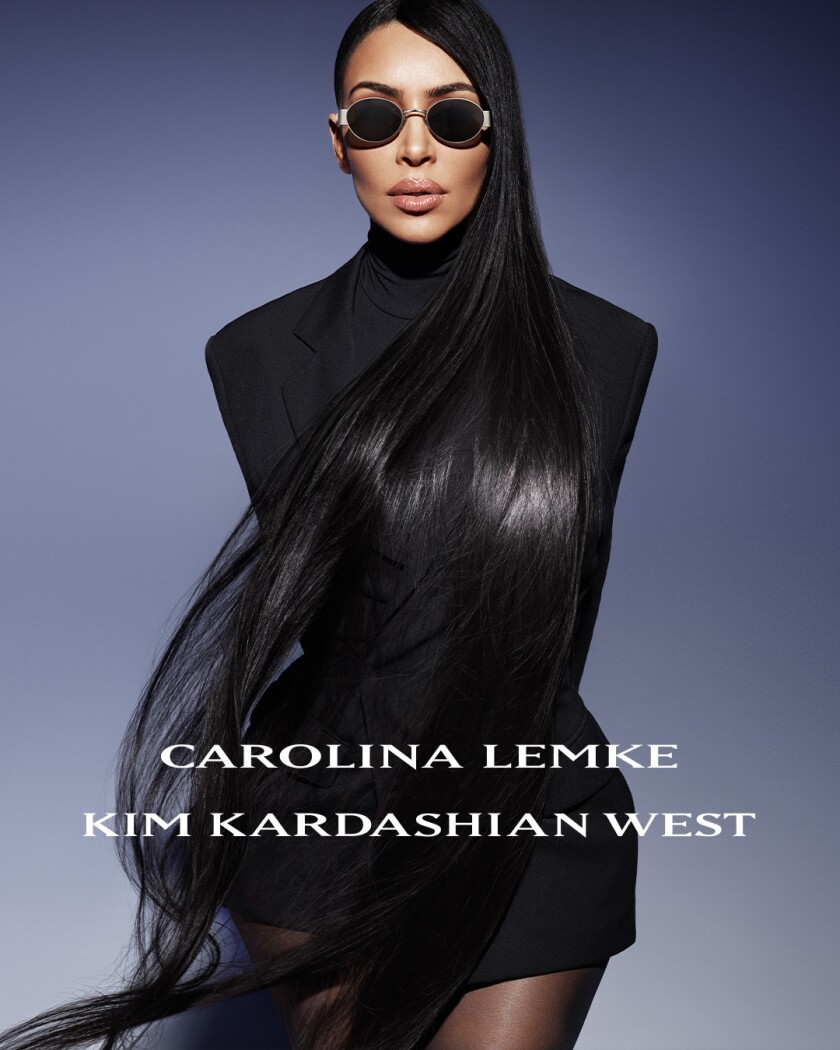 During the luncheon, Kardashian West, who was dressed in a purple ensemble comprised of a Mugler jacket, Gucci pants, Christian Louboutin heels and Hermès bag, gave a curated group of tastemakers a look at her new line of sunglasses.
"I can't wait for these with some neon bathing suits," she said, pointing to a fluorescent yellow pair. "Or the red with a red lip. There are so many different ways that I would style it." She also singled out a clear frame as a favorite. ("They're very futuristic," she said.)
The initial drop of sunnies includes seven styles — oversized statement shields and bold racer silhouettes as well as more classic oval metal frames and narrow '90s-esque sunglasses in various colorways such as silver, gold, fluorescent orange and black. "I can see wearing these styles any time of the year," she said of the sunglasses, which have already made a cameo in her Instagram Stories and are available on CarolinaLemke.com for $90 a pair. Six additional styles will go on sale in late spring. She said the next batch would be "extremely sporty."
Kardashian West, who runs KKW Beauty and other business ventures, was first introduced to Carolina Lemke through model Bar Refaeli, who is a partner in the company and has shot a commercial for the brand overseas. "I thought it was so well done and so cute," Kardashian West said, adding that she and Refaeli became close through a mutual friend. "I was introduced to her by Lorraine Schwartz, my jeweler, and we would always meet up at the Peninsula Hotel and have girls' night in pajamas and sweats. We would order ice cream and hang out. We'd always catch up every once in a while about what we're doing and projects. And so when she told me about this project, she said they were considering bringing the brand to Los Angeles, and I thought that was such an amazing idea."
Kardashian West said what appealed to her was that she could get involved with the brand, not just as a design collaborator but also as a business partner. "It was a huge plus that we were launching them because there was no preconceived idea of what the customer was," she said, noting that Mert Alas and Marcus Piggott shot the digital campaign in which she also appeared. "I love creating things from the ground up and having control over the photographer's ad campaigns and the hair and makeup looks and every last detail we were involved in. I love being partners with people that let you have that much control and say in what the brand's really going to be."
Kardashian West originally planned on releasing six styles with the brand but said she agreed to release more because she was pleased with the finished product. "I loved the quality," she said. "It's just fun. It's accessible. I feel like there's something for everyone."
For fashion news, follow us at @latimesimage on Twitter.
---