Fred Hayman, 'godfather of Rodeo Drive,' dies at 90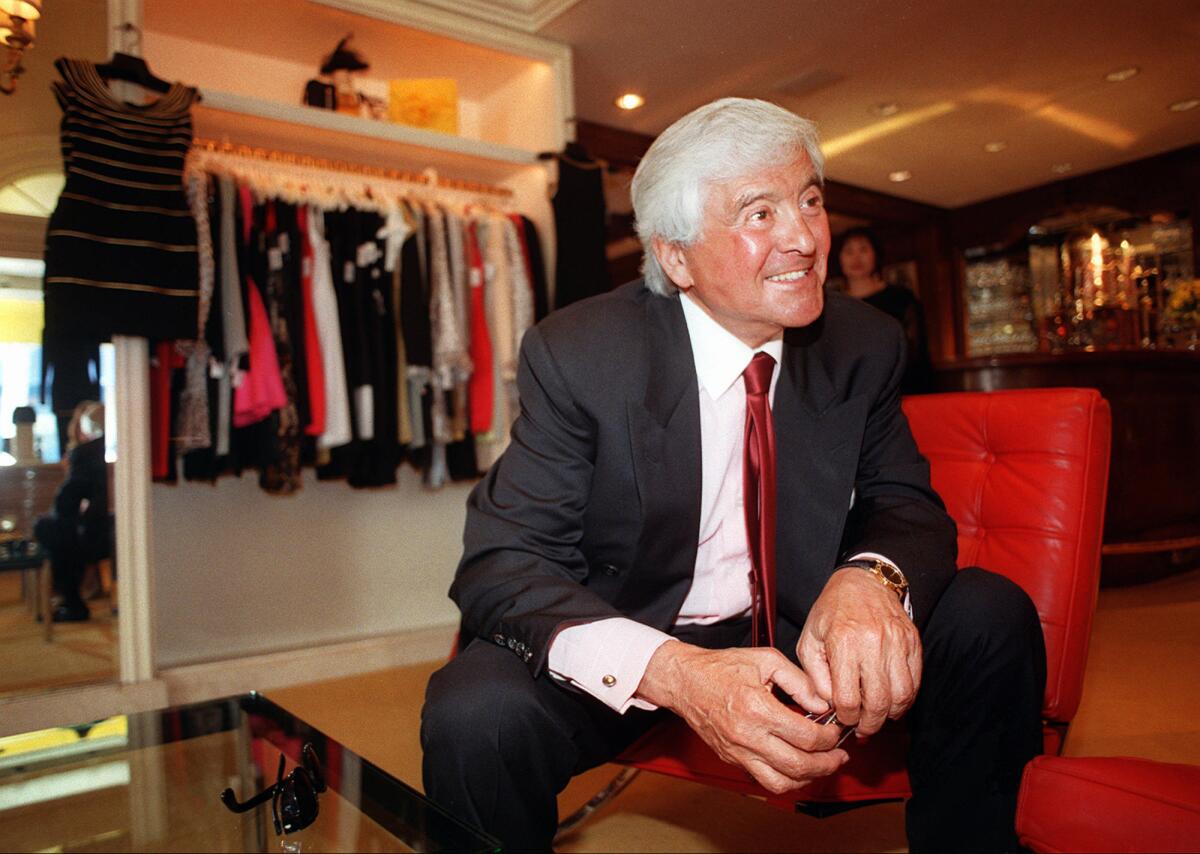 Fred Hayman, a serial entrepreneur whose eye for trends, nose for fragrances and hospitality-driven approach to retail helped shape the luxury landscape of Beverly Hills, has died. He was 90.
According to longtime friend and spokesperson Katy Sweet, Hayman died Thursday at his Malibu home after a long illness.
The man who would eventually be known as "the godfather of Rodeo Drive" was born Fred Pollag in St. Gallen, Switzerland, on May 29, 1925, to Richard Pollag and Irma Levy. He came to the U.S. at 16, beginning his career in hospitality at the Waldorf-Astoria. He came west in 1954 — at the behest of Conrad Hilton — to helm the banquet facilities at the new Beverly Hilton.
Hayman's foray into luxury retail started in 1961. He and two partners bought the original Giorgio boutique in 1961 when the shop was known for Italian fashion.
Fred Hayman, shown in 1997, was a founder of the Rodeo Drive Committee that courted many of the luxury European retailers whose boutiques now line the street in Beverly Hills.
(Rene Macura / Associated Press)
Fred Hayman, right, looks over dresses by Galliano and Badgley Mischka at his Rodeo Dive store with Michael Stachowski.
(Anacleto Rapping / Los Angeles Times)
Fred Hayman's Rodeo Drive store carried menswear that reflected Hayman's personal wardrobe of double-breasted pinstripe suits, navy blue blazers, colored shirts with white collars and silk handkerchiefs for jacket pockets.
(Vince Compagnone / Los Angeles Times)
Fred Hayman stands at the entrance to his Rodeo Drive store in 1997.
(Anacleto Rapping / Los Angeles Times)
A Rolls Royce on Rodeo Drive in 2013 is in keeping with the street's opulent image.
(Ricardo DeAratanha / Los Angeles Times)
A mannequin in a red-lace evening dress is perched in the window of the Burberry store on Rodeo Drive. Hayman helped court many of the luxury retailers that now line the Beverly Hill street.
(Mark Boster / Los Angeles Times)
Shoppers along Beverly Hill's Rodeo Drive look into the Salvadore Ferragamo store in 2011.
(Mariah Tauger / Los Angeles Times)
Thanks to businessman Fred Hayman, Beverly Hills' Rodeo Drive has become an international symbol of style.
(Perry C. Riddle / Los Angeles Times)
By the late '60s he had bought out his partners, and from his landmark store at the corner of Rodeo Drive and Dayton Way spent the next three decades cultivating relationships with designers and celebrities, setting new standards for fashion parties and helping promote Los Angeles as an international style center.
Using the tricks of the hospitality trade, Hayman pampered customers with a fully stocked bar, espresso machine, pool table and pub. He would have a vintage Rolls-Royce chauffeur clients to the store.
"He's really a pioneer in retail-tainment — which is really how we have come to see the retail landscape in the last couple of decades," said Rose Apodaca, fashion journalist and author of "Fred Hayman The Extraordinary Difference: The Story of Rodeo Drive, Hollywood Glamour and the Showman Who Sold It All," which was published in 2011. "He had the idea that you go into a store for more than just buying something — you're there to be entertained, you're there for it to be a scene and a hangout."
Hayman stoked the store's Hollywood aura with an endless supply of celebrity name dropping. Asked about his clientele, he might mention Elizabeth Taylor, Joan Rivers and Lynda Carter in the same breath. Television personality Merv Griffin wore Giorgio menswear on his show.
The store captured international attention when novelist Judith Krantz used it as a setting for "Scruples," her 1978 novel about shopping, sex and social climbing in Beverly Hills. The book was a bestseller.
Giorgio became a tourist attraction in the 1980s, and Hayman stocked T-shirts and tote bags with the store logo blazing. The signature yellow and white striped awnings above the store windows were stolen off their frames.
His critics groused that the T-shirts and totes cheapened the image of the store, and the street. Admirers said the store's popularity brought new business to Beverly Hills.
In 1981, he launched Giorgio Beverly Hills perfume with his then-wife and business partner, Gale. The scent sold for $150 a bottle and would go on to become one of the most successful fragrances in history, racking up more than $100 million in sales in its first four years. The scent strip, a perfume-drenched card he used to market his product, quickly became a standard advertising tool in the fragrance business.
In 1987 he sold the Giorgio Beverly Hills fragrances — and the name — to Avon for $165 million, and rebranded his store at 273 Rodeo Drive as Fred Hayman Beverly Hills. He launched a handful of fragrances under that new nameplate before selling them to Parlux in 1994. That same year he launched a new line of leather goods and fragrances via the Home Shopping Network.
In 2011, when Hayman was awarded the 15th plaque on the Rodeo Drive Walk of Style (an award he created), then-Beverly Hills mayor Barry Brucker noted, "Rodeo Drive would just be another district if not for Fred's marketing vision," a reference to Hayman being among the founders of the 1972 Rodeo Drive Committee, a group that sought to help beautify that street and elevate its retail tenants. By 1990, the street was filling up with designer boutiques, Giorgio Armani, Chanel and Gucci among them.
"It wasn't just the stores," said Apodaca, who is also a local retailer. "He's the reason there are medians down the middle of Rodeo Drive, why there's cafe seating on the streets. He'd twist the other retailers' arms — and be the first one to open his checkbook."
The world of red-carpet dressing also owes Hayman, who served as fashion coordinator for the Oscars in 1989. "He was the first person Academy Awards producer Gil Cates put in front of the cameras to talk about red-carpet trends," Apodaca said.
In 1998, Hayman closed the shop, put a "gone fishin' " sign on the door and leased the building, which he owned, to Louis Vuitton leather goods.
Hayman is survived by his wife, Betty; sons Charles and Robert; daughter Nicole; and 10 grandchildren.
Mary Rourke, a former Times staff writer, contributed to this report.
MORE OBITUARIES
Former Los Angeles City Councilman Bill Rosendahl dies at 70
Hans-Dietrich Genscher, architect of German reunification, dies at 89
David Gest, music producer and ex-husband of Liza Minnelli, dies in London at 62
Sign up for Essential California for the L.A. Times biggest news, features and recommendations in your inbox six days a week.
You may occasionally receive promotional content from the Los Angeles Times.