How Gloria Vanderbilt used her authenticity and 'great taste' to build her denim line
Not only was Gloria Vanderbilt an heiress, the "poor little rich girl" in a sensational Great Depression-era custody trial, an author, artist and the mother to CNN's Anderson Cooper, she was also a game-changer, having had a seminal period in the fashion industry in the late 1970s and early '80s.
At a time when Levi's, Lee and Wrangler were the norm in blue jeans, Vanderbilt, who died Monday at age 95, turned a stockpile of denim into the premium Gloria Vanderbilt jeans line — often considered the world's first designer jeans. For the venture, she partnered with businessman Mohan Murjani.
For the record:
9:10 a.m. June 19, 2019This story reported that the first name of one of Gloria Vanderbilt's sons with Wyatt Cooper was Cooper. His name was Carter Cooper.
Having been born in the spotlight, Vanderbilt, also a one-time actress, saw her popularity rise again with the introduction of the jeans. In the late '70s, she promoted the line with ads on buses and in TV commercials. And in a move that was unheard of at the time, she was the spokeswoman for the line.
"I really became a designer quite by accident," she told The Times in 1987 during an interview while promoting her autobiographical book, "Black Knight, White Knight." "How I got into fashion is Glentex produced scarfs done from paintings of mine. That was the beginning."
A couture line, she said back then, "flopped."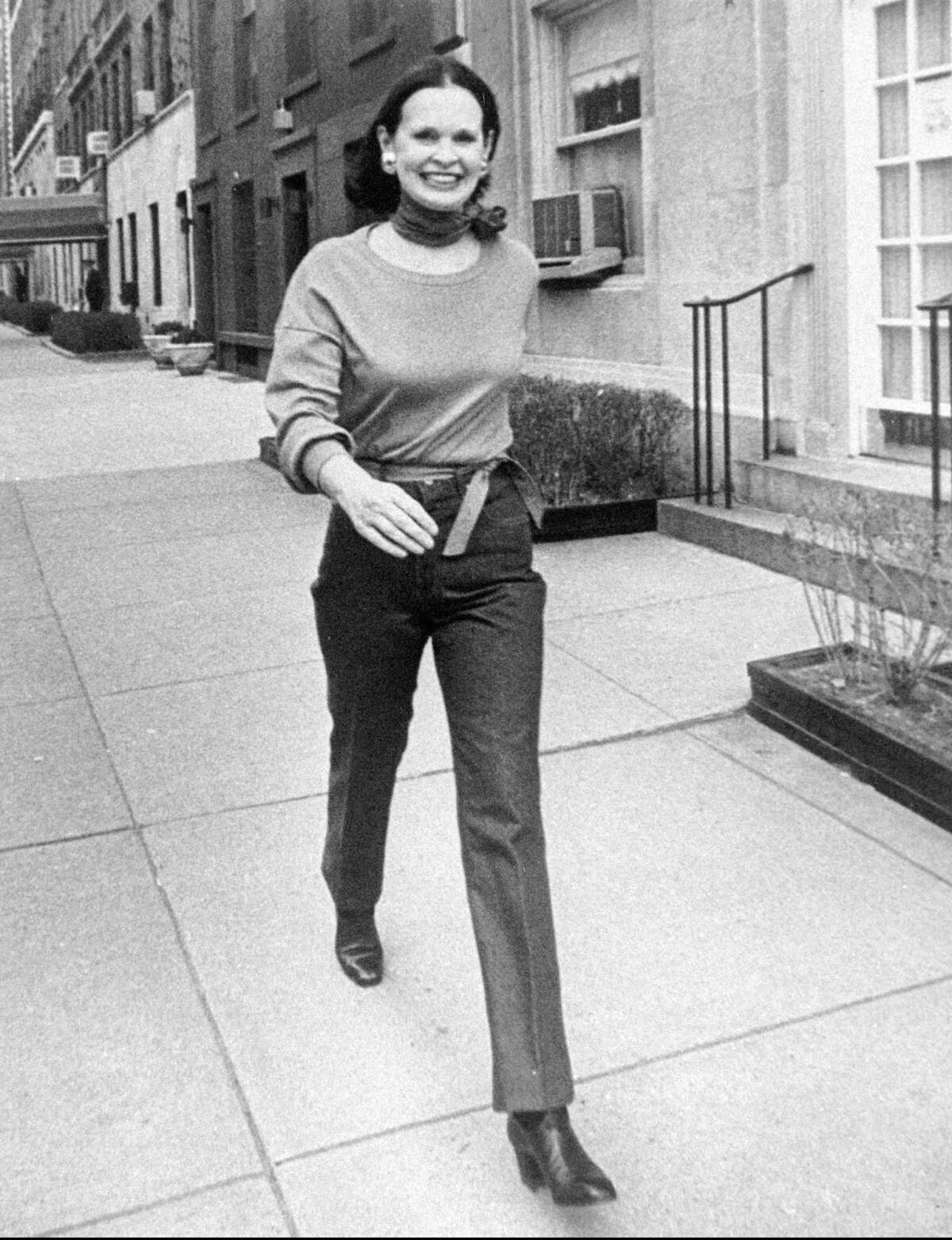 "We had manufacturing problems," she told The Times. "We had two collections. Then I started having a lot of licenses for various things. You know, blouses and so forth and so on, and that's how the jeans came in."
With the success of her denim line, she went on to turn herself into a brand, which included housewares, specialty foods and perfumes. Over the years, millions of dollars rolled in, but by the early '90s, Vanderbilt was dealing with financial setbacks related to unpaid taxes. Later in her life, she popped back into the spotlight again because of an HBO documentary about her relationship with her son, Anderson.
"Not only was she born into celebrity, she took it and monetized it," said Cameron Silver, owner of vintage-focused store Decades in Los Angeles and the fashion director of the Halston label, on Monday, hours after the announcement of Vanderbilt's death. "It was rather unique for a women at that point in her life — for women of that kind of wealth. Now everybody does that. Anyone who is Insta-famous has a brand. She paved the way for social figures creating a legacy beyond their inherited wealth. And of course, her jeans not only got her signature on the back of everybody's booty, [they were] modern and sexy."
Christina Johnson, associate curator at FIDM Museum in downtown Los Angeles, said, "In the 1970s, you have more people doing these [denim] lines," adding that Vanderbilt's line was more exclusive than everyday denim back then.
For a time, Vanderbilt's form-fitting jeans, which included a swan logo detail and her signature embroidered on the back right pocket, were the jeans every woman wanted to wear.
"They were high-waisted and slim-fit," Johnson said. "She transformed a workwear staple into a coveted high-fashion piece by applying her name as a seal of approval."
Denim aside, Vanderbilt also was well-known for exploring her own eccentric style and designer tastes.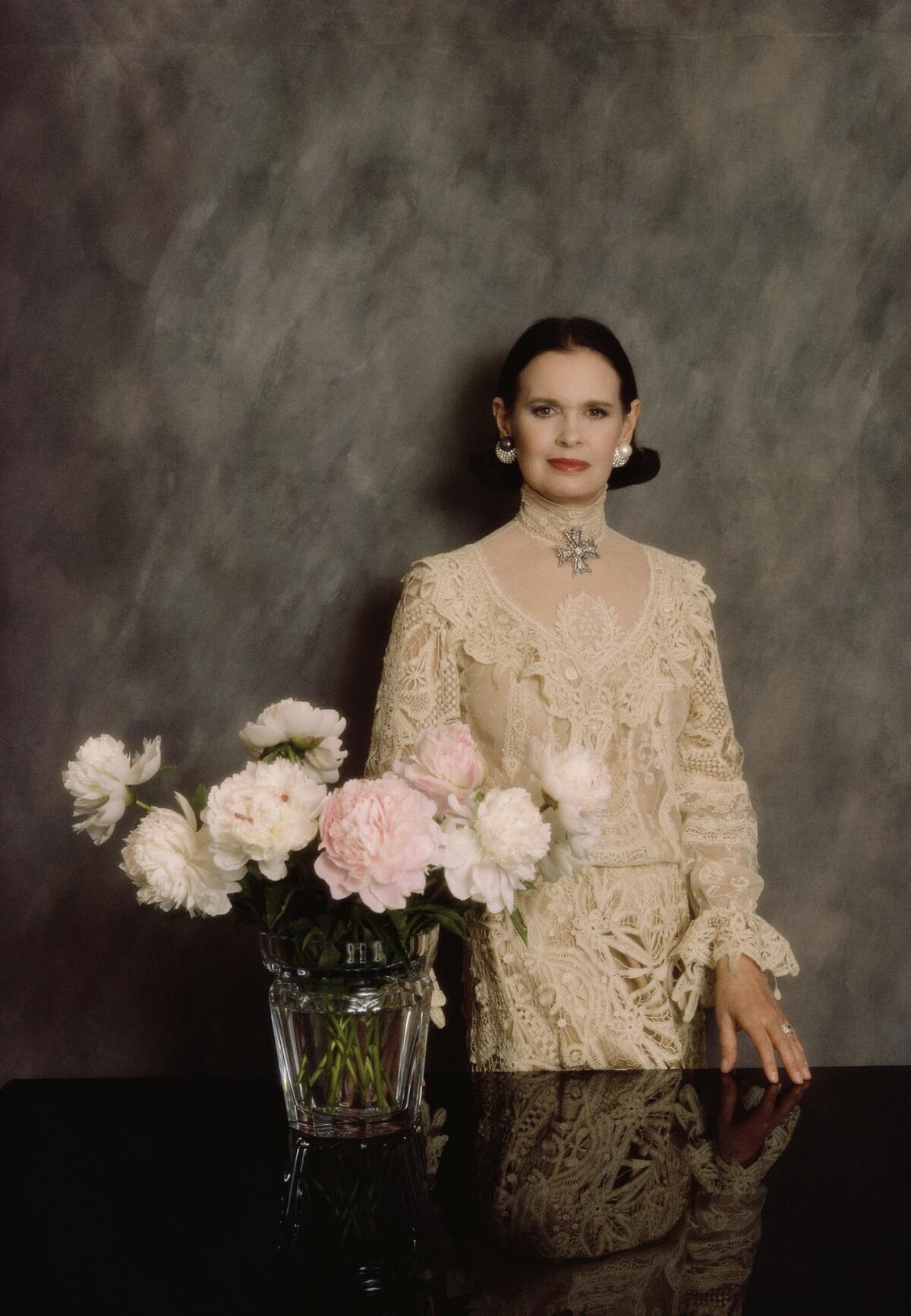 Just consider items from her personal wardrobe that Vanderbilt donated to FIDM Museum in 1995. It's quite a mix: a light pink Japanese dressing robe from circa 1900 — Vanderbilt is said to have worn the garment at home — and a rose-printed white chiffon gown with beading from the 1970s.
Vanderbilt also donated two Mainbocher evening gowns with high waists and three quarter-length sleeves. She is said to have worn the frocks as maternity gowns in the 1960s — a decade in which she was pregnant with two of her children, Cooper and Anderson. According to FIDM Museum's website, one gown was made from "a silver-white silk brocade," and the other from green cut and voided velvet.
Also donated was a circa-1950s made-to-order lavender gown with a floral bodice from Bergdorf Goodman.
"It's a really interesting assortment of pieces," Johnson said, adding that Vanderbilt liked to mix contemporary garments with antique pieces. "It's really a capsule collection of her wardrobe. I think it really speaks to her eclectic and artistic vision for her life in fashion. She was known to mix and match designers. She also is someone who gave a great deal of thought to how she looked in the public eye."
For younger generations, though, everything goes back to Vanderbilt's name-brand jeans and her mass-market goods.
Lela Becker, co-founder of the L.A. denim brand Mother, wore Vanderbilt jeans when she was a girl during a time when big fashion labels included Liz Claiborne, Calvin Klein and Jordache.
"I remember feeling like I was in something special," Becker said Monday about her Vanderbilt jeans. "It was exciting knowing I had a swan on my coin pocket. … I would pretty much wear them every day."
She and Mother co-founder Tim Kaeding agreed that Vanderbilt's jeans were revolutionary and glamorous and turned Vanderbilt into a fashion star.
"She was one of the big three back in the day — at least when we grew up. … She was on the level of Halston and high-end designers," Kaeding said. "You wore your jeans to Studio 54 as dress up."
Silver recalled the Vanderbilt name on jeans in his youth. He said some of his sixth-grade classmates at Hawthorne elementary school in Beverly Hills wore Vanderbilt jeans during the line's heyday.
"It was a big deal for classmates to have Gloria Vanderbilt jeans," he said. "And I don't know if any of my sixth-grade classmates knew who Gloria Vanderbilt was. … I think she's such an interesting fashion icon because she comes from such a rarefied pedigree, but she also became a bonafide fashion icon and businesswoman."
He said what's particularly fascinating about Vanderbilt is that during the '70s and '80s the so-called Jeans Queen did everything that today's social media influencers are doing in terms of creating a brand, marketing themselves and selling their wares. However, he added what sets Vanderbilt apart from them is that she was authentically herself.
"And she stayed relevant for so many decades," he said, adding that Vanderbilt explored a wide range of interests throughout her life, from writing erotica to making art and moving into social media.
By just being herself, Vanderbilt ended up influencing the style of generations, he said, noting that he had received numerous emails from people saying that Vanderbilt was their style icon.
"She really loved to play dress up," Silver said. "She also could bring on the bling. She wasn't afraid of statement-making clothing. She was not basic or boring. She knew when to wear basic, but it would never look boring. Is there anything more basic than a pair of blue jeans? … Her authentic eccentricity was balanced by having really great taste."
Follow me at @marquesharper on Twitter.
Get our L.A. Goes Out newsletter, with the week's best events, to help you explore and experience our city.
You may occasionally receive promotional content from the Los Angeles Times.