Neither the rainy Los Angeles afternoon nor the notion that the Grammy Awards have waning relevance put a damper on the beauty looks that turned up at the awards show on Sunday. There were nods to some of the most-memorable beauty moments of the Grammy Awards' 61-year history, arguably a major feat considering that certain hair and makeup standouts are clearly etched in pop-culture history, still some decades later.
Case in point: Cardi B's pearl-encrusted oversized bun, which was only fitting considering her oyster-inspired ensemble from Mugler's fall 1995 couture collection. Reminiscent of the leopard-print beehive Nicki Minaj wore to the 2011 Grammys (and of the Mugler model's look from the original couture presentation), Cardi B's bun carried out the overall underwater theme of her look in a way only she (at the Grammys) could do.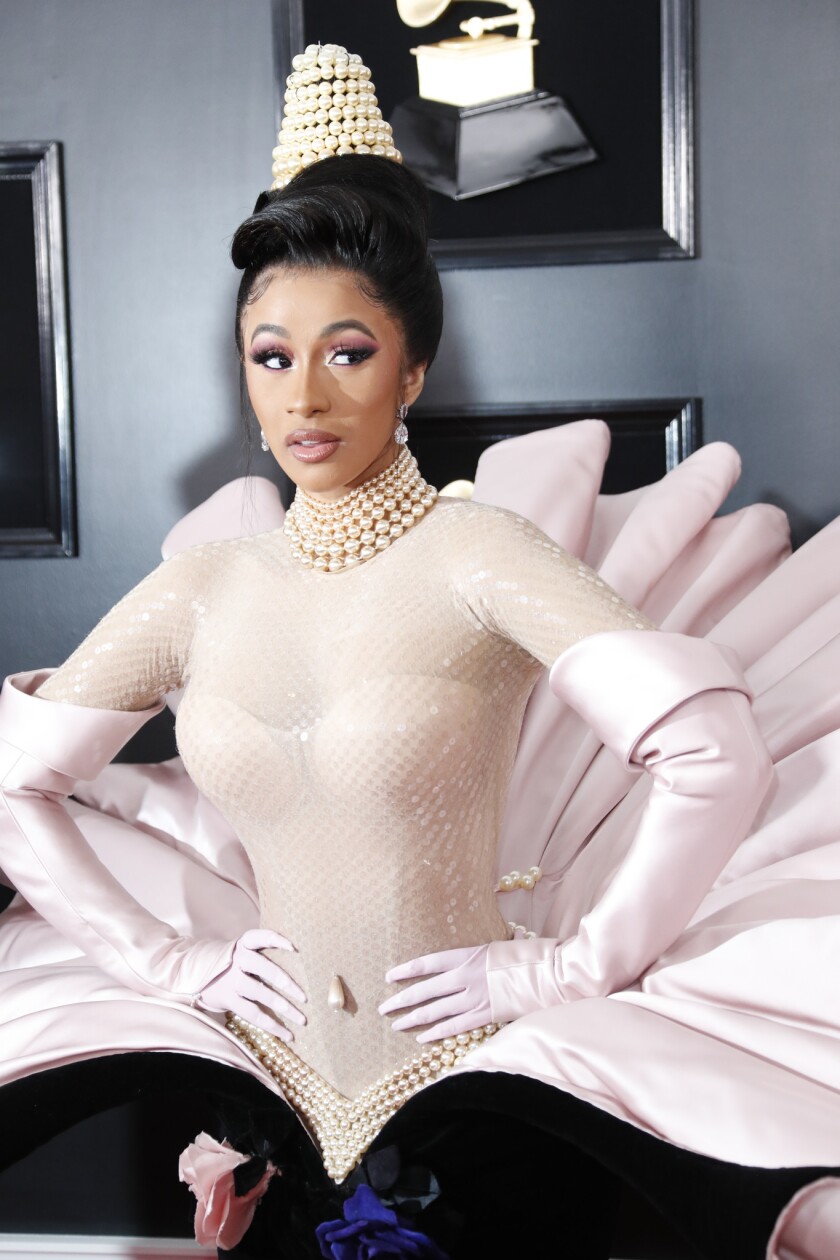 Check out our best- and worst-dressed photo gallery from the Grammys »
Running with the '90s inspiration, the rapper's hairstylist Tokyo Stylez created the look from a wig that was sprayed generously with Suave Professionals Firm Control hairspray before pearls were pinned all the way around the bun in precise rows.
Lady Gaga has certainly cemented herself into Grammy history with her beauty and sartorial choices of awards past, but this year, she proved that she has shed her egg-pod arrivals, meat dresses and two-toned wigs for something much more pared down and fitting of a serious, ahem, Oscar-nominated actress.
Her hair was left down, parted in the middle exactly like her character Ally in "A Star Is Born," save for a wash of platinum color to echo the silver of her disco ball of a dress and the more than 100 carats of Tiffany & Co. diamonds strewn around her neck.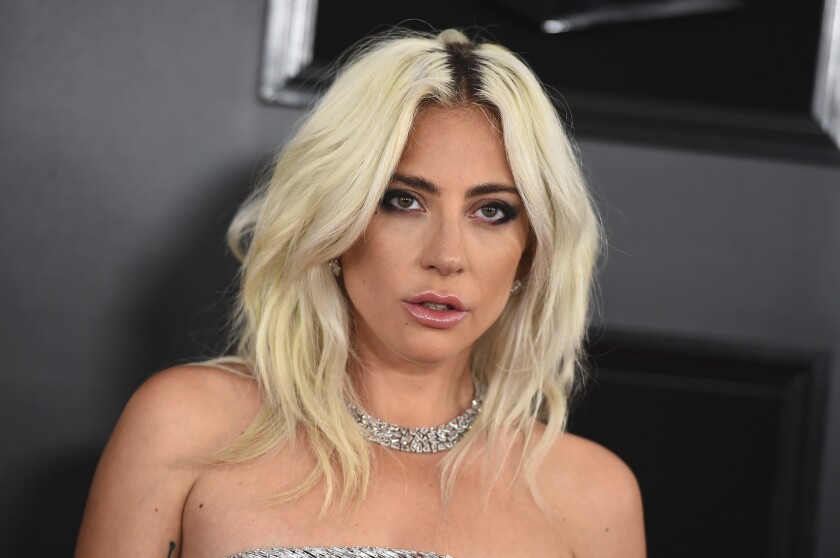 Her beauty look was relaxed — tousled hair paired with kohl-rimmed eyes and an overall sexy-cool vibe that is a common theme for hair and makeup at the Grammys. Her makeup artist, Sarah Tanno, went for what she calls a "lived-in look" using Marc Jacobs Beauty Highliner Gel Eye Crayon in Blacquer on the outer corner of the eyes, smudging it out so "it looked like she put it on yesterday."
Michelle Obama got the message. The former first lady who made a surprise appearance wore a similar beauty look. Her hair was gorgeously voluminous with the right amount of tousle; her makeup emphasized the eyes with heavy lashes; and a sheen of bronze shadow highlighted her lids.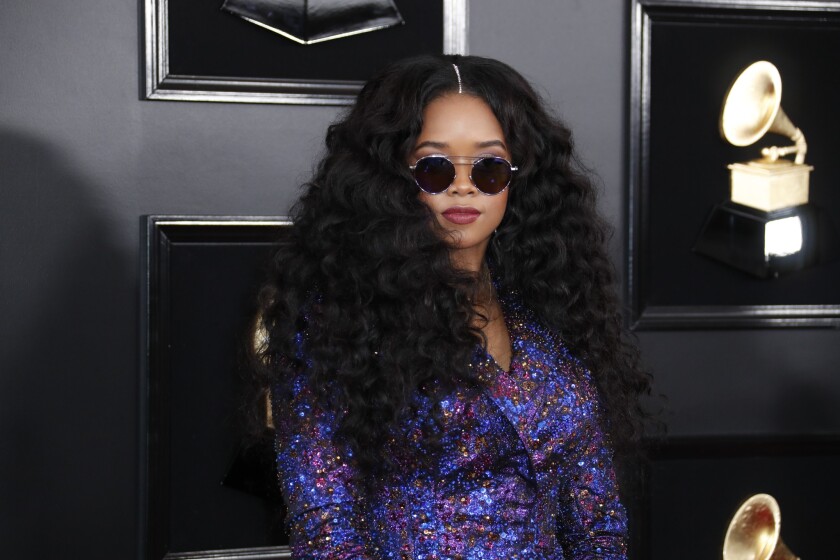 Gabriella Wilson, better known by her stage name H.E.R., also went for a wavy, voluminous style. Hers was punctuated with a sliver of rhinestones sitting in the middle part of her hair.
Where there wasn't volume and smoky eyes, there was slicked-back hair and luminous skin — a classic combination, particularly needed to balance out the commonly over-the-top frocks of the Grammys.
Kacey Musgraves' tulle Valentino gown with a fanned-out bodice called for simple beauty, and the singer did just that. Her raven hair was left down in a shock of shine, and her skin simply glowed.
Dua Lipa also donned a look inspired by the glass-hair trend, commonly known as a silk press, said her hairstylist Sami Knight, who used Fekkai's Blowout Primer before drying it to prevent any frizz and ensure the hair appeared super slick.
Speaking of slick, Jennifer Lopez, Musgraves and Camila Cabello all wore their hair pulled back in streamlined ponytails.
However, despite all of the strong beauty looks the women wore at the Grammys, it was Korean pop group BTS that reminded viewers of the power of proper grooming.
The seven members of the insanely popular band all had the same floppy bowl-cut hairstyle with a slight part in the middle. Their hair colors varied from dirty blond to light pink. Minus the hair color, the unifying style was reminiscent of the Beatles' famous bowl cuts from the mid-1960s, proving that when it comes to super-stardom and a die-hard fan base (better known as the BTS army), having the right hair can be as powerful as hitting the top of the charts.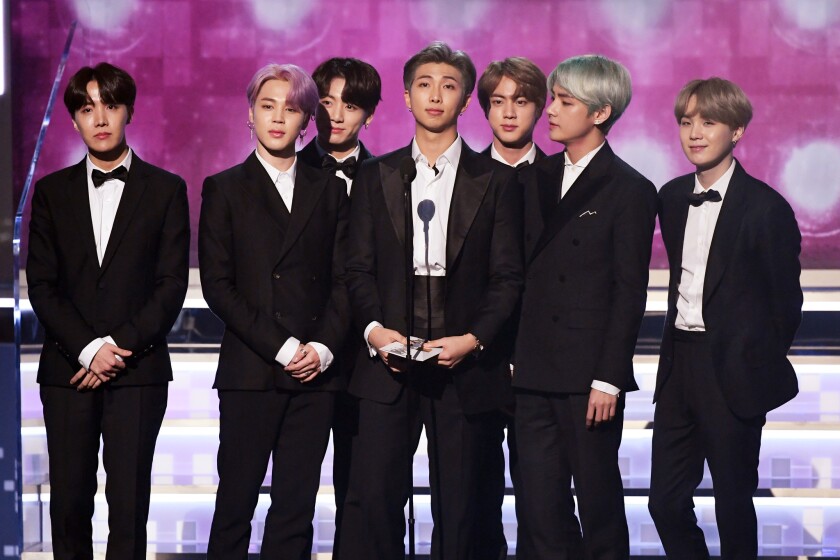 ---