Kanye West-backed label Maisie Wilen debuts in downtown L.A.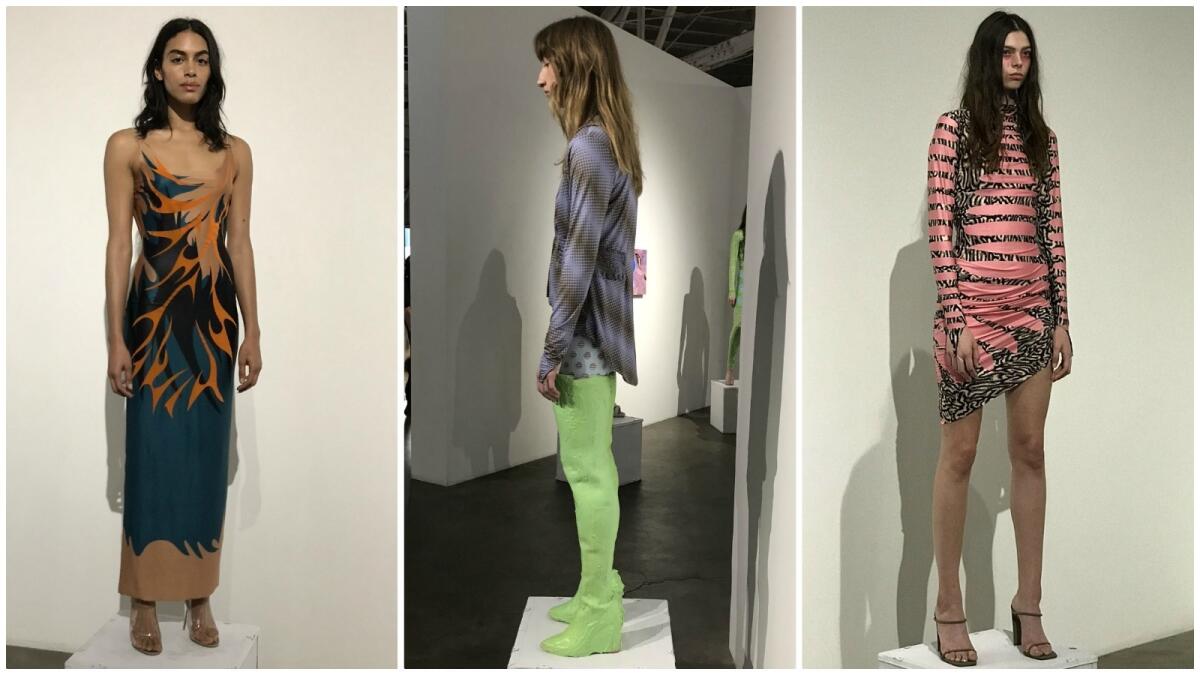 Maisie Wilen, a contemporary women's line designed by Kanye West-supported Chicago-to-Los Angeles transplant Maisie Schloss, presented its inaugural collection in downtown L.A. on Wednesday night, a pre-fall 2020 range of body-hugging, boldly patterned pieces that make her a name to remember moving forward.
A former womenswear designer for West's Yeezy label — that label's DNA can be seen in the stripped-back, body-conscious silhouettes — Schloss's debut at the Night Gallery is also noteworthy because it's the first to emerge from West's recently announced brand-incubator program, which provides seed funding, mentorship and, at least in Schloss' case, studio space.
"I had the pleasure of working with Kanye for a number of years," Schloss, 27, said backstage before the presentation, "and when he approached me about this partnership, I was absolutely floored. It's a dream come true."
West was on hand for the presentation, chatting amiably with the crowd and posing for pictures with his young protégé. But the colorful, eye-catching collection worn by the dozen or so models scattered throughout the art gallery was as much a testament to Schloss' handiwork as Ye's low-key presence.
(West wasn't even doing interviews at the event. His only comment came by way of a prepared statement that read: "Maisie has always had a strong perspective, and we're truly pleased with her first collection.")
Schloss, a Chicago-born Parsons alumna who lives in L.A.'s Silver Lake neighborhood, explained that her debut collection had dual inspirations. "My two main visual reference points were rhythmic gymnastics and robotics," she said. "That was for two reasons: One is that aesthetically I'm really drawn to them [both]; [the other is] that conceptually — and process-wise — it was really a great parallel. I tend to work very methodically and systematically and do everything in a very precise order, but I make things that look playful and light-hearted. If you look at gymnastics, for example, there's such a regimen of training, but the ultimate product is very beautiful and free-flowing."
The result was a heavy-on-the-knitwear assortment of clingy dresses, skirts, turtlenecks, knit tops, sweatpants and T-shirts in Muppet-worthy greens and oranges and swirling graphic patterns with such varied inspirations as gymnastic leotards, snakeskin and the undulating folds of the human brain. Other pieces — including jackets and skirts — were more voluminous and crafted from embossed vinyl. All of the looks were accessorized with Yeezy footwear that ranged from sneakers, puffy sandals and see-through slides to over-the-knee boots, including one pair of mid-thigh boots dipped in a green-slime-like latex.
Fabrics draped and bunched asymetrically at the hems of dresses and ruched and puckered at the plackets of button-front suit-like cropped jackets, giving the whole collection an air of delightful disheveledness; a feeling heightened by shirts that looked extra-long in the arm (a detail we've seen in past Yeezy collections) but here, a result of finger loops inspired by traditional skating dress sleeves — a detail Schloss said was a nod to the figure skating of her youth.
Set to retail from $100 to $950, the 27 styles and 85 total SKUs are positioned to make the L.A.-made Maisie Wilen line as affordable as it is wearable and memorable. But where the collection will retail has yet to be determined; Schloss said the presentation was a friends-and-family preview and that she's headed to Paris for a more formal presentation to buyers on June 19.
There, as here, the Yeezy sizzle will help sell the steak, and the career of a promising young fashion designer will be fully under way. If this is what West's brand-incubating program is going to look like moving forward, we look forward to seeing what's next.
For more musings on all things fashion and style, follow me at @ARTschorn
Get our L.A. Goes Out newsletter, with the week's best events, to help you explore and experience our city.
You may occasionally receive promotional content from the Los Angeles Times.