L.A.'s Fashion Week shows serve up a smorgasbord of indie, eclectic and eye-catching collections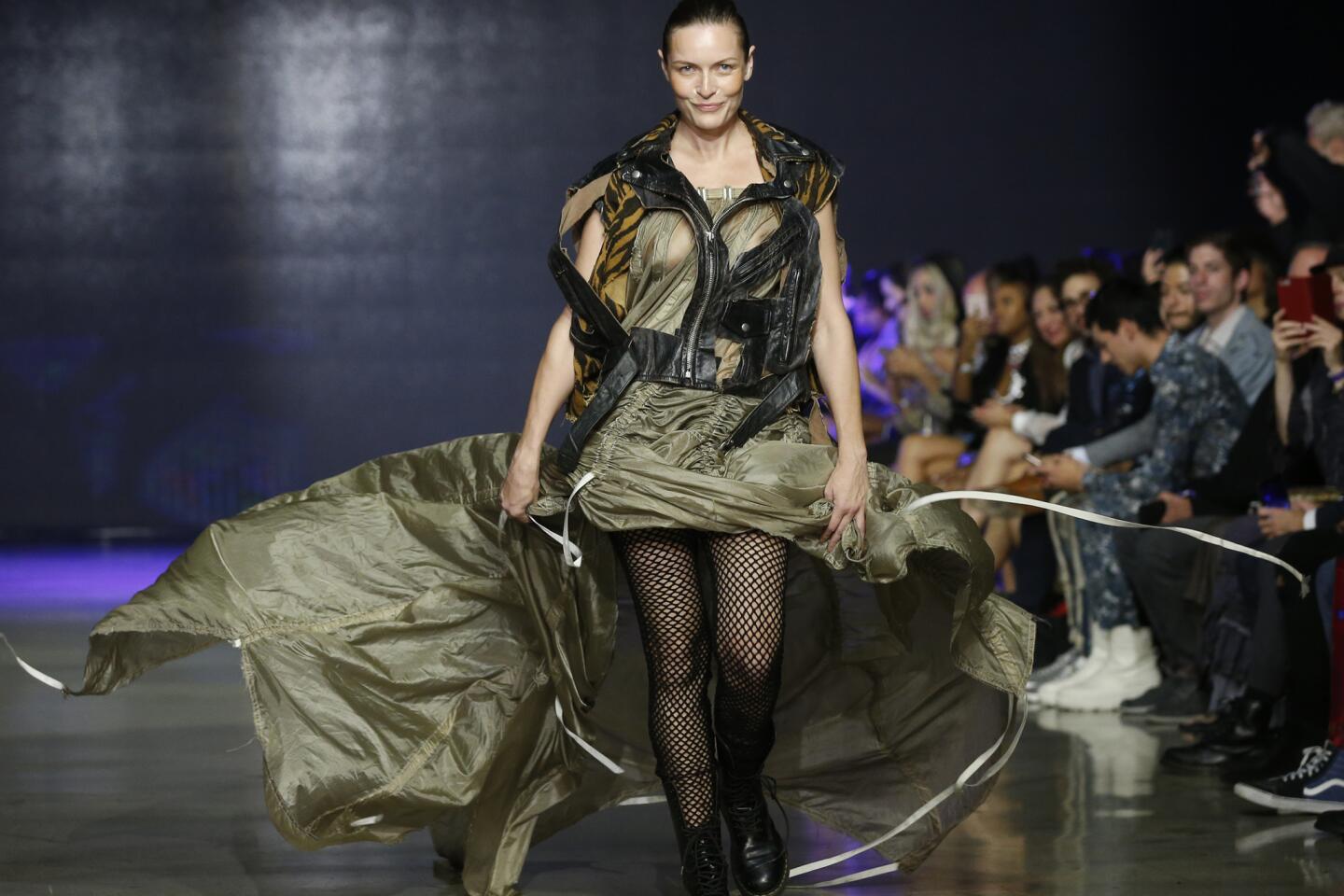 A look from the Bohemian Society spring and summer 2019 runway show, which closed out the L.A. Fashion Week slate of shows at the Petersen museum on Oct. 10, 2018.
(Craig Bennett / Celebatography Inc.)
Looks from the Michael Costello spring and summer 2019 runway collection presnted on Oct. 11, 2018, by Art Hearts Fashion during Los Angeles fashion week.
(Arun Nevader / Getty Images for Art Hearts Fashion )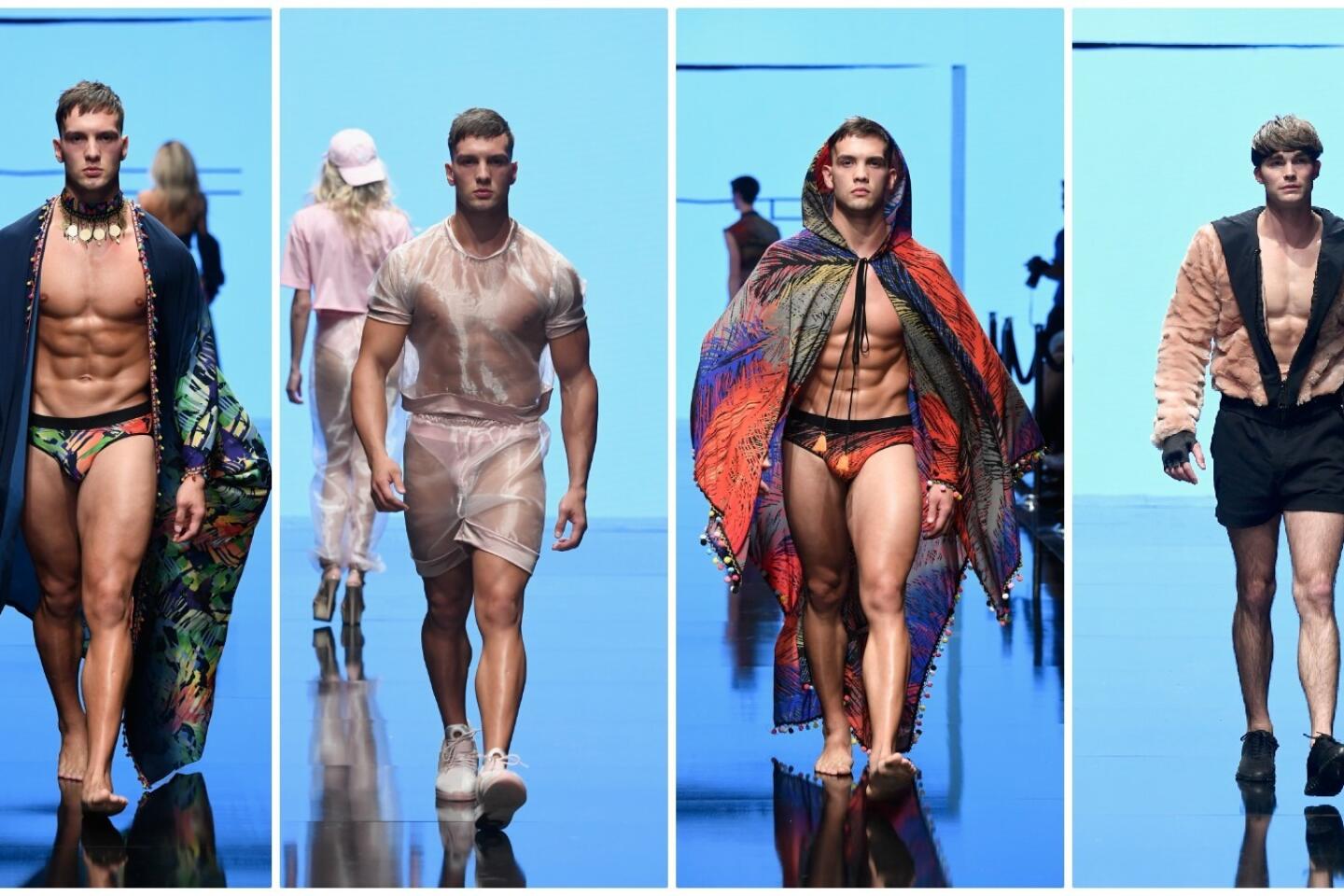 Menswear looks from the Michael Costello spring and summer 2019 runway show presetned in downtown Los Angeles during Los Angeles Fashion Week.
(Arun Nevader / Getty Images for Art Hearts Fashion )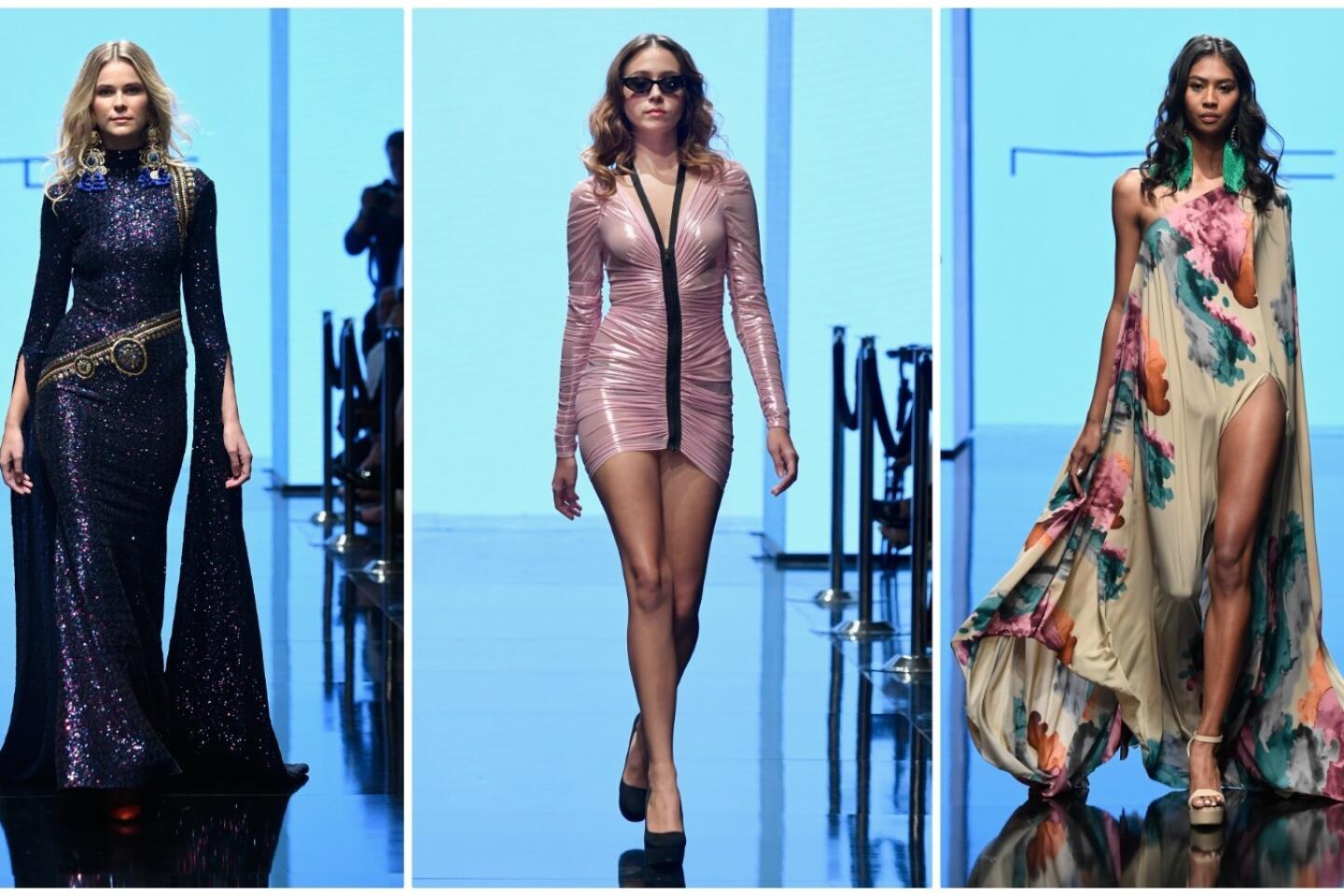 Looks from the Michael Costello spring and summer 2019 runway collection presented as part of Art Hearts Fashion's Los Angeles Fashion Week.
(Arun Nevader / Getty Images for Art Hearts Fashion )
Los Angeles' just-wrapped run of fashion shows and presentations comprised two separate "fashion weeks" (LA Fashion Week in the Mid-Wilshire neighborhood and Art Hearts Fashion in downtown L.A.) and a smattering of independent one-off shows. They served up some of the binary-bashing, gender-blending style seen on the recent Paris runways, albeit in the wild, wacky and out-of-the-curve way that has come to characterize the shows here. Here's a look at three collections that caught our attention.
Maison the Faux
Dutch creative studio/fashion label Maison the Faux, which made its memorable L.A. fashion week debut here in March, returned with another take on the fake and the real, inspired by Hollywood. This time around, it was in the form of a short play (once again in collaboration with the Maavven creative agency and choreographer Nina McNeely) called "Smile Now, Cry Later," which saw actors of every size and shape sliding in and out of character, running lines, lounging on baroque furniture and stumbling around like drunks in a series of vignettes under the direction of a cue-card-carrying assistant director.
Tessa de Boer, who designs the line with Joris Suk, said the play was inspired by a Maya Angelou poem about the masking of emotions. "It's about becoming the emotion," she said.
To be sure, there was plenty of emoting throughout the half-dozen scenes — as well as plenty of ruched fabrics, exploded lime-green houndstooth checks and reptile prints. Suits bore racing-inspired details, trouser legs belled and swelled to near Gumby-esque proportions, and ruffles cascaded down shirt fronts and exploded at wrists. Men perched on fainting couches in houndstooth bustiers and one-shouldered ruched trench coats, and women sat on wooden swings and reclined on dining tables, stage-weeping softly in gauzy sherbet-colored dresses, jumpsuits and ruffled baby bonnets.
Bohemian Society
Closing out L.A. Fashion Week's five-day slate of shows at the Petersen Automotive Museum was Victor Wilde's Bohemian Society, a downtown-based label that's been on and off the various and sundry L.A. fashion-show calendars for more than a decade.
Wilde framed his spring and summer 2019 collection of upcycled, re-purposed and reworked garments as an effort to offset the brand's environmental impact. ("Fast fashion is one of the world's top polluters," he wrote in the show notes.) His notably eclectic runway casting (a host of normal folks — and by that, we mean the young, the old, the small, the tall, men, women and transgender — including trans activist Buck Angel) was a celebration of diversity.
Seasonal inspiration aside, the standouts of the runway collection were variations on the re-purposed parachute pieces that are Wilde's stock in trade, such as billowing dresses of olive drab or bone white (the former paired with fishnet stockings and a black leather motorcycle jacket deconstructed to the point that little more than the zipper and lapels remained; and the latter in a voluminous, floor-length gown with unfinished seams that cinched at the bodice in a diamond shape). One cocktail dress that caught our eye artfully twisted the circular crown of the parachute (the part at the very top with the hole in it) into a flower-like shape.
The rest of the collection was a grab bag of things that felt scrounged from downtown donation bins or swap meets. Think T-shirts emblazoned with the likenesses of Michael Jackson, Tupac Shakur and Ronald McDonald (all on different tees, mind you), Reebok sweatshirts and pairs of shiny metal handcuffs fashioned into necklaces, belts and tote bag handles. Adding a dash of DIY flair throughout was an assortment of embroidered appliques including a skull and crossbones (on a Yale collegiate hoodie — get it?), the wreathed shield Cadillac logo (which may have itself been upcycled from a previous Bohemian Society collection if memory serves correctly), a growling tiger head and a hooded cobra.
As we left the Petersen post-show, an attendee in front of us summed up the collection perfectly when he told his companion: "There's some stuff in that collection that would be perfect to wear to Burning Man."
Michael Costello
The night after Bohemian Society closed out LA Fashion Week (organizers of that event have the name trademarked), Michael Costello kicked off a four-day Los Angeles Fashion Week powered by Art Hearts Fashion at the Majestic Downtown venue eight miles west. The designer's spring and summer 2019 collection felt tame by comparison (especially because it was a reprise of the runway show staged last month in New York), but it also was the only one that served up the kind of clothes women might wear when they're not headed to a late-night rave. (The collection also included menswear, most memorably in the form of skimpy pattern-printed underwear and hooded capes.)
Costello, a "Project Runway" alumnus whose work has been worn by Beyoncé, Jennifer Lopez, Gabrielle Union and others, has a knack for creating curve-hugging, red-carpet-worthy gowns, and the runway collection he showed Oct. 11 was no exception. Standouts included a form-fitting, purple-sequined gown with a fishtail hem and belled sleeves that draped to the floor; a red, strapless tiered tulle gown; and a flowing, watercolor-print, one-shouldered dress with a high leg slit.
For more musings on all things fashion and style, follow me at @ARTschorn