L.A. perfumer Douglas Little goes the natural route when it comes to making new scents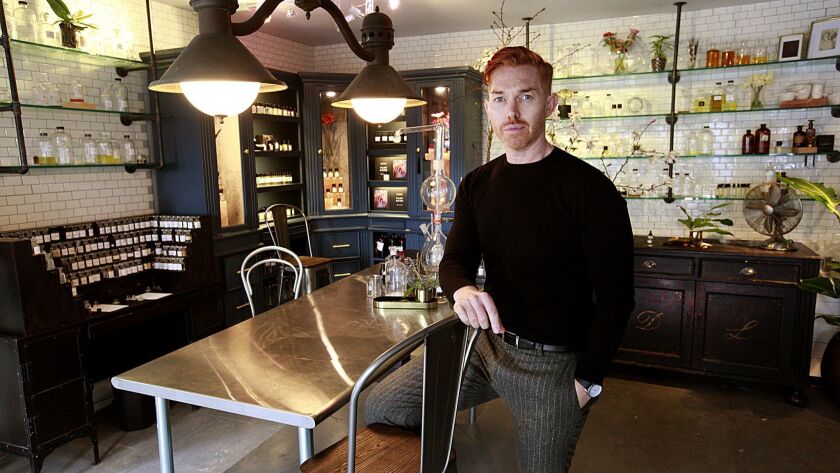 Much is said about the light in Los Angeles — from the film industry's kliegs and red-carpet camera flashes to the pink-inflected sunsets and nighttime glow of downtown. But what about the city's smells?
For Heretic Parfums founder Douglas Little, the scents he associates with his childhood in the San Fernando Valley — which he now blends at his fragrance lab in another part of L.A. near West Hollywood — include blooming roses, an occult store's blend of incense and oils, and wild sage thriving in the canyons.
"Especially when the weather is like this, the plants are just burgeoning," he said on a chilly February morning. "That to me is one of the most inspirational aspects of living and working in fragrance here."
Since starting Heretic in 2015 in L.A., Little has created a niche for his contemporary and cerebral collection of unisex fragrances ($65 to $210) made with non-synthetic ingredients, including organic, non-GMO sugarcane alcohol.
In a residential garage converted into a tidy, white-tiled space, the 42-year-old artist and perfumer gathered paper, plastic droppers and other supplies for a fragrance-blending session. Each time he opened one of the 200 glass bottles neatly tiered on a wood desk — "an organ" in perfumers' parlance — the scent of bitter Japanese yuzu, delicate Colombian gardenias and other naturally derived ingredients wafted through the air.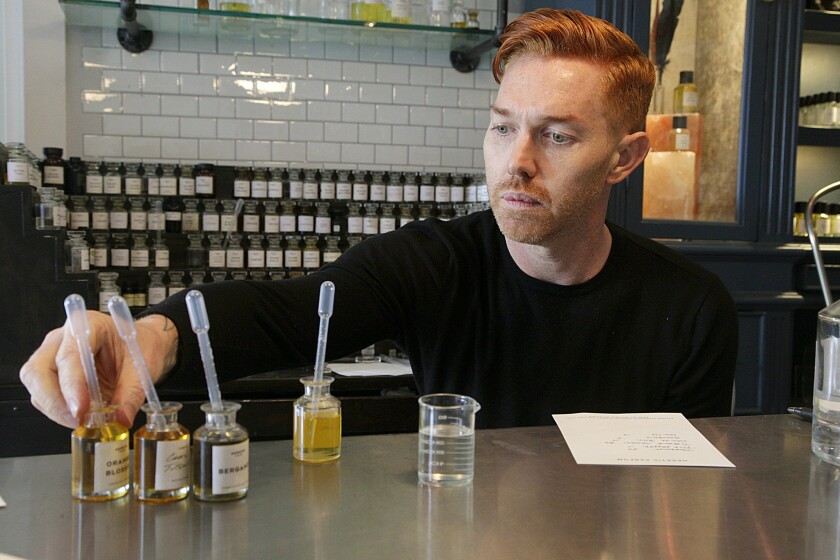 "The way I want to make fragrance is with this radical transparency," he said.
Little's latest creation is Dirty Grass. Loaded with 150 milligrams of full-spectrum hemp-derived CBD oil in a 15-milliliter bottle, the earthy perfume layers cannabis' smell over vetiver, lavender, rose and citrus. To be released on April 20 — 4/20 being a celebration of sorts with the cannabis-using crowd — Dirty Grass, priced at $85, is the first in a new fragrance series that Little is designing to be functional with higher concentrations of materials that he claims can affect the mind and body. For instance, spritzed along the neck where the lymph glands are, Dirty Grass "relaxes you," he said.
"Telling you stories with these fragrances is not only about their cleanliness and their botanical aspects and the odor profiles, but also about the holistic aspects of what these plants can bring to your life," he added.
Little's storytelling through scents has garnered an influential audience. Three years ago, following an introduction from Goop beauty director Jean Godfrey-June, Little welcomed actress and Goop brand founder Gwyneth Paltrow to his humble New York apartment to talk about fragrance. "I had anticipated this kind of sunny California celebrity, that she was going to want to talk about jasmine and citrus," he recalled, emphasizing those ingredients in a high-pitched lilt. Instead, her pitch was: "Let's do something that smells like church and sex and, you know, all these incredible fragrance notes that, as a perfumer, you dream of working with," he recalled Paltrow saying.
"He possesses exceptional taste, and that allows him to create beautiful things of all kinds."
— Dita von Teese on L.A. perfumer Douglas Little
The result of their meeting was a quartet of fragrances made specially for Goop, Paltrow's wellness-centric Southern California-based brand, including one called Church, which pairs cypress with frankincense. (The perfumes are $55 to $165, and a candle is $72.)
That wasn't his only collaboration with a well-known name. Little also swirled essences of sandalwood, rose and coriander in a perfume named Scandalwood ($65 to $165) for burlesque artist Dita von Teese, whose 15-year friendship with the perfumer has grown over their common interests, namely in Von Teese's words, "our passion for the rare and exquisite."
"He possesses exceptional taste," Von Teese said in an email, "and that allows him to create beautiful things of all kinds."
Resulting from his following, Little now commands a prime position with his seven-person team to advance the movement for non-toxic fragrances within the clean beauty realm and transform the way consumers approach perfumery on the West Coast.
"California is very much a culture that is anti-perfume," said Chandler Burr, an L.A.-based journalist and author of respected books on the fragrance industry, "The Perfect Scent: A Year Inside the Perfume Industry in Paris and New York" and "The Emperor of Scent." Because of this bias, "scent is able to be seen more as an art medium," he said.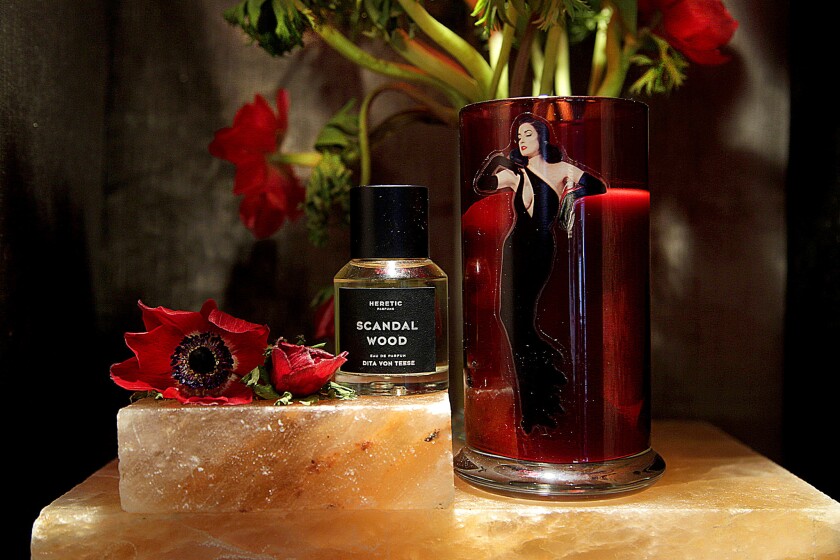 Having met Little and tried his fragrances, Burr said it's clear the perfumer isn't classically trained. "He simply has talent," Burr said. "It produces something different."
As the only child of professional photographers, Douglas began developing his olfactory talent when he was a preschooler, earning a dollar each time he correctly identified the smell of lavender and other plants. Before his teens, he said, he took Japanese flower-arranging classes alongside retirees at Descanso Gardens in La Cañada Flintridge and spent his allowance shopping from a local herb store's catalog. "I would try to pick out the things that had the craziest names," he said.
While traveling in Europe as an art director of a Southern California-based hair-care company, he enrolled in courses at a perfume institute in Grasse, France, which is hailed as the world's perfume capital. In 2003, he formed D.L. & Co., pioneering the high-end candle market with scented waxes inspired by musky apple and poisonous plants.
After leaving D.L. & Co. in 2009 and creating art installations for clients ranging from British retailer Selfridges to jewelry brand Van Cleef & Arpels, Little was provoked to consider moving into fragrances after a conversation with a perfume executive. "Natural perfuming will never be anything more than the work of housewives and heresy," he said he was told because, the industry veteran argued, " 'Natural perfumes do not appeal to a large audience. They're extremely expensive. They're not stable.' "
Little decided to pursue it anyway. He said, "I called my lawyer the next day and I said to her, 'Can we trademark the name Heretic?' "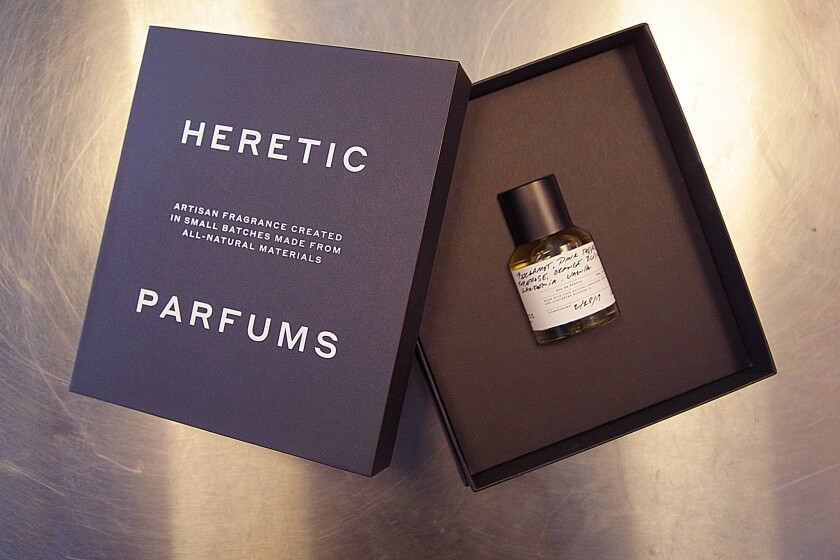 Sold on Heretic's website, hereticparfum.com, and at luxury stores such as Maxfield and Barneys New York, Little's fragrances are unconventional not only in concept and smell but also by sight. Avoiding dyes, he highlights ingredients' natural coloring, whether it's the Western red cedar in Blood Cedar or cloudy, water-diluted alcohol that resembles body fluid in Florgasm.
For Von Teese's follow-up fragrance launching this fall, called Fleurteese, "she's right now really obsessed with narcissus," Little said. "There's also a very specific Bulgarian rose that we're working with, and a very definitive pink pepper note."
Von Teese has embraced the prospect that her perfumes with Little can change L.A.'s anti-aroma image. "All new things are niche for a little while," she said, "and then suddenly, you've changed the world."
For fashion news, follow us at @latimesimage on Twitter.
---