At the Met Gala, Lady Gaga again gives a master class in how to rule the red carpet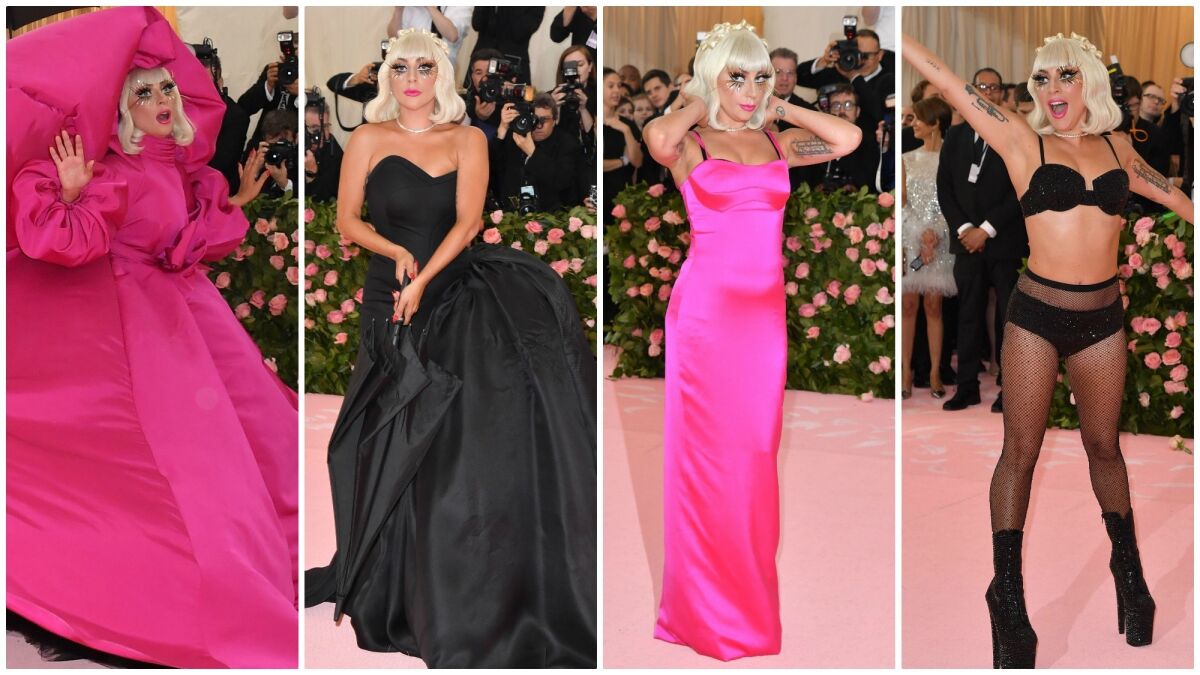 Reporting from New York —
When the theme of the 2019 Met Gala — "Camp: Notes on Fashion" — was announced in the fall, there was much speculation about how exactly the celebrities who attended the event in May would embrace and interpret the idea of camp. Would they (or perhaps more accurately, their stylists) go back and read Susan Sontag's 1964 essay "Notes on Camp," the inspiration for this year's costume exhibit at New York's Metropolitan Museum of Art, and if so, what would they find there? Would Sontag's definition of camp as something that is known by "its love of the unnatural, of artifice exaggeration" provide any clues?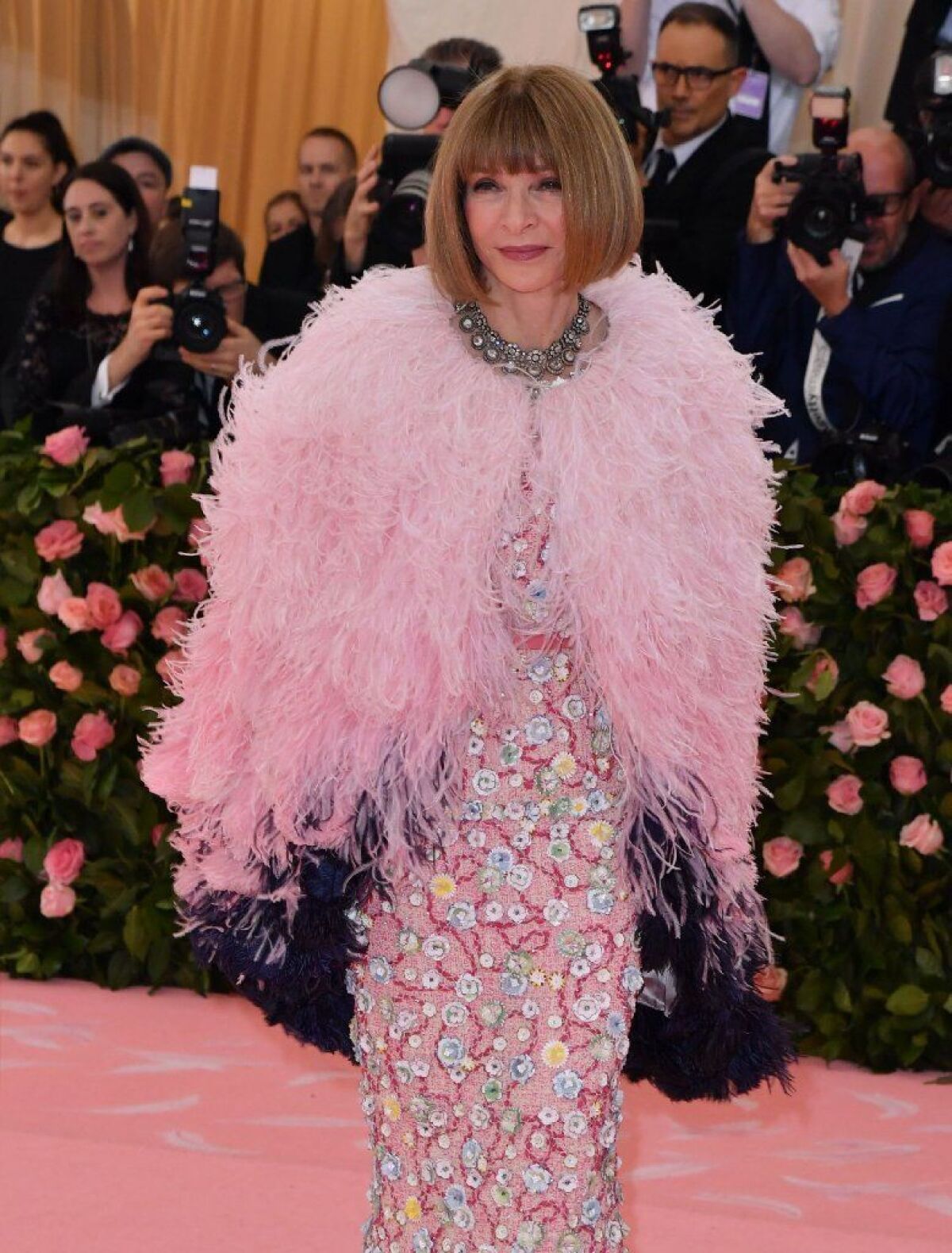 In April, when Tina Brown interviewed Anna Wintour at the "Women in the World" summit, one of the questions she asked the Vogue editor (in addition to talking to her about her leadership style, the corporate changes at Condé Nast, the #MeToo movement and the 2020 election) was a sartorial one: What would Wintour wear to the event she has ruled over for two decades and was now just one month away?
"I have options," Wintour replied with a slight smile.
And on Monday night, Wintour unveiled her choice: Chanel, a final tribute to designer Karl Lagerfeld, a longtime friend who died in February, and who, Wintour later told reporters, had designed the outfit shortly before his death. She wore a sleek, pink sequined gown paired with a cape of pink and purple feathers. (Rihanna, a Met Gala mainstay who did not attend this year, tweeted that the Vogue editor-in-chief was the "best dressed" of the evening.)
See our arrivals photo gallery from the 2019 Met Gala »
Turns out feathers were a dominant theme of the evening, worn by, among others, Kylie Jenner (who had telegraphed her choice earlier in the day with a tweet that quoted from Sontag: "The hallmark of Camp is the spirit of extravagance. Camp is a woman walking around in a dress made of three million feathers") and her sister Kendall (both were in Versace); Joan Collins in a white-wedding-cake confection that could have easily been worn by Alexis Carrington when she was the campiest thing on TV; Naomi Campbell in pink Valentino couture; Ciara in emerald green Dundas; Gigi Hadid in silvery Michael Kors Collection; and, most dramatically, Cardi B in a custom Thom Browne burgundy floor-length gown with an enormous train that took at least six handlers to help the singer up the steps of the red carpet. ("It's so heavy," she said as she inched her way inside the Met.)
Some celebrities definitely embraced the theme, ranging from Janelle Monáe in a Christian Siriano outfit that seemed to combine the Mad Hatter and Dada; Katy Perry in a Jeremy Scott design that turned her into a walking chandelier, lighting the red carpet as she carefully made her way up it; Ryan Murphy channeling Liberace in another Christian Siriano outfit; Jared Leto and Harry Styles in over-the-top Gucci (the latter being one of the evening's hosts); and Ezra Miller, first showing up in a mask and a white cape, then shedding both to reveal a pinstriped suit with a sweeping train and multiple sets of eyes painted on his face so realistically that you didn't know where to look when you were talking to him.
There were misfires, of course: Gwyneth Paltrow in a high-necked, lemon-yellow Chloé dress that seemed to have no connection at all to the theme; Celine Dion in a fringed Oscar de la Renta bodysuit that perhaps took the theme too literally; and, sadly, Bette Midler in a whimsical top hat that did nothing to disguise the lack of surprise in her glittery Michael Kors Collection gown. Surely we might have expected more from a woman whose early Broadway shows, like "Clams on the Half Shell Revue," all but defined camp.
However, the night belonged, as it often does at events like this, to Lady Gaga. The Oscar-winning singer and songwriter, also one of the evening's hosts, showed up on the red carpet with a voluminous fuschia gown by her date for the evening, designer Brandon Maxwell. Gaga quickly shed that gown, revealing it be to a coat covering a black gown with an asymmetrical neckline. Then — yes — that dress came off, uncovering a hot pink strapless gown below it. She wasn't done yet. Soon the third dress came off as Gaga stripped down to a black lingerie outfit that seemed to channel Bettie Page. Then finally (and triumphantly), she made her way up the red carpet and into the Great Hall of the Met where Wintour and the rest of the guests awaited.
And that, ladies and gentlemen, is the definition of camp.