Can there be anyone busier in the last week than Glenn Close? In her more-than-hectic social schedule, she was honored at the Costume Designers Guild Awards and Oscar Wilde Awards, was celebrated along with other female nominees at Women in Film's pre-Oscar party and served on the host committee of a Motion Picture & Television Fund benefit. (Plus there were plenty of private parties, too.)
At the Saturday party in her honor at the Giorgio Armani boutique in Beverly Hills, the Academy Award contender for "The Wife" greeted admirer after admirer with consummate grace.
"The week has been incredible. Overwhelming," she said between posing for photos in a quiet corner of the boutique.
"Mr. Armani was the first designer to work with me," she said, pleased to attend this affair too, adding that her relationship with the designer continued through the '90s. "Now I'm getting emotional," she said, becoming teary-eyed at the thought.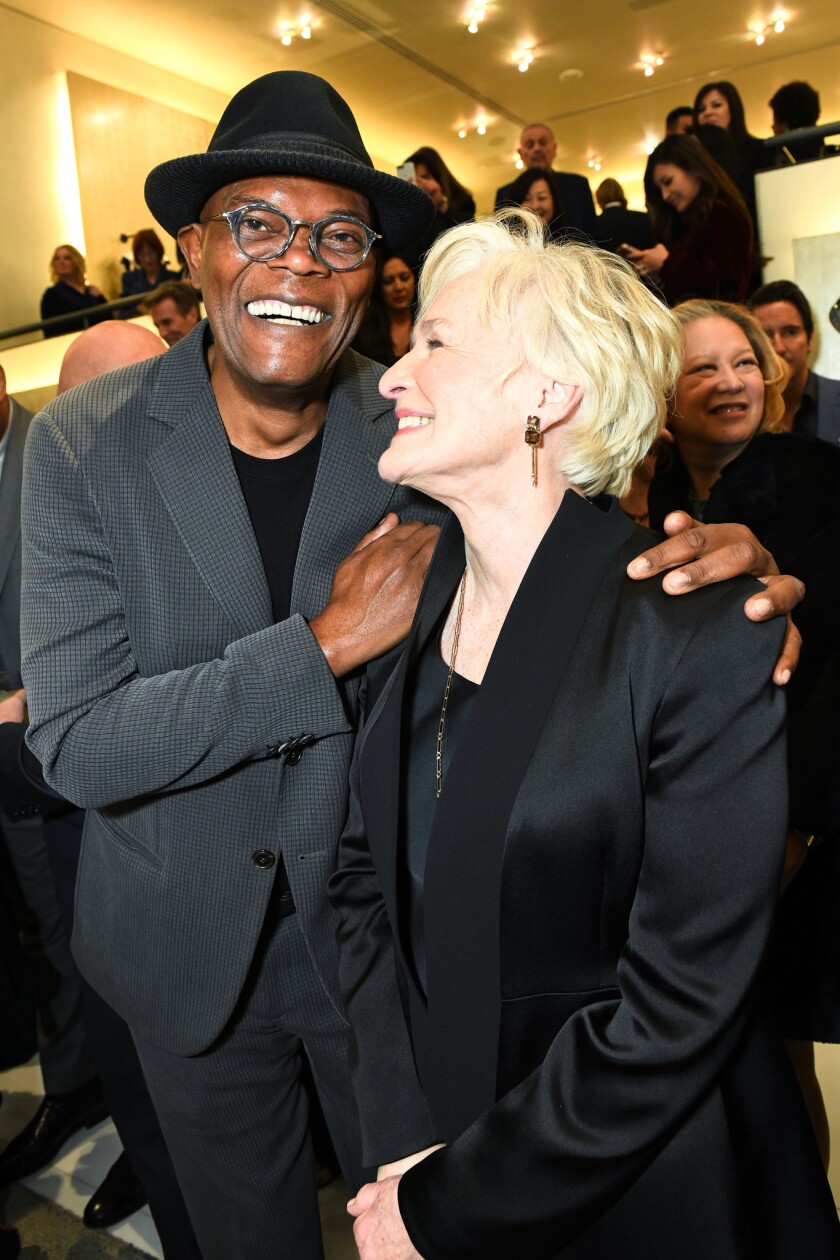 Actors, models and friends turned out in force, including Samuel L. Jackson, Jeff Goldblum, Bobby Kennedy Jr., Cheryl Hines, models Karolina Kurkova, Isabeli Fontana, Nyle DiMarco and Sara Sampaio, Caitriona Balfe ("Outlander"), Ian Somerhalder ("The Vampire Diaries"), Colton Haynes and Holland Roden ("Teen Wolf"), Chord Overstreet and Harry Shum Jr. ("Glee"), Kat McNamara ("Shadowhunters"), Nikki Reed ("Twilight"), Gregg Sulkin ("Faking It"), Julian Morris ("Cry Wolf"), Alex Pettyfer ("I Am Number Four"), and Close's daughter, actress Annie Starke.
As Kennedy Jr. neared the seven-time Oscar nominee, Close reached out to give him a hug. Hines, Kennedy's wife, explained that the two were longtime friends. Regarding the nomination, Hines said, "I have a good feeling about this time."
Close continued posing for photos with guests, responding to all who came to meet her with genuine warmth. "She's amazing," said Pettyfer, "a true icon."
"She's so beautiful," said Kurkova. "So elegant. So regal. I want to look like her someday."
Ellen Olivier is the founder of Society News LA.
For fashion news, follow us at @latimesimage on Twitter.
---