Women's shoe line Palter DeLiso is relaunching in Los Angeles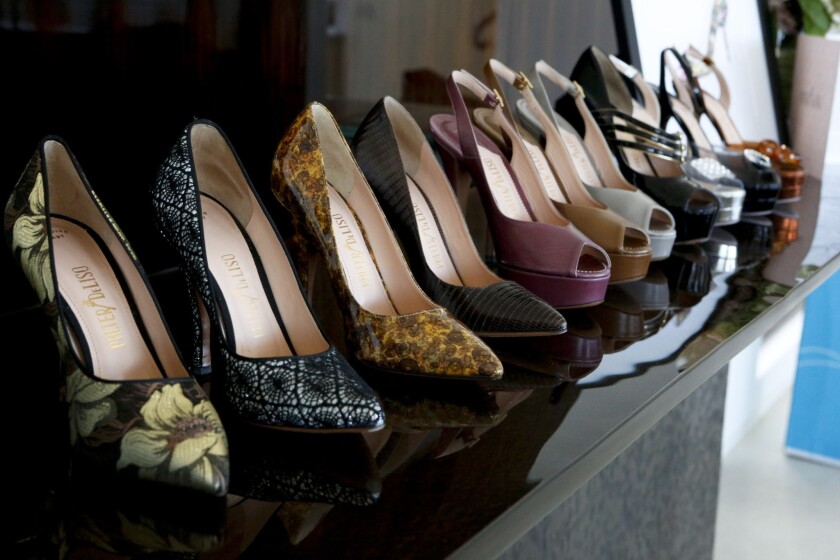 As fashion returns to luxury, Los Angeles-based shoe brands are upping the ante on how cool and creative high-end footwear can be. Notably, this fall, women's shoe line Palter DeLiso is relaunching as an L.A.-based, modern take on the original brand that was created in New York in 1927. Taz Saunders and Lauren Bruksch acquired the brand after a long search for classic, vintage-inspired footwear to appear in a fashion spread that Saunders, the line's designer as well as a photographer, was shooting.
"In our quest to find this vintage-style shoe, we came across Palter DeLiso," says Saunders, who with Bruksch scoured eBay for original samples from the line. "We wanted to design something that had the feel of luxury and was also an American brand. We found out Palter DeLiso was available to buy and acquired the brand and licensing."
The duo is designing the line in Los Angeles and producing each pair of shoes in Italy at a factory that produces several other luxury footwear labels.
They are also staying true to the heritage and a few technical details of the original brand by incorporating thoughtful elements such as naming each last (the mold from which each shoe is created) so customers can shop for shoes based on which last best fits their foot.
"It's an old-time way of doing things," Bruksch says. "These details matter. The luxury consumer really appreciates details and the construction of things. It's similar to the way foodies embrace what's in their food, the process and preparation. With the shoe, it's about the materials and craftsmanship."
Palter DeLiso is re-launching with 10 styles, all of which have a ladylike and polished look. Several styles have been re-created verbatim, such as a signature shoe called the Kiss, a pump with a hand-woven glitter lace overlay priced at $995.
Other styles also pay homage to the Palter DeLiso legacy, which is credited with the invention of the peep-toe sling-back pump. The Icon shoe ($895) is the line's modern take on the style, done in supple calf leather with a platform sole and 135 mm (about 5 inches) heel.
The 1940s inspiration of the Icon is also carried out in styles including Diva and Lady, both PVC and leather shoes with Swarovski crystal adornments. These styles ring in with the line's highest price tags at $1,895 each.
The line is scheduled to launch next month (specific dates are still being arranged) with a trunk show on luxury etail site Moda Operandi. The brand's own site, should be ready to start selling by the end of November.
Saunders and Bruksch have plans to expand the Palter DeLiso brand into additional categories that encompass the same glamour and luxury as the shoes.
Evening bags, sunglasses and even gloves are on the horizon for this heritage-rich label. How the accessories are worn is also important to the duo.
"The bags and shoes will be paired together in a very ladylike way," says Bruksch. "I love the idea of bringing that back."
---