12 ways ruffles can be the flirty, feminine wardrobe staple you crave this summer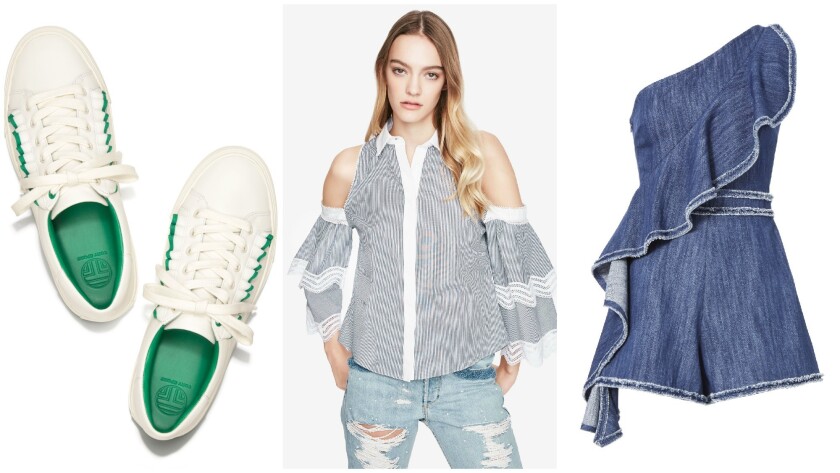 Rufflemania is on prominent display this summer. Frills, flounces, flutters – whatever the term you use, the decidedly feminine ruffle is front and center again this season.
"Like everything, there is definitely a way to make ruffles your own," says Caroline Constas, whose self-named New York-based brand features heavy use of ruffles. "It really depends where the ruffle placement is. You just have to find that style that is right for you."
And if they're your thing, you're in luck. Designers and brands are using ruffles for edgier lines or, in some cases, bold one-shoulder or cold-shoulder looks (or in some combination), which offer a chic vibe.
"I love femininity, [and] ruffles are the essence of femininity, romance and sensuality. And that is very much my style," Constas says. "I think they're graceful, feminine and fun. And feminine is never going to go out of style."
Without question, ruffles are also joyful to wear. "They have personality," she says. "You feel like you are wearing something special."
Here, brands and designers, including Constas, put their spin on the ultra-feminine ruffle.
Caroline Constas
New York-based Canadian designer Caroline Constas' smocked off-the-shoulder Appolonia dress in green gingham poplin with drama-filled flared ruffled sleeves. Made in New York of 100% cotton with a 15% donation to global warming causes. $495, also available in black, coral, navy, orchid and periwinkle gingham. Available at CarolineConstas.com.
Emilio Pucci
Classic graceful lines of Emilio Pucci's lilac satin-and-crepe off-the-shoulder, long-sleeved ruffled halter-neck blouse show off a low back and ties at the neck. $1,050, www.SaksFifthAvenue.com.
Rosie Assoulin
Brooklyn, N.Y.,-born Rosie Assoulin's chic oversized ecru hemp summer hat is embellished on the rim with brightly colored Swarovski crystals. $995, www.Farfetch.com.
Tory Burch
Vineyard green ruffles alongside white shoelaces help elevate Tory Burch's low-top, white leather sport sneakers. Also available in navy sea, Nantucket red and cotton pink. $225, www.TorySport.com
Adriana Degreas
Brazilian designer Adriana Degreas' red ruffled bikini is a nod to Elsa Schiaparelli's infamous lobster gown and has high-rise briefs with an adjustable triangular top that ties at the front. $315, www.Net-a-Porter.com.
Sea
New York's Sea shows off a soft and breezy off-the-shoulder ruffled neckline that sits atop a sand-colored crisp cotton-gabardine with a vibrant contrasting navy-and-ivory striped jersey bodice. $385, www.Net-a-Porter.com.
Jonathan Simkhai
Jonathan Simkhai's love of the ruffle is showcased in this oxford-stripe, blue-and-white cold-shoulder button-down shirt with tiered bracelet sleeves. $385, www.SaksFifthAvenue.com.
Milly
New York-made Milly's black-and-white dotted Italian silk georgette crewneck top has double layer flutter ruffled sleeves and a keyhole back closure. $355, www.Milly.com.
Citizens of Humanity
A long asymmetrical fringed side ruffle lends drama to Citizens of Humanity Estella high-rise ankle denim jeans. $328, ShopBop.com.
Puma Fenty x Rhianna
Fenty by Rhianna's Marie Antoinette-inspired tiered, ruffled, pinkish-toned ivory drawstring backpack for Puma. $180, www.Bloomingdales.com.
Tome
Tome's black-and-white gingham mermaid skirt mixes sexy with sweet feminine appeal. $1,195, TomeNYC.com.
Alexis
The family-founded, Miami-based label Alexis' short denim Blakely one-shoulder romper drapes a bold ruffle cross-body. $398, IntermixOnline.com.
Already a subscriber? Thank you for your support. If you are not, please consider subscribing today. Get full access to our signature journalism for just 99 cents for the first four weeks.
Fashion Videos
For fashion news, follow us at @latimesimage on Twitter.
ALSO
Zaha Hadid, the late world-famous architect, offers a surprise — a style collaboration with Perrin Paris
John Paul DeJoria, billionaire co-founder of Paul Mitchell hair-care brand, shares his 'Good Fortune' and more
Allbirds opens a pop-up shop featuring footwear and specialty food and home goods at Grand Central Market
---