Trina Turk opens a Palm Springs-inspired shop selling men's and women's clothes in Larchmont Village
Before closing in 2015, there was a Trina Turk store on a busy stretch of 3rd Street between Crescent Heights Boulevard and Fairfax Avenue in Los Angeles for eight years. That's until parking and traffic became too much of a nightmare.
But the L.A. designer, who has retail spaces in Palm Springs, Manhattan Beach, Newport Beach and other locations, didn't give up on the City of Angels.
Her new spot on Larchmont Boulevard, which opened March 30, allowed Turk to add her menswear retail component — it's called Mr Turk — to her signature vividly-hued women's pieces. (And there's plenty of parking for shoppers.)
"We liked the idea of having a co-branded Mr Turk and Trina Turk store with two different entrances," said the designer last month. "It's a replication of our boutique in Palm Springs."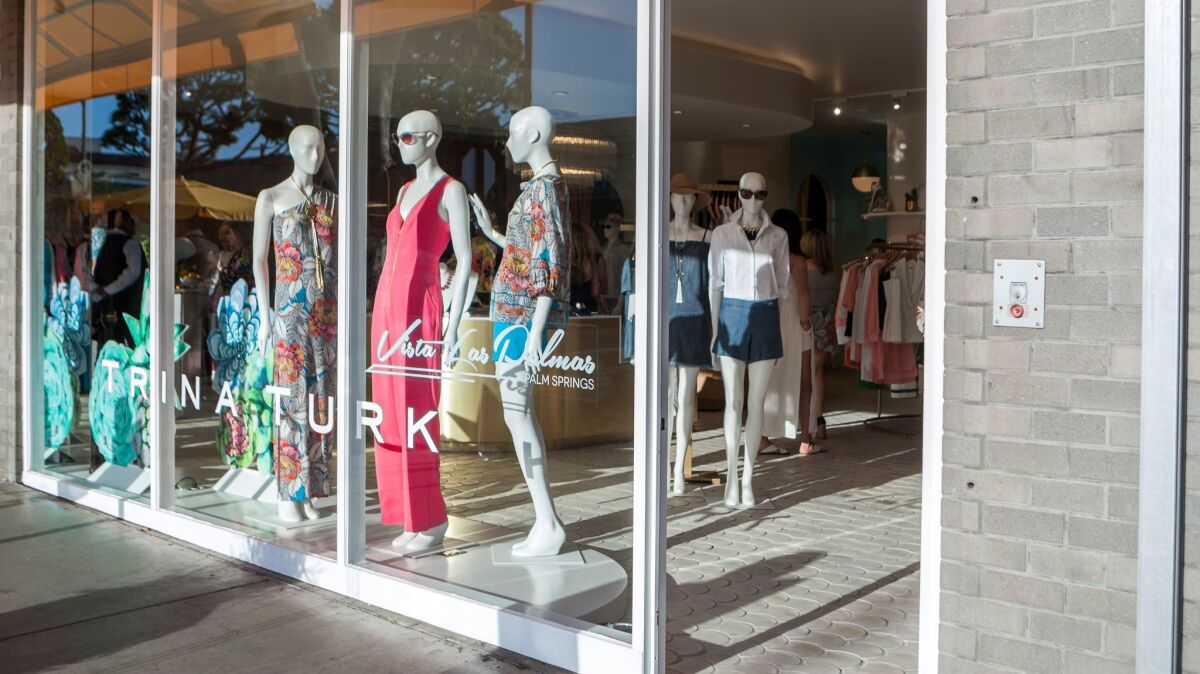 Now, Trina Turk has 17 retail spaces in the United States, including a new pop-up at the El Paseo Village shopping area in Palm Desert.
The Mr Turk collection, available in the 2,000-square-foot outpost on Larchmont Boulevard, conveys the designer's trademark flamboyance (think trim suits in a geo pattern and floral-emblazoned skinny pants), perhaps perfect for trendy Los Angeles events, where standing out counts.
"Assortments are customized for each store," said Turk, who founded her line in 1995 with her husband, photographer Jonathan Skow. "Angelenos are proud of being Angelenos. We are working on a few special items that will only be in the Los Angeles store."
Otherwise, expect to see an abundance of color and pattern, including the spring bestseller, the $298 Theodora dress.
"It has a scarf print designed specifically for the shape of the garment," said Turk of the dress. "It's a great expression of the brand, which is about print, color and textile design. Lately, anything that we've done where the print is designed specifically for the garment has really resonated with our clientele."
Prices range from $128 for swimwear to $398 for dresses; up to $498 for men's blazers.
Trina Turk / Mr Turk, 212 N. Larchmont Blvd. Los Angeles. 10 a.m. to 6 p.m. Sunday through Thursday and 10 a.m. to 7 p.m. Friday through Saturday, (323) 536-9122
Twitter: @latimesimage
ALSO:
Frédéric Malle puts the finishing touches on a new perfume launch and Melrose Place store
Inside Dolce & Gabbana's exclusive celebration of life, love, opera and couture
Could cannabis crowns become Coachella's hot new floral headpiece?
---