Inside the making of Cardi B's Grammys weekend looks
There is no bigger music breakout in the past year than Cardi B, and with two nominations heading into tonight's 60th annual Grammy Awards, she naturally needed a wardrobe to match.
For her big weekend, Cardi's stylist Kollin Carter turned to the Beirut-based Saudi designer Ashi for a series of custom looks to cover Cardi's appearance at the Warner Music Group party Thursday night, the Clive Davis gala on Saturday and both the red carpet and Grammys stage on Sunday.
"Initially, I reflected on her year. Her 2017 was so major and so huge, that I knew the Grammys had to be a major moment for her," says Carter. "And it had to also reflect and mirror what her year was and what it meant to everyone. I felt like this look has to be as big as her year."
For the Grammys red carpet, Carter says Ashi's custom creation is "a mix between what someone would want to do that's traditionally sexy, and what someone would want to do that's traditionally elegant. So I feel like it's the perfect balance between sexy and elegant. I think people are going to expect one part of the dress but they won't really expect the other part of the dress. And the combination together I'm hoping will wow everyone."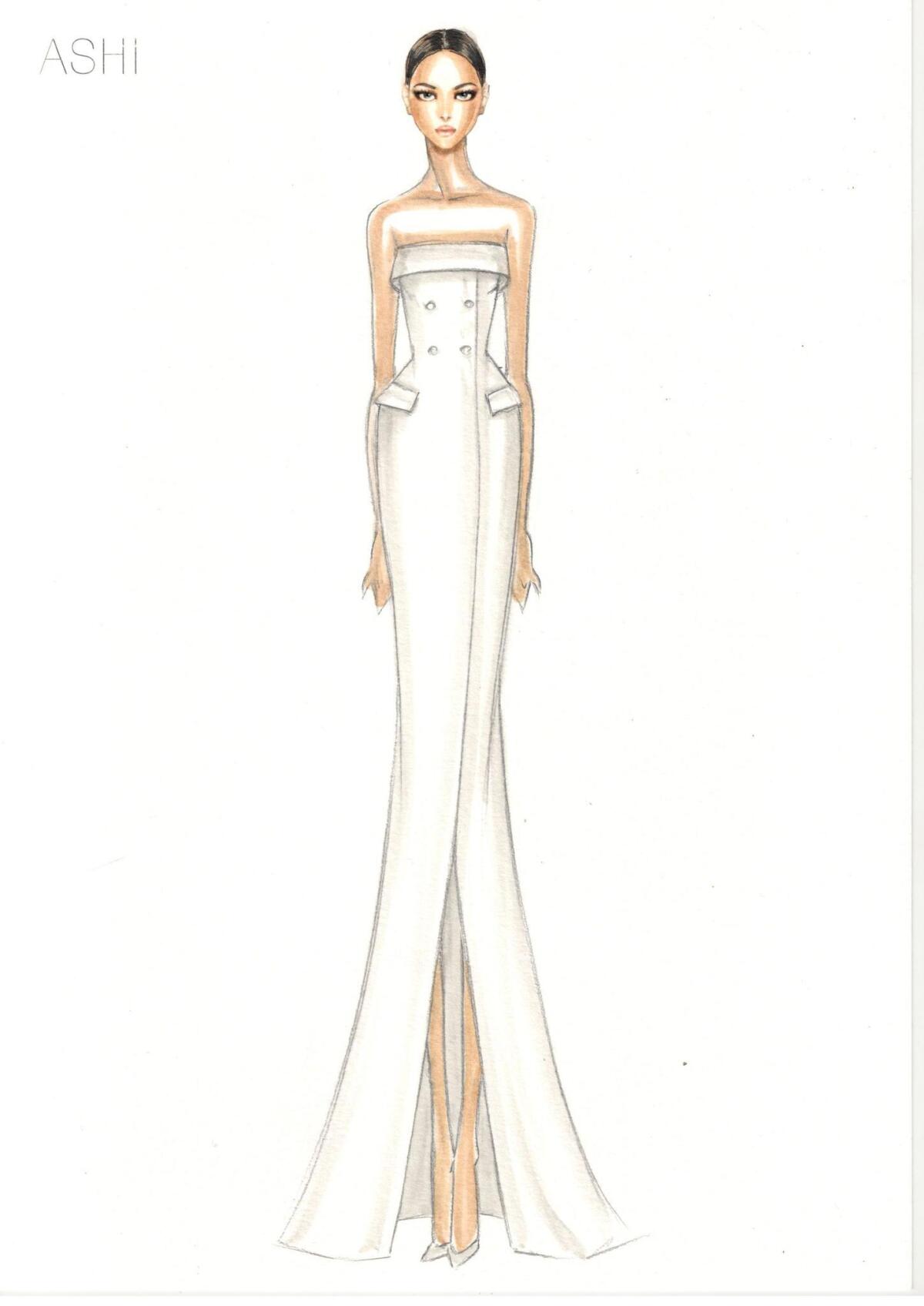 As for her stage looks, movement in the garment is obviously key to anything he selects. "Cardi likes to move. She likes to move her legs, she likes to drop when she performs. So I want her to be able to be herself and be comfortable during performances, but I also feel like things look different on the stage than they do on carpet," he says. "I always try to make sure that whatever she does onstage is really going to create some type of moment — there are people sitting in the front and people sitting in the back and I want everybody to be able to have some type of experience when it comes to the performance looks. Normally I go for something that somebody can see from a mile away."
"She is outspoken, a comedian by heart, she has a sense for fashion and is not afraid to experiment," Ashi wrote in an e-mail from Beirut. "Her strong personality and self-confidence are definitely her fortes. The [red-carpet] dress is inspired by own character; she represents femininity with a personality that's hard to miss."
Ashi delivered a series of looks for the weekend, all in various neutral shades (black boots for the Warner party, an ivory column for Clive Davis, and options in both black and silver for the carpet).
"Our aesthetic is a couture with a modern twist, and Cardi B has the edge and personality to wear such avant-garde designs," Ashi says. "I wanted to provide different looks for each of the events she attended, and I made sure that each look has that 'wow' factor yet also relates to the brand's esthetic. Hence the neutral tones and structured, theatrical shapes."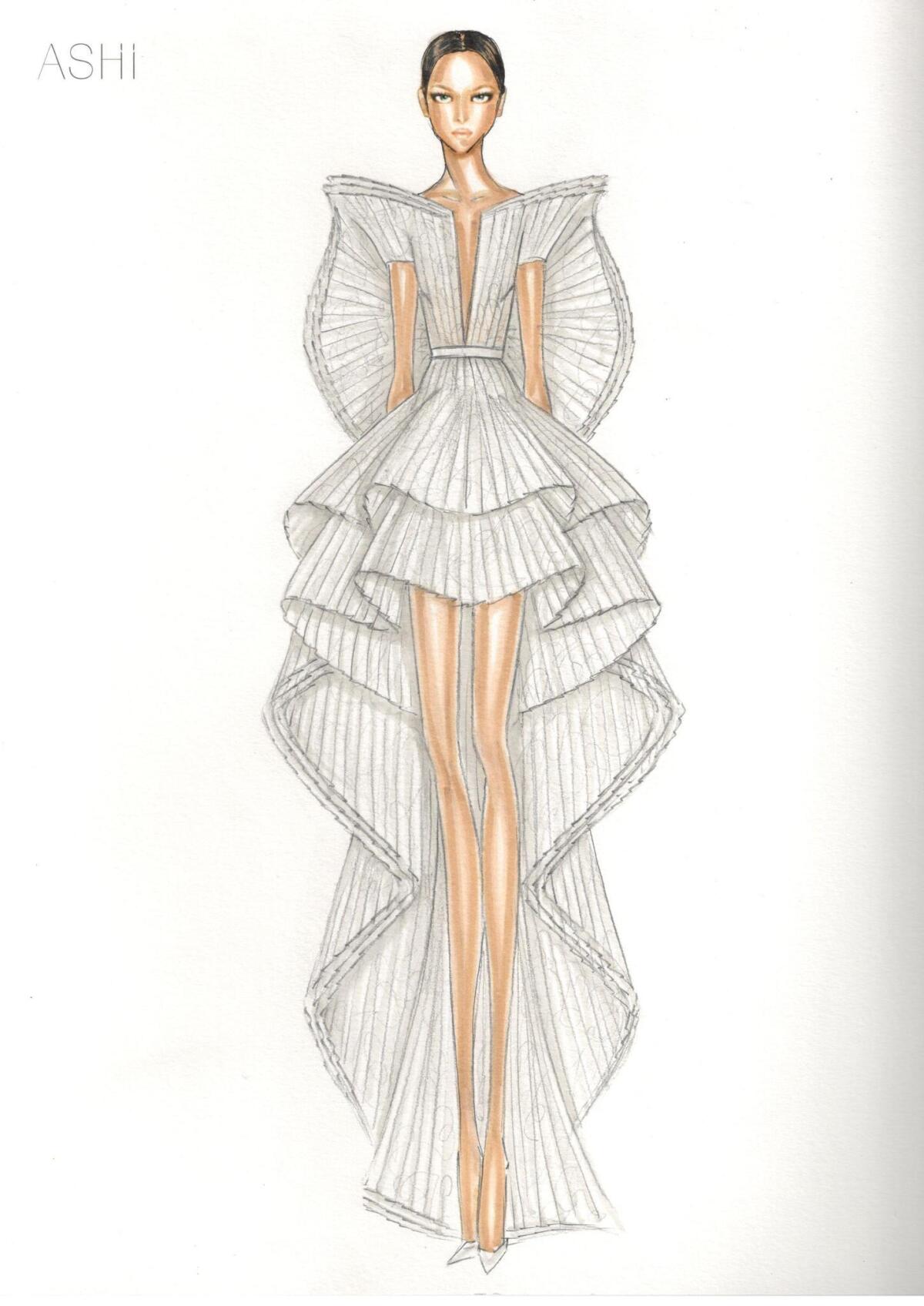 The Grammys red-carpet dress took 150 hours to create, with six main couture seamstresses at the helm.
"I knew that I wanted some type of shape, some type of drama," Carter says.
Carter's work with Cardi B has gained attention throughout her rise to the top of the charts, as she became more and more of a hot commodity for designers to dress. On his wish list for the year ahead?
"For 2018 I really want to get her in Alexandre Vauthier. He's one of my favorite designers and I feel like it's perfect for her," Carter says. "It's just enough sass and class."
Get our L.A. Goes Out newsletter, with the week's best events, to help you explore and experience our city.
You may occasionally receive promotional content from the Los Angeles Times.