Stylist Mel Ottenberg reflects on Rihanna's look as the singer's album 'Good Girl Gone Bad' turns 10
Rihanna's 2007 album "Good Girl Gone Bad" marked an eye-catching sartorial shift for the singer. Then just 19 years old, the "Pon De Replay" soloist traded in her sequined crop tops and baggy jeans for dominatrix-inspired costumes punctuated by short, choppy hair. It was symbolic, of course — good girl gone Bad Gal RiRi. But the switch also marked the beginning of Rihanna's stylistic awakening. Little did anyone know that the teenager who bought costume jewelry from Claire's would one day earn the respect of the fashion industry's highest echelons.
"I distinctly remember watching the 'Rude Boy' video and thinking, I could do big things with this girl," says Mel Ottenberg, Rihanna's longtime stylist, who, at that time, was working as a costume designer. "In that video you can tell Rihanna is having genuine fun with fashion and remixing it in her own way. I knew right then that it was going to happen and be huge."
The year after the "Rude Boy" video premiered, Ottenberg joined Rihanna's camp. He worked with her on her 2011 Loud Tour and has since crafted her most popular looks, including the stupefying Adam Selman sheer dress she wore to accept the Fashion Icon Award at the 2014 CFDA Awards.
"I wanted a dress that would ... people up and would be remembered forever — and something that only Rihanna could pull off," he says. "The way Adam created a new kind of crystal fabric was and still is genius, and Rihanna is the only girl in the world with the beauty, confidence, nonchalance and style to pull that look off with grace, humor and glamour." He dubs Selman's design as his favorite dress Rihanna's ever worn. Second place goes to the canary yellow Guo Pei gown she wore to the 2015 Met Gala.
Though he wasn't yet working with Rihanna in the late Aughts, Ottenberg appreciates her looks from that time and actually considers the decade a golden age for models and pop culture. "Girls like Erin Wasson, Karolina Kurkova were so good — they really brought something to fashion," he says. "I love 2000s' celebrity insanity. Pop was huge and creative and kind of really brilliant. Pop was really expressing itself through clothes — Missy Elliott everything, the Kurt & Bart Britney era, the J. Lo Versace dress, the Bjork swan dress, Lindsay [Lohan] and Paris [Hilton] no panties paparazzi shots, Lil' Kim, everything. I didn't like the Christina Aguilera 'Dirrty' look then, but I appreciate it now. That album cover is an outrage and I think it aged well."
Ottenberg ultimately recognizes the decade for what it was: the utter explosion of celebrity culture. But he's not nostalgic for any of it. "I'm looking forward," he says. "I want all new everything right now."
And as for his favorite Rihanna album and era? "Anti."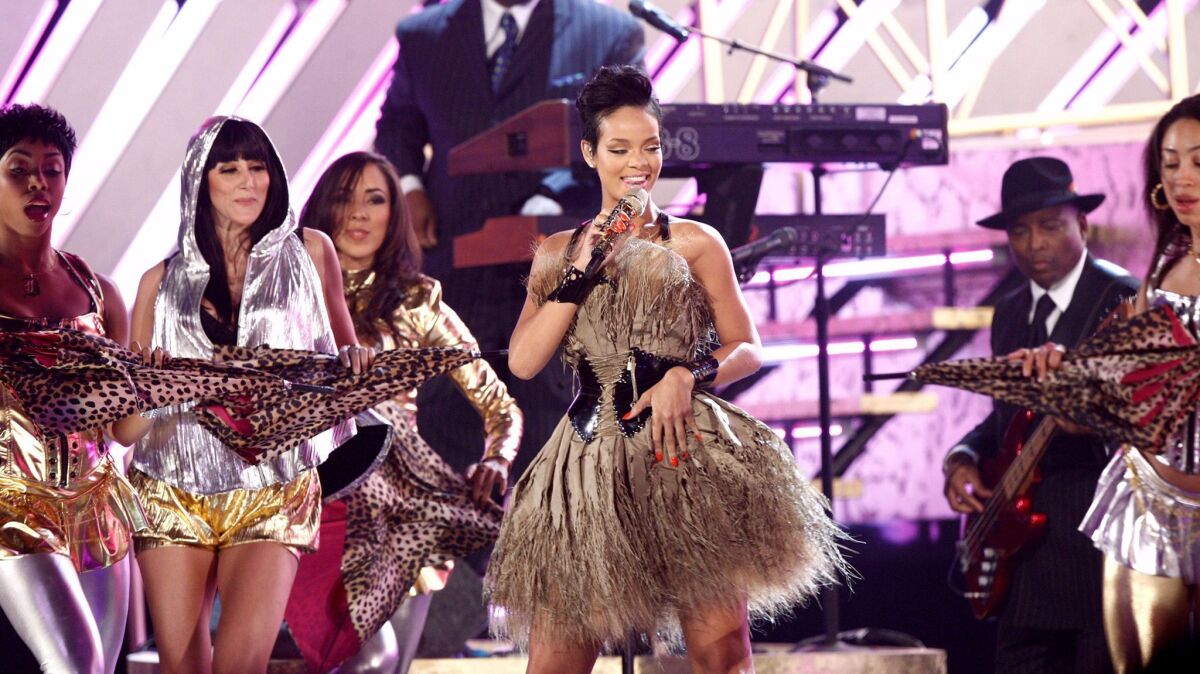 ALSO:
At 'Wonder Woman' premiere, forget girl power. It's about gender equality
Jewelry out of a 3-D printer? Jenny Wu sculpts stylish pieces that bridge the gap between high-tech and high fashion
The store where the pink 'pussyhat' began is being pushed out of Atwater Village by rising rents